GOP Florida Fundraiser Requires Negative COVID Test as Gov. Ron DeSantis Bans 'Vaccine Passports'
The Republican National Committee (RNC) is reportedly requiring donors attending a spring retreat in Florida to have negative COVID-19 tests, despite GOP Governor Ron DeSantis banning "vaccine passports" in the state.
Wealthy donors were sent an email from the RNC informing them of the requirement days before they were expected to attend an elite event featuring former President Donald Trump in Palm Beach later this week, according to The Washington Examiner. The move comes as Republicans nationwide push back on efforts from businesses and other entities to require proof of either vaccination or negative COVID-19 test results amid the pandemic.
"Proof of a negative COVID-19 test result is required in order to receive your credentials for the weekend," the email stated, while specifying that either PCR or rapid antigen tests be used, according to the paper.
"If you or members in your party fail to fulfill this requirement, you will be denied entry to the 2021 RNC Spring Retreat," it continued.
DeSantis issued an executive order banning vaccine passports in Florida while citing concerns about "individual freedom" on Friday, although the order did not ban entities from requiring negative COVID-19 test results. Some of the so-called passports, like New York state's Excelsior Pass, require either proof of vaccination or negative test results in order to enter certain large venues.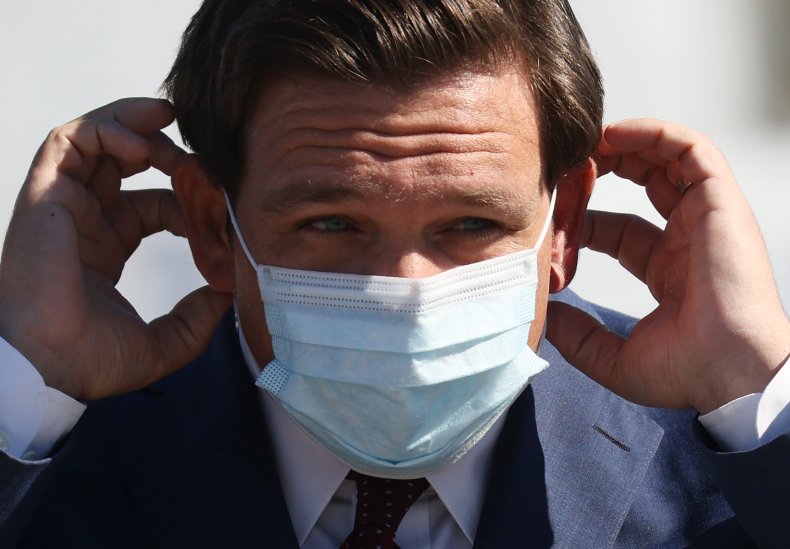 Some airlines are moving towards requiring the passports, while multiple countries already require prospective travelers to present proof of vaccination or negative test results. A document that is effectively a vaccine passport, the World Health Organization's "yellow card," has existed for many decades prior to the COVID-19 pandemic. At least 17 countries in Africa and South America require travelers to be vaccinated against Yellow Fever in order to gain entry.
President Joe Biden has made it clear that the federal government will neither mandate vaccines for U.S. citizens nor be involved in vaccine passports. DeSantis has spearheaded a movement by Republicans to ban vaccine passports at the state level. Texas became the second state to ban the passports following an executive order issued by GOP Governor Greg Abbott on Monday.
Although the RNC is not requiring proof of vaccination for those who attend this year's retreat, the requirement for negative test results appears to be somewhat at odds with the Republican push against mandates for documentation concerning COVID-19.
A portion of the RNC retreat will be held at Trump's Mar-a-Lago resort, which is also the residence of the former president. The resort was forced to partially close down last month after staff members tested positive for COVID-19. Trump contracted the virus last year and recovered, before both he and former first lady Melania Trump were vaccinated in January.
Newsweek reached out to the RNC and the office of DeSantis for comment.