GOP Gov Mocks Anti-Vax Tracking Chip Conspiracy Theories: 'Same People Carrying Cell Phones'
Jim Justice, West Virginia's Republican governor, mocked anti-vax conspiracy theorists who believe that the COVID-19 vaccine secretly injected tracking microchips into people's bodies.
"They're crazy ideas," Justice said during his Wednesday coronavirus briefing. "The same very people that are saying that are carrying their cell phones around!"
Justice's state is the fourth-least vaccinated state amongst all 50 states, according to The New York Times.
"For God's sakes a livin', how difficult is this to understand?" Justice said Wednesday of anti-vaccination advocates. "Why in the world do we have to come up with these crazy ideas—and they're crazy ideas—that the vaccine's got something in it and it's tracing people wherever they go? And the same very people that are saying that are carrying their cellphones around. I mean, come on. Come on."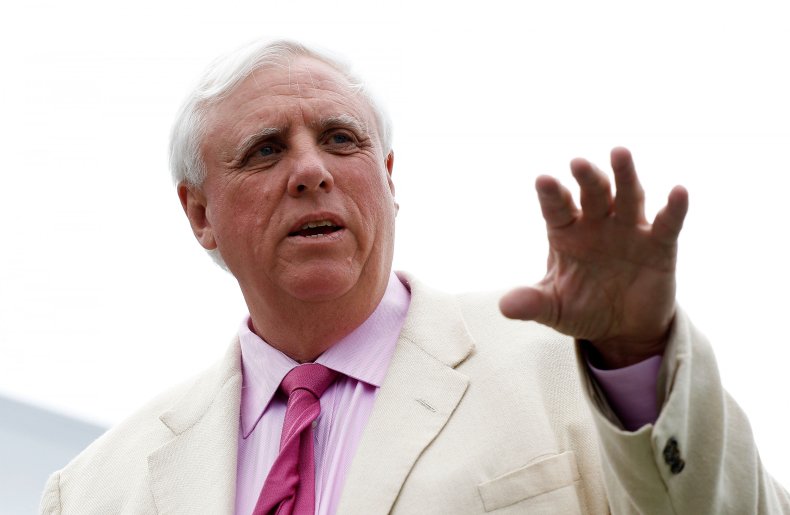 About 15 million Americans use smartphones apps that track their location and other online activity, the Times wrote.
At the same time, roughly 42 percent of Americans believe at least one COVID-19 conspiracy theory, according to a March survey commissioned by the data science nonprofit Surgo Ventures.
One in four American adults has said they don't know whether the COVID-19 vaccine contains a tracking microchip, according to a March new Axios/Ipsos poll. That number represents roughly 69 million Americans.
The vaccines don't contain microchips. Nevertheless, anti-vax conspiracy theorists have said that Bill Gates—co-founder of Microsoft, billionaire philanthropist and vaccine advocate—has put microchips into vaccines to establish social control and a technocratic new world order.
In addition to having one of the nation's lowest vaccination rates, West Virginia has experienced a resurgence in COVID-19 cases. Cases have steadily risen in the state since mid-July, reaching an all-time daily high of 2,486 new cases on August 23. The state hadn't matched that number since January 1.
Justice has established himself as an outspoken supporter of COVID-19 vaccines and mask mandates. While many Republicans have emphasized vaccines as a "personal choice," Justice has stressed that people will die if others don't get vaccinated.
On July 6, Justice said, "If you're not vaccinated, you're part of the problem rather than part of the solution." He also acknowledged that anti-vaccination sentiment is higher in red states. Republican former President Donald Trump won West Virginia by 68.6 percent during the 2020 presidential election.
"The red states probably have a lot of people that, you know, are very, very conservative in their thinking. And they think, 'Well, I don't have to do that.' But they're not thinking right," he said.
Justice said that some conservatives hesitant about getting vaccinated will only be convinced when lots more people start dying.
In March, Justice criticized other Republican governors for lifting mask mandates too quickly. Specifically, he said that Texas' Republican Governor Greg Abbott was trying to do a "macho thing" by lifting his own state's mask mandate. Justice established a mask mandate earlier into the pandemic but declined to reinstate one on August 18.
Newsweek contacted Justice's office for comment.