GOP Is Most 'Dangerous' Political Force in World, Michael Hayden Says
The former director of the Central Intelligence Agency (CIA) believes that the modern-day Republican Party is the most "dangerous" political force he has ever observed.
Retired four-star General Michael Hayden, who was nominated in 2006 by former GOP President George W. Bush to be the CIA director, posted his concern about Republicans to Twitter on Wednesday. He re-tweeted a post from Edward Luce, an associate editor of Financial Times.
"I've covered extremism and violent ideologies around the world over my career. Have never come across a political force more nihilistic, dangerous & contemptible than today's Republicans. Nothing close," Luce wrote in an August 12 tweet.
Hayden on Wednesday shared the journalist's post, writing: "I agree. And I was the CIA Director."
Emma Vaughn, a spokesperson for the Republican National Committee (RNC), criticized Hayden's assessment.
"A former CIA director is labeling half of Americans as worse than ISIS and Al-Qaeda. Dangerous rhetoric from the left led to an assassination attempt on a U.S. Supreme Court Justice, a shooting at a Congressional baseball practice, Molotov cocktails at pregnancy centers, rampant crime in major cities, and an open border. Call out the left on their threatening hyperbole, then we will talk," Vaughn said in a statement emailed to Newsweek on Thursday.
Others knocked Hayden's stance as well. Entrepreneur Jeff Giesea, who describes himself as a former Trump supporter, tweeted in reply: "Respectfully, what are you trying to accomplish with this message? I understand your concerns, but this type of message reinforces the prevailing GOP narrative of a partisan, weaponized intelligence apparatus."
Hayden's condemnation came as Republicans largely continue to embrace and defend former President Donald Trump. Meanwhile, Trump remains under investigation for his efforts to overturn the 2020 presidential election results and his home was raided last week by the FBI over allegedly mishandling and improperly transferring top-secret and other classified documents to his Florida residence. A number of Republican lawmakers responded to the search warrant at Trump's Mar-a-Lago resort home by calling to "defund" or "abolish" the FBI.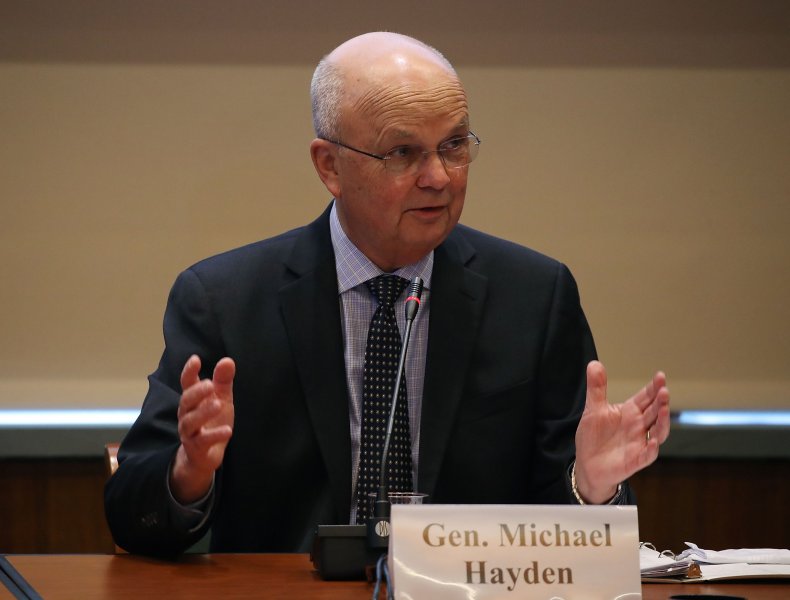 GOP critics of the former president have largely been sidelined and pushed to the margins of the party. Of the 10 House Republicans who voted to impeach Trump for inciting his supporters to attack the U.S. Capitol on January 6, 2021, only two will be competing in the general election this year.
Four—Representatives Adam Kinzinger of Illinois, Fred Upton of Michigan, Anthony Gonzalez of Ohio and John Katko of New York—chose not to seek reelection, and four others—Representatives Tom Rice of South Carolina, Peter Meijer of Michigan, Jaime Herrera Beutler of Washington state and Liz Cheney of Wyoming—lost their primaries to Trump-backed challengers. Of the 10 impeachers, just Representatives Dan Newhouse of Washington state and David Valadao of California will be on the ballot in November.
Polls consistently show that GOP voters largely support the former president. Survey results show that he would be the frontrunner for the party's 2024 nomination if he chooses to launch a presidential campaign—despite a minority faction of Republicans that adamantly oppose him and his movement.
"There's no question. I mean, it's not even the Republican Party. I'd say it's actually the Trump party," Eric Trump told Newsmax on Wednesday, cheering his father's takeover of the GOP.
Hayden previously came out against Trump, warning that he is a threat to the safety of the nation. He urged voters to back President Joe Biden in an October video ahead of the 2020 election.
"If there's another term for President Trump, I don't know what happens to America," he said in the clip. "Truth is really important, but especially in intelligence. President Trump doesn't care about facts. President Trump doesn't care about the truth.
"The FBI says white nationalism is a real problem, and the FBI wants to do something about it, but the president doesn't want to talk about that. He doesn't keep the country safe."
Update 8/18/22, 12:34 p.m. ET: This story was updated with reaction to Hayden's tweet.
Update 8/18/22, 1:34 p.m. ET: This story was updated with comment from the RNC.