GOP NYC Councilor Vickie Paladino Slammed for 'Painful' Comparison of Vaxx Mandate to Nazism
Republican New York City Councilor Vickie Paladino became the latest GOP official to face criticism for comparing vaccine mandates to Nazi Germany.
Paladino, who flipped a Queens council seat during the city's 2021 municipal elections, refused to submit her vaccination records to the city and was forced to vote remotely when the council voted on the new speaker.
On Monday, she explained the decision to local news station NY1, doubling down that she would never disclose her vaccine status to the city.
"I don't need to show you my papers," she told the news station. "This is not Nazi Germany."
Her remarks quickly drew criticism from local Jewish groups and leaders.
Jonathan Brent, Executive Director and CEO of the YIVO Institute for Jewish Research, said in an interview with Newsweek that while Paladino's remarks aren't necessarily hate speech, they were "Orwellian" and historically inaccurate.
"The mandates that the Nazis issued had nothing to do with the vaccines to prevent viruses," he said. "They had everything to do with discrimination based on what they regarded as your race or your political ideology. And these laws that they passed were exclusionary and forced Jews to wear stars, to live in ghettos and ultimately be exterminated. Ultimately, none of those things apply in the present incidence."
He said those who compare vaccine mandates to Nazism are "not only muddling history up" but also "creating a lie."
"No one in their right mind could possibly attribute to the government that wishes to have vaccine mandates the intention of genocide," Brent said.
City Councilor Eric Dinowitz, a Democrat representing parts of the Bronx who chairs the council's Jewish Caucus, took to Twitter to call out the remarks, writing: "Any comparison of vaccine efforts to the genocidal Nazi regime is appalling and disgusting."
"We cannot accept these ignorant, misguided, and painful comparisons that minimize the horror and trauma of the holocaust. Vaccines save lives, Nazis end lives," he wrote.
New York Assemblyman Jeffrey Dinowitz, a Democrat representing the Bronx who is Eric's father, slammed the remarks as anti-Semitic.
"This isn't Nazi Germany. During the Holocaust, six million Jews and many others were forcibly removed from their homes, sent to labor camps, and murdered," he wrote. "To compare this horror to vaccine reqs that save lives sounds anti-Semitic to me."
Gideon Taylor, Executive Vice President and CEO of the Jewish Community Relations Council of New York, wrote in a statement to Newsweek that the organization will be inviting Paladino to meet with Holocaust survivors.
"It is historically inappropriate, a distortion of the terrible history of the destruction of the Jews and other minorities by the Nazis and is deeply disturbing to Holocaust survivors in New York City," he said.
Paladino on Tuesday apologized for the comment, calling it a "flippant remark" she "immediately regretted" in a statement. She also pledged to meet with local Jewish leaders to discuss the issue.
"While my intent was to illustrate that requiring residents to show medical papers to earn a living or do everyday activities as an authoritarian practice that does not align with this country's principles, it is never okay to compare anything to the evil of Nazi Germany," she said in the statement.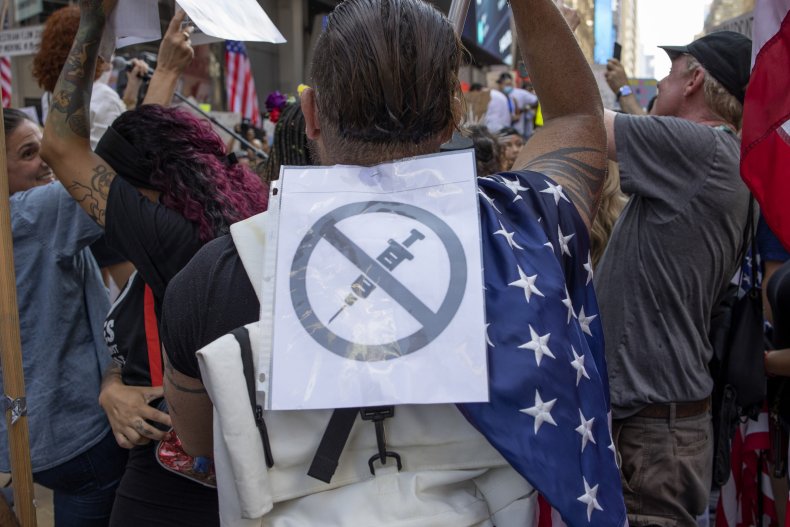 Newsweek reached out to Paladino's office and local Jewish groups for further comment Tuesday evening.
Throughout the coronavirus pandemic, others who oppose vaccine and mask mandates have also faced scrutiny for comparing the policies to Nazism and the Holocaust. Photos and videos of anti-mandate protests across the country show protesters carrying signs with imagery evoking Nazi Germany. Others have been seen wearing yellow stars, similar to the ones Nazis forced Jewish people to wear during the Holocaust.
Some high-profile Republicans have also been called out for making the remarks, including U.S. Congresswoman Marjorie Taylor Greene and former Ohio Treasurer Josh Mandel, who is running for Senate.
Greene tweeted in May: "Vaccinated employees get a vaccination logo just like the Nazi's forced Jewish people to wear a gold star. Vaccine passports & mask mandates create discrimination against unvaxxed people who trust their immune systems to a virus that is 99% survivable."
Meanwhile, Mandel compared President Joe Biden's federal vaccine mandate to the secret police in Nazi-occupied Europe that sent Jewish people and other groups targeted by the Nazis to concentration camps.
"When the Gestapo show up at your door, you know what to do," he said in a video filmed in a cornfield near Logansville, Ohio.
Update 01/11/2022, 6:51 p.m. ET: This article has been updated with comments from Executive Director and CEO of the YIVO Institute for Jewish Research Jonathan Brent.