GOP Rep. Andrew Clyde Says He'll Fight House Fine for Skipping Metal Detectors
Georgia Republican Representative Andrew Clyde said he will fight a $5,000 fine he was given on Friday for bypassing a new House safety measure requiring lawmakers to go through metal detectors before entering the congressional chamber at the Capitol.
"This is a constitutional issue. Those metal detectors are there to detain us, and that's a violation of Article I Section 6 of the Constitution," Clyde said during a Friday night interview on Fox News' The Ingraham Angle.
"We represent 700,000 people in our districts, and the Constitution says that we cannot be impeded when we go to the floor to vote, and those metal detectors are unconstitutional," he added.
Last month, Democratic House Speaker Nancy Pelosi ordered the use of metal detectors to prevent lawmakers from carrying guns inside the Capitol. The measure was introduced after a violent mob of Trump supporters stormed the building on January 6, and left five people dead.
On Tuesday, House Democrats instated a new rule to issue a $5,000 fine to any lawmakers who refuse to comply with the new safety measure. If a lawmaker refuses twice, the fine will be doubled to $10,000.
Clyde, along with Texas Republican Representative Louie Gohmert, were both fined for violating the new rule on Friday.
"I'm going to fight it, I'm going to appeal it, and then I'm going to take it to court. This is unconstitutional," Clyde said.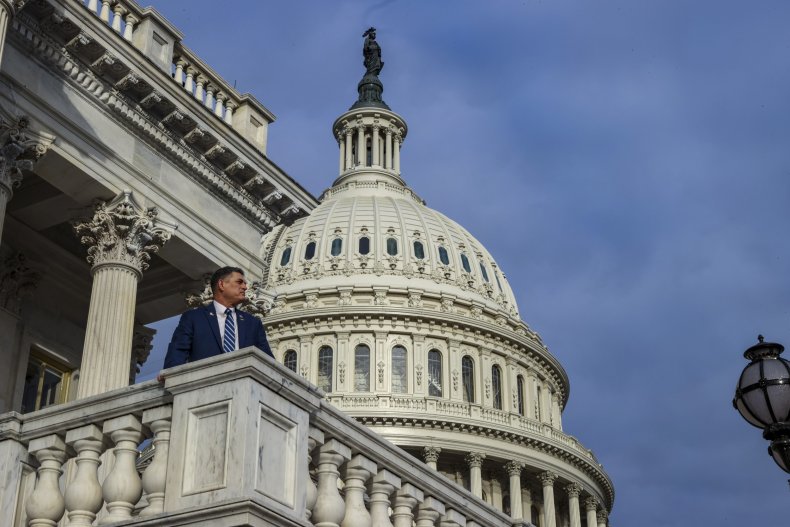 A number of other GOP lawmakers— including Steve Stivers of Ohio, Van Taylor of Texas, Lauren Boebert of Colorado, Debbie Lesko of Arizona, and Larry Bucshon of Indiana—have been seen refusing to pass through the detectors since they were installed last month.
However, Clyde and Gohmert are reported to be the first two members facing fines since the new measure was put in place on Tuesday, according to the Atlanta Journal-Constitution.
Representative Chip Roy, a Republican from Texas, called the policy "an outrage," and said the rules were created by Democrats as a "political show."
"This is an unconstitutional deprivation of my right to defend myself. Period. Full stop," he said. "I do not care what Speaker Pelosi says about it. I do not care what anybody says about it. That is what the Second Amendment means. That is why it is there."
On Tuesday, Pelosi issued a statement saying that "it is sad" that Democrats had to move forward with implementing fines due to lawmakers "refusing to adhere to basic precautions keeping members of our Congressional community safe."
"It is sad that we have been forced to move forward with a rule change imposing fines on those who refuse to abide by these protections, but the People's House must and will be safe, so that we can honor our responsibility to do the People's work," she said.
The new rule says that lawmakers will be allowed to appeal the fines within 30 calendar days or five legislative days.
On Friday, Clyde admitted that he's refused to go through the metal detectors on several occasions. When asked if he would bypass the safety measure in the future, the Georgia Republican said that he's "already done it at least a couple of times."
"I'm probably up to $25,000 [in fines] by now," he said with a laugh.
Newsweek contacted Clyde's office for additional comment, but did not hear back in time for publication.