GOP Texas Rep. Chip Roy Calls House Gun Ban an 'Outrage,' Considers Legal Action
Texas Republican Representative Chip Roy criticized the recent implementation of metal detectors and fines meant to prohibit lawmakers from carrying guns into the House floor, and said he is considering whether to take legal action.
"It's an outrage. I believe it deprives us of our Second Amendment right to defend ourselves," Roy said, according to The Washington Free Beacon.
Roy's criticism comes after metal detectors were placed outside of the congressional chamber on January 12 in order to prevent individuals from carrying weapons inside the building.
The measure was ordered by Democratic House Speaker Nancy Pelosi just days after a violent mob of former President Donald Trump's supporters stormed the building. The attack left five people dead, including one Capitol Hill Police officer.
Though the metal detectors were lauded by Democratic lawmakers, the measure drew immediate criticism from Roy and other Republicans who viewed the move as a violation of their rights.
A number of GOP lawmakers—including Louie Gohmert of Texas, Steve Stivers of Ohio, Van Taylor of Texas, Lauren Boebert of Colorado, Debbie Lesko of Arizona, and Larry Bucshon of Indiana—have been seen refusing to comply with the new orders since the detectors were first installed.
"The metal detector policy for the House floor is unnecessary, unconstitutional, and endangers members," Roy tweeted on January 12. "I did not comply tonight. I will not comply in the future."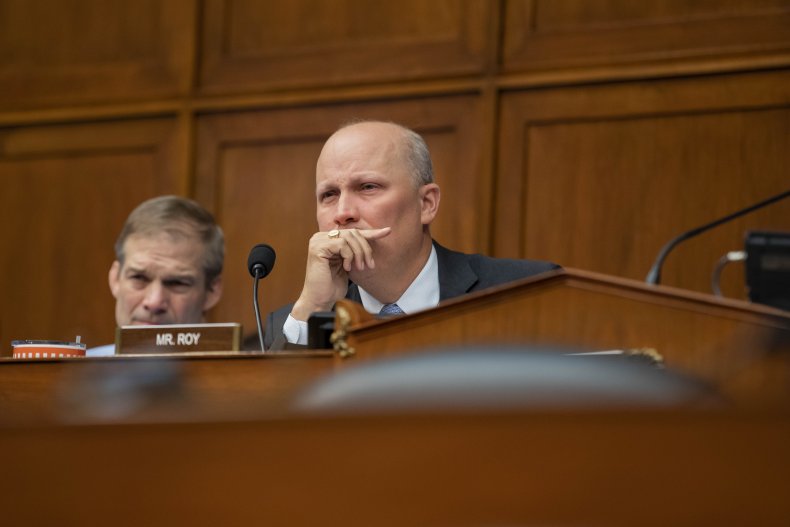 On Tuesday, the Democratic-led House of Representatives instated a new rule to issue a $5,000 fine to any lawmakers who refuse to go through the detectors. If a lawmaker refuses twice, the fine will be doubled to $10,000.
"Just days after the assault, many House Republicans began disrespecting our heroes by refusing to adhere to basic precautions keeping members of our Congressional community safe—including by dodging metal detectors, physically pushing past police, and even attempting to bring firearms into the chamber," Pelosi said on Tuesday, the Free Beacon reported.
"It is sad that we have been forced to move forward with a rule change imposing fines on those who refuse to abide by these protections, but the People's House must and will be safe, so that we can honor our responsibility to do the People's work."
The new rule says that lawmakers cannot pay fines with campaign funds or congressional office budget funds, but they will be allowed to appeal the fines within 30 calendar days or five legislative days.
But Roy called the measures "a political show," and said the efforts weren't helping to keep Congress members safer.
"On January 6, I was sitting on the floor of the House of Representatives. The only thing between me and an angry mob was a handful of Capitol Hill police officers who had their hands full," he added.
"This is an unconstitutional deprivation of my right to defend myself. Period. Full stop," he said. "I do not care what Speaker Pelosi says about it. I do not care what anybody says about it. That is what the Second Amendment means. That is why it is there."
The Texas Republican also said he was skeptical of whether or not Congress could legally fine its own members.
"Whether or not we can be fined has not really been adjudicated heavily since 1992, when [the 27th amendment] was adopted," he said, the Free Beacon reported.
Before the January 6 attack, Roy was one of several Republicans who pledged to object to President Joe Biden's election certification. But after the Capitol riots, he changed his mind and singled out Trump's baseless claims that the election had been stolen due to voter fraud.
"The president should never have spun up certain Americans to believe something that simply cannot be," he said, before voting to certify Biden's win.
However, he has since criticized Democratic representatives, including Democratic Congresswoman Alexandria Ocasio-Cortez, for accusing Republican lawmakers of helping to incite the violence.
"It is completely unacceptable behavior for a Member of Congress to make this kind of scurrilous charge against another member in the House or Senate for simply engaging in speech and debate regarding electors as they interpreted the Constitution," he said in January.
Newsweek contacted Roy's office for additional comment, but did not hear back in time for publication.