GOP Rep. Crenshaw Dismisses Heckler's 2020 Voter Fraud Claims: 'Absolutely Not'
Representative Dan Crenshaw, a Texas Republican, shut down claims from a heckler that former President Donald Trump lost the 2020 election due to widespread voter fraud—asserting that the allegations were "absolutely not" true.
Trump and many conservative allies continue to claim that President Joe Biden and Democrats "rigged" or "stole" the 2020 election. The allegation already has been thoroughly litigated and wholly discredited, but many Republican voters, according to polling, believe the former president.
During a recent GOP fundraising dinner, Crenshaw was heckled by an attendee who put forward Trump's claims about the 2020 election. The heckler was Bobby Piton, who is running as a Republican in the 2022 election for Senate in Illinois. Piton uploaded a video of the event on Wednesday, slamming Crenshaw for pushing back against the allegations.
"Don't kid yourself into believing that's why we lost. It's not. It's not. And I'll tell you openly...," Crenshaw says in the video.
Piton can be heard responding from the crowd, insisting, "You're wrong."
"And I'm not wrong," Crenshaw pushes back. "Five states?" he asks.
"I have plenty of proof. I have proof in Arizona, Pennsylvania and Georgia," the GOP senate candidate claims.
Crenshaw then responds dismissively and moves to shut down the heckler. The Republican congressman asserted that none of the states will "flip" in Trump's favor as allies—such as My Pillow CEO Mike Lindell—have claimed repeatedly.
"It won't. It won't. And you've gotta flip all five states to make it work," Crenshaw points out. As Piton continues to insist that Democrats stole the election, the Republican lawmaker says, "I'm not going to argue with this."
"This is something you've gotta accept. Is there a lot of voter fraud? Yeah, there probably is. Enough that Trump won? No, absolutely not," Crenshaw asserts. "Absolutely not. Five different states? Hundreds of thousands of votes? You're kidding yourself."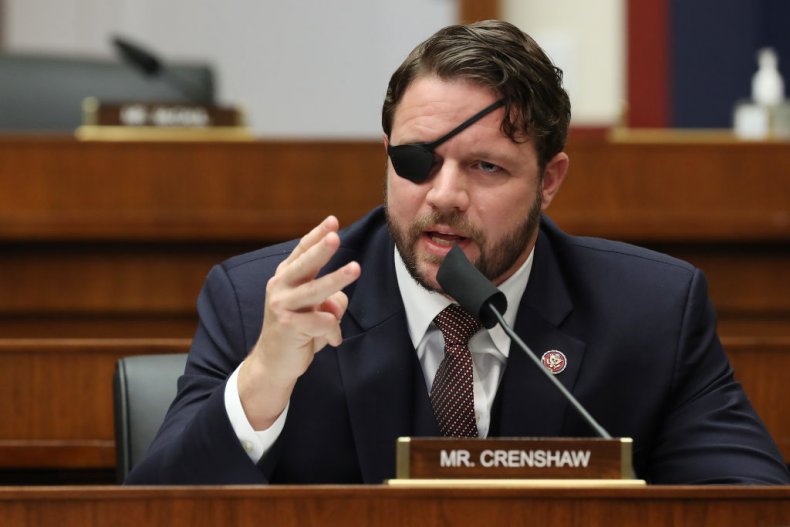 Newsweek reached out to Crenshaw's press representatives for further comment but did not immediately receive a response.
Although most GOP lawmakers in Congress did not acknowledge Biden as the winner of the 2020 election, Crenshaw asserted in mid-December that the results were not in dispute. "The Electoral College has spoken. That is the final say," he said after the Electoral College met to formally cast the ballots on behalf of states. The majority of GOP House members went on to object to Biden's win in key battleground states on January 6 and 7, but Crenshaw did not join them in that effort.
Dozens of election challenge lawsuits filed by Trump and his allies failed in state and federal courts. Even judges appointed by Trump and other Republicans rejected the allegations. Further, audits and recounts in key battleground states—including places where the election was overseen by pro-Trump Republicans—reaffirmed Biden's win.
Former Attorney General William Barr, who was widely viewed as one of Trump's most loyal Cabinet members, said in December that there was "no evidence" to support the claims of widespread fraud being behind Biden's victory.
After the election, the Cybersecurity and Infrastructure Security Agency at the Department of Homeland Security described the 2020 election as the "most secure in American history." The agency, which was led by a Trump appointee at the time, asserted that there was "no evidence that any voting system deleted or lost votes, changed votes, or was in any way compromised."