GOP Sen. Ron Johnson Tests COVID Positive Days After Ending Quarantine
Senator Ron Johnson, a Republican from Wisconsin, has tested positive for COVID-19, his office announced Saturday morning. Johnson is the third GOP senator to report a positive diagnosis since Friday, following President Donald Trump's own positive test results.
"Senator Johnson feels healthy and is not experiencing symptoms," his office said in a statement. "He will remain isolated until given the all-clear by his doctor."
Johnson, 65, was exposed to someone who tested positive for COVID-19 on September 14, according to the statement. The senator quarantined for two weeks and tested negative twice during that time.
After returning to Washington on September 29, Johnson was exposed to someone who has since tested positive, the statement read.
"After learning of this exposure, the senator was tested yesterday afternoon. This test came back positive," according to the statement.
Johnson previously said that the U.S. "overreacted" in its response to the coronavirus pandemic, he told Axios' Mike Allen in July.
"[I]n hindsight, I think we overreacted. We closed too much of our economy down, and I don't think we focused enough on what we needed to do: isolate the sick, quarantine them, protect the vulnerable," Johnson said.
The senator added that he understands lawmakers have had to make tough decisions with information that is often not accurate.
"The first assumption we all made is that COVID is nobody's fault. It's basically an act of God. And so the businesses that are suffering ... it's not their fault," the Wisconsin senator said.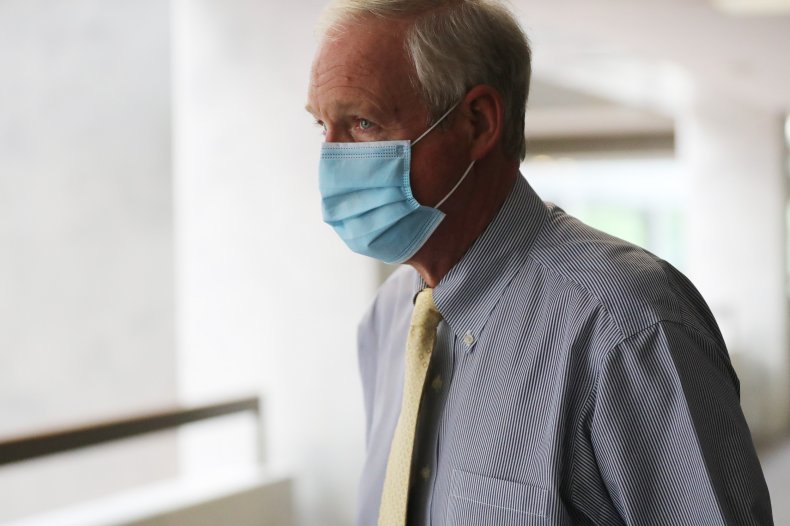 It is unclear who Johnson might've contracted the virus from when he was reportedly exposed Tuesday.
Senator Mike Lee, a 49-year-old Republican from Utah, announced his positive diagnosis Friday. "Yesterday morning, I was experiencing symptoms consistent with long-time allergies," Lee began his statement, which he posted to Twitter Friday morning. "Out of an abundance of caution, I sought medical advice and was tested for COVID-19."
Thom Tillis, a GOP senator from North Carolina, tweeted out his positive results Friday evening. Tillis, 60, is following the recommendations of his doctor, but is "thankfully" experiencing no symptoms and feels well, he wrote.
"COVID is a very contagious virus. If you were exposed or start to display symptoms, please call your doctor, self-isolate, and get tested," he continued in his tweet.
Senator Patrick Leahy, an 80-year-old Democrat from Vermont, sought on Saturday to call attention to the nomination of Judge Amy Coney Barrett, whom Trump appointed on September 26 to replace the late Supreme Court Justice Ruth Bader Ginsburg with mere weeks left until the November 3 election.
"As COVID grips our nation, the Senate does nothing except break precedent in mad rush to confirm a nominee before the election & before the Republican lawsuit to kill ACA," Leahy tweeted. "2 Senators will be just HOURS out of quarantine as committee hrg begins. This isn't normal. It isn't OK."
Both Lee and Tillis are members of the Senate Judiciary Committee, which traditionally holds a hearing where the nominee provides testimony and answers questions before the committee refers the nomination to the full Senate for consideration.
In his announcement, Lee said that he had already assured Senate Majority Leader Mitch McConnell and Senator Lindsey Graham that he would be back to work "in time to join my Judiciary Committee colleagues in advancing the Supreme Court nomination" of Barrett to both the committee and the full Senate.
Graham, who heads the committee, has also voiced his plans to proceed with Barrett's confirmation to the Supreme Court as planned. Kevin Bishop, a spokesman for Graham, told Newsweek Friday that the process will continue with "no change." Hearings before the committee are set to begin October 12.
Johnson's positive diagnosis makes him the third GOP senator with COVID-19 in the past 24 hours alone, following Trump's announcement in the early hours of Friday morning.
Trump tweeted about his positive results, writing: "Tonight, @FLOTUS and I tested positive for COVID-19. We will begin our quarantine and recovery process immediately. We will get through this TOGETHER!"
The president is believed to have contracted the virus from Hope Hicks, one of his top aides, who tested positive Thursday after she began showing symptoms the previous day.
In addition to these officials, three other key political figures have since announced their positive test results. Kellyanne Conway, former counselor to Trump, revealed her diagnosis in a tweet Friday.
"Tonight I tested positive for COVID-19," Conway tweeted. "My symptoms are mild (light cough) and I'm feeling fine. I have begun a quarantine process in consultation with physicians. As always, my heart is with everyone affected by this global pandemic."
Conway, like Lee, Tillis, Hicks and the Trumps, attended Barrett's nomination event last week.
Trump campaign manager Bill Stepien tested positive for coronavirus Friday evening, as well as Republican National Convention Chair Ronna McDaniel.
Earlier Friday, Stepien had sent a memo to staff saying that anyone who had exposure to someone else that has tested positive should immediately self-quarantine.
"While we do not believe anyone without symptoms needs to self-quarantine at this time, it is on all of us to continue to exercise the smart judgment and practices the campaign has long encouraged," he said, including mask-wearing and handwashing.
Update 10:18 a.m. ET: This article has been updated to include additional information.