GOP Senator Blackburn Uses Ukraine Invasion to Criticize Biden SCOTUS Pick
As Republican senators reacted to President Joe Biden's Supreme Court nominee on Friday—with some backing the president's pick and others criticizing his commitment to nominate the first Black woman to the high court—one senator took issue with the timing of Biden's announcement, arguing that it was "inappropriate" given the ongoing Russian invasion of Ukraine.
"President Biden's announcement just days after an unprovoked full scale invasion by Russia is extremely inappropriate," Senator Marsha Blackburn tweeted on Friday. "Once again, Biden is putting the demands of the radical progressive left ahead of what is best for our nation."
On Friday morning, Biden announced he would nominate Judge Ketanji Brown Jackson to fill Justice Stephen Breyer's seat once he retires.
The announcement comes just two days after Russian President Vladimir Putin ordered a full-scale invasion of Ukraine, sending the international community into a tailspin as the U.S. and other NATO allies announced new sanctions against Russia in hopes of preventing a world war from erupting.
While Biden has faced widespread criticisms from Republican leaders for his response to the conflict in eastern Europe, few had taken aim at the president for his nominee due to the coinciding of his announcement with the attack on Ukraine.
Biden's SCOTUS decision had been expected to come before the end of the month.
Although other senators haven't yet echoed Blackburn's remarks, this is not the first time Republicans have used timing to argue against a Democratic president's pick for the Supreme Court.
Back in 2016—when former President Barack Obama nominated now-Attorney General Merrick Garland to the seat left vacant by the death of Justice Antonin Scalia—the Senate's Republican majority refused to consider Garland's nomination in an unprecedented move, citing the election year.
Arguing that the winner of the 2016 presidential election should rightfully select Scalia's replacement, McConnell successfully delayed the nomination until Donald Trump was elected to the Oval Office.
Upon taking office, Trump nominated Neil Gorsuch within his first two weeks as president. Gorsuch was confirmed by the Senate in April 2017.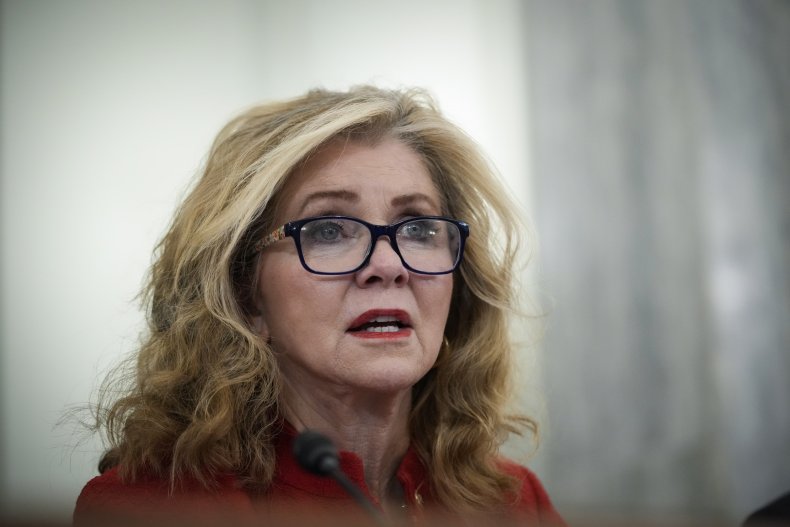 Since Breyer announced his upcoming retirement, the GOP has slammed Biden for vowing to diversify the Supreme Court by nominating the first Black female judge to the bench—a message Blackburn doubled down on this week.
"A Supreme Court nominee must be committed to upholding the rule of law and Constitution as written," the senator tweeted. "We must not blindly confirm a justice to serve as a rubber stamp for a radical progressive agenda."
On Friday, Blackburn also accused the president of using the announcement as "an attempt to hide that for over three months Biden refused to levy sanctions against Russia or send military assistance to Ukraine," but added that she still plans to meet with Jackson in person.
"I cannot hold President Biden's failure to lead our nation against his nominee," the Tennessee Republican said.
Blackburn is among a number of Republican senators, like Senators Ted Cruz and Roger Wick, who have argued that whoever Biden picks would be a "beneficiary" of affirmative action. Cruz went so far as to say that selecting a Black woman would be "an insult to Black women."
However, other Republican leaders, like Senate Minority Leader Mitch McConnell and Senator Susan Collins have signaled they would welcome the appointment of a Black woman to the Supreme Court.
"I heard a couple of people say they thought it was inappropriate for the president to announce he was going to put an African-American woman on the court," McConnell said at an event in Kentucky earlier this week. "Honestly, I did not think that was inappropriate."
Last year, Collins, alongside Senators Lisa Murkowski and Lindsey Graham, voted to confirm Jackson to the U.S. Court of Appeals for the D.C. Circuit.
Despite Graham's vote to confirm Jackson, the senator has lobbied for a different Black female judge who was being interviewed by the president—Judge J. Michelle Childs, who serves on the federal bench in his home state of South Carolina.
"The attacks by the Left on Judge Childs from South Carolina apparently worked," Graham tweeted on Friday.
Newsweek reached out to the White House for comment but did not hear back before publication.