Senator John Barrasso, a Wyoming Republican, praised his colleague Senator Lisa Murkowski on Sunday after former President Donald Trump vowed to campaign against the Alaska Republican in a Saturday statement.
Murkowski is up for re-election next year and filed to run for a fourth term back in 2017. The Alaskan lawmaker was one of seven GOP senators who voted to convict Trump in his Senate impeachment trial last month for inciting his supporters to violently attack the U.S. Capitol on January 6. Despite Trump's staunch opposition to Murkowski and other Republicans who backed his impeachment and conviction, Barrasso—who chairs the Senate Republican Conference—said he continues to support at least two that came out against the former president.
"In terms of Alaska, I want to always make sure we nominate somebody who can win in November," Barrasso said. "Lisa Murkowski knows Alaska better than anybody. And she's an incredible fighter for American energy. She hasn't made an announcement of if she's even going to run again. If she does, I'm going to support her."
Barrasso then went on to say that he continues to back Representative Liz Cheney, a fellow Wyoming Republican who chairs the House Republican Conference. Cheney was one of 10 House Republicans to vote in favor of impeaching Trump following the attack against the Capitol. The congresswoman has repeatedly said that Trump should no longer have a leadership role within the GOP going forward.
"With regard to Liz Cheney in Wyoming, we work closely together fighting the Biden administration," Barrasso said. He reiterated that he continues to "support" Cheney despite disagreeing "completely" with her impeachment vote against the former president.
In a Saturday statement to Politico, Trump described Murkowski as "disloyal" and "very bad."
"I will not be endorsing, under any circumstances, the failed candidate from the great State of Alaska, Lisa Murkowski. She represents her state badly and her country even worse. I do not know where other people will be next year, but I know where I will be—in Alaska campaigning against a disloyal and very bad Senator," the former president said.
Trump said last weekend during a speech at the Conservative Political Action Conference (CPAC) that Republicans should remove from office Murkowski, Cheney and the other GOP lawmakers who voted to impeach or convict him. "Get rid of them all," he told attendees.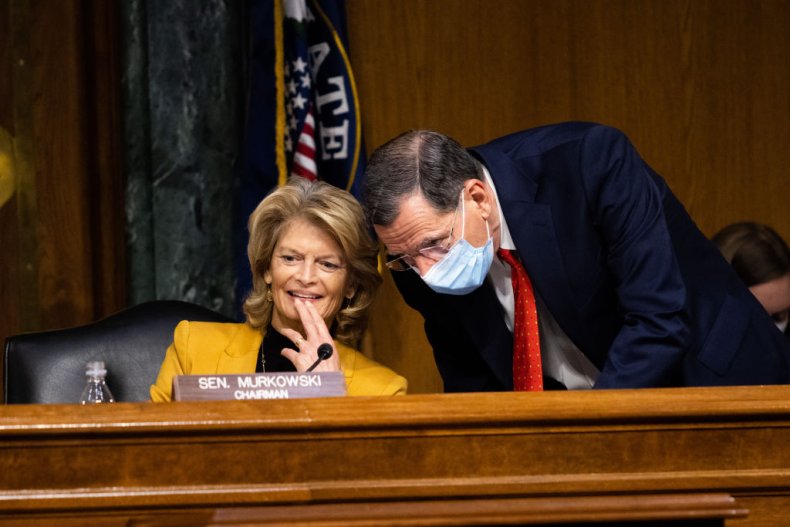 Cheney and Murkowski have both been censured by Republicans in their respective states, as have several of the other GOP lawmakers who turned against Trump following the January 6 riot. Trump's criticism of the Republican lawmakers comes amid what many analysts have described as a "GOP civil war," with a minority of GOP members of Congress publicly opposing the former president. Meanwhile, polls have shown that the majority of Republican voters continue to back Trump while many view GOP lawmakers opposing him as "disloyal."
Newsweek reached out to Murkowski and Cheney for comment but did not immediately receive a response.