Senator Pat Toomey, a Pennsylvania Republican, said the government should "make it more difficult" for violent criminals and the mentally ill to buy guns—but dismissed the possibility of the Senate passing House-approved legislation to expand background checks.
The U.S. saw two mass shootings this month: the first in the Atlanta area left eight people dead, while the second left 10 dead in Boulder, Colorado. Those shootings came after the U.S. saw the highest number of gun-related deaths in at least two decades during the past year.
Toomey previously pushed for legislation to strengthen background checks and encourage states to approve so-called "red flag" laws, which permit local law enforcement to remove guns from people believed to be at risk of committing acts of violence.
During an interview with NBC News' Meet the Press on Sunday, Toomey said he did not believe the problem with gun violence in the U.S. was the result of "too many" firearms.
"No, I don't think the answer is too many guns," the GOP senator said.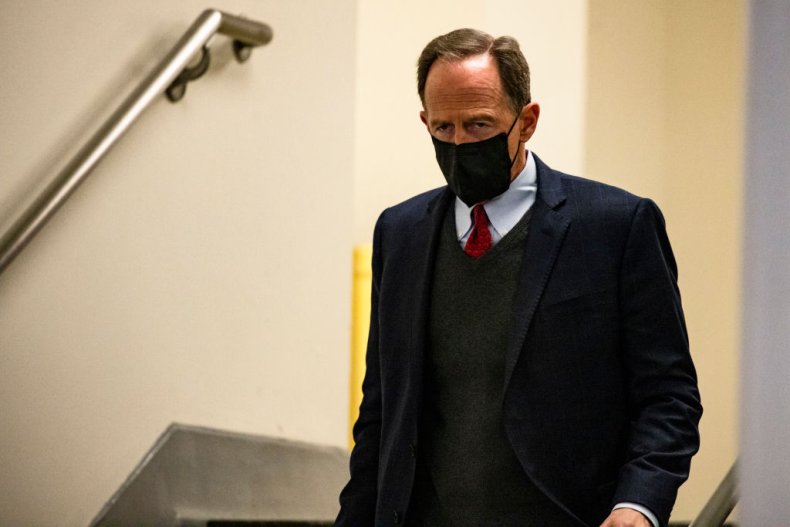 "If I have four or five guns and I buy two more, did America become a more dangerous place? I don't think so. I'm not a dangerous person. My focus has always been, make it more difficult for people that we all agree shouldn't have firearms, make it more difficult for them to get firearms—that is violent criminals, the dangerously mentally ill," Toomey continued.
But the Pennsylvania Republican said recently passed House legislation that would expand background checks and close loopholes currently in place that allow gun purchasers to buy firearms without a background check is a non-starter in the Senate.
"The fact is the bill that passed the House that doesn't even have 50 votes in the Senate. [Democratic Senator] Joe Manchin is on record opposing that. So, there are not even 50 votes. You could get rid of the filibuster tomorrow and you still couldn't pass that bill. So, what we need to do is try to find a place where we can land, a place where there's some common ground. I have long believed, as, as I've told you many times, the place where we ought to be able to get that done is requiring background checks on commercial sales," he said.
Eight Republican representatives voted in favor of H.R. 8, the Bipartisan Background Checks Act of 2021, which would expand background checks to be required for gun sales and transfers nationwide, closing most loopholes currently in place. When it comes to H.R. 1446, the Enhanced Background Checks Act of 2021, two GOP House members voted in favor of that legislation as well. That bill would end the so-called "Charleston Loophole," which allows certain licensed gun sales to go through before a background check is completed.
But as Toomey explained, neither of these bills currently appear to have a path forward in the Senate. With the Senate's legislative filibuster rule, most legislation requires the backing of 60 senators to become law. But even if the filibuster were to be removed—as many Democrats have called for—Manchin alone could prevent the bill from passing via a simple majority vote in the evenly split 50-to-50 legislative chamber.
Meanwhile, President Joe Biden plans to sign executive orders related to gun control as Congress remains at an impasse. But Biden has also said that he aims to get the House and Senate to act on reforming gun laws.
Newsweek reached out to the White House for comment, but did not immediately receive a response.