Kamala Harris Defers to Senate on Gun Reform as Biden Weighs Executive Action
When it comes to the White House's gun reform agenda, Vice President Kamala Harris and President Joe Biden are sending mixed messages.
While Biden discussed potentially taking executive action on gun control on Tuesday, Harris continued to urge the Senate to expedite two measures that have already passed the Democrat-controlled House.
In an appearance on CBS This Morning, Harris told Gayle King, "The point here is Congress needs to act. On the House side, they did. There are two bills which the president is prepared to sign, so we need the Senate to act."
Harris said Americans need to plead with their senators to pass the bills, which would require more rigorous background checks for gun purchases on the federal level.
"There is the piece about executive action, but if we pass legislation, then it's permanent," she said. "If Congress acts, then it becomes law, and that is what we have lacked. That is what has been missing."
CBS' Anthony Mason pressed Harris about whether Biden would go around Congress and issue an executive order, noting that the Democrats do not have the Senate votes to pass such bills.
"We should first expect the United States Congress to act. I'm not willing to give up on what we must do to appeal to the hearts and minds and reason of the members of the United States Senate," she replied.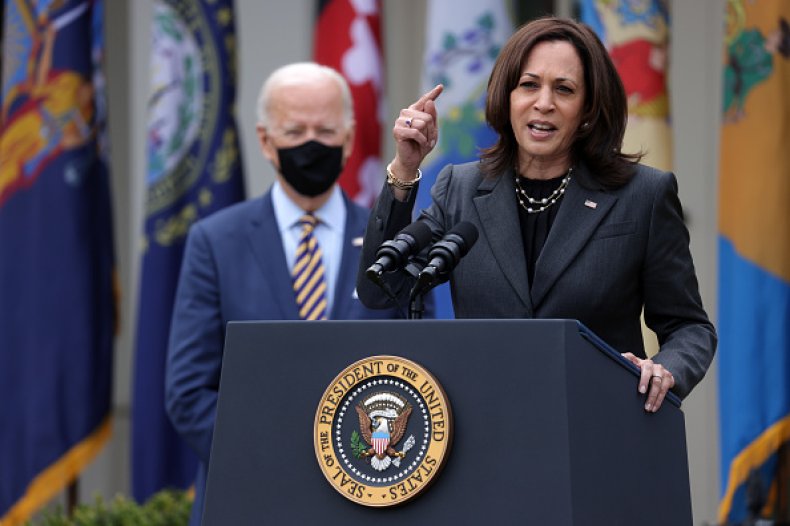 "If we really want something that is going to be lasting, we need to pass legislation," Harris said.
"Elections matter, and there are a bunch of folks—Moms Demand Action—a bunch of folks from Gabby Giffords to the Brady folks. Sign up and join them and let's say that we're going to hold our elected people accountable if they're not going to be with us on what we need in terms of reasonable gun safety," she added.
Moms Demand Action for Gun Sense in America, a grass-roots group fighting for gun safety measures, has pointed out that the president has the power to do something right now, rather than wait for senators to pass legislation.
Biden addressed that option on Tuesday in his first remarks addressing the mass shooting in Boulder, Colorado, that left 10 people dead—an attack that came just days after a gunman killed eight people in Atlanta.
"I don't need to wait another minute—or another hour—to take common sense steps that will save lives in the future," Biden said.
"We can ban assault weapons and high-capacity magazines in this country once again," he continued. "I got that done when I was a senator. It passed. It was the law for the longest time. And it brought down these mass killings. We should do it again."
In 1995, President Bill Clinton signed a bill prohibiting civilian use of assault weapons and large-capacity magazines, the Federal Assault Weapons Ban, after Congress passed it. The ban was in place for 10 years until Clinton's successor, George W. Bush, let it lapse.
The president also echoed some of Harris' remarks, calling on Congress to ban assault rifles and close gun loopholes.
"The United States Senate should immediately pass the two House-passed bills to close loopholes in the background check system," Biden said Tuesday. "We have to act."
On Wednesday, Harris criticized GOP senators like Ted Cruz, who called the gun conversation "ridiculous theater" and said that reform wouldn't have prevented the shootings that took place.
"Every time there is a slaughter, a mass shooting, someone, who does not want to be accountable for what we need to do, says, 'Well, that wouldn't have prevented this thing,'" she said. "Arguably, if you took that approach to any law, you would argue that we shouldn't pass any laws that are designed to protect the health and well-being of the American people."
Newsweek reached out to the White House for comment but did not hear back before publication.