Despite Recent Mass Shootings, Support for Stricter Gun Laws Has Declined: Poll
In the wake of two mass shootings this month—one in Georgia and the other Colorado—new polling shows that support for stricter gun laws has declined compared to two years ago.
Eight people were killed when a lone gunman attacked three separate massage parlors in the Atlanta area on March 16. Less than a week later, 10 people were killed when a gunman opened fire in a King Soopers in Boulder, Colorado on March 22. Those mass shootings came after gun violence led to more deaths in 2020 than any other year in at least two decades, The Washington Post reported.
Despite the uptick in gun deaths and recent mass shootings, a new poll carried out by USA Today/Ipsos from March 23 to 24 showed that support for stricter gun laws has actually declined since a similar survey was conducted in August 2019. Whereas 72 percent of Americans said gun laws should be "a lot" or "somewhat" more strict in August 2019, just 65 percent of Americans said the same this week—a decline of 7 points.
The drop in support for stricter gun laws is driven by Republicans, as slightly more Democrats and independents said they backed more restrictions now than said the same in 2019. Meanwhile, among GOP voters, support for stricter gun laws has dropped by double digits. In the latest survey, just 35 percent of Republicans said they support stricter gun laws compared to 54 percent in the previous poll—a 19 point decline.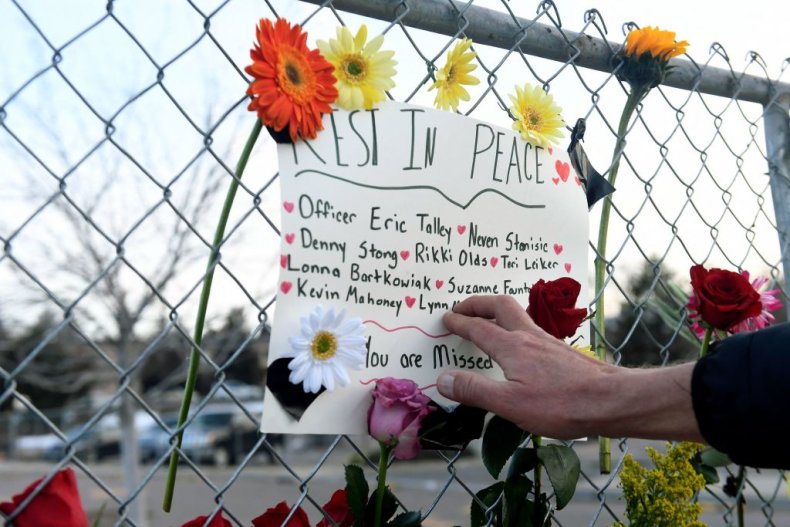 When it comes to independents, 66 percent said they back stricter gun laws, just slightly more than the 64 percent who said the same in 2019. Now 90 percent of Democrats want additional restrictions, compared to 87 percent in the previous polling results.
Support for expanding background checks—to close current loopholes—for gun purchasers has declined as well. In August 2019, 67 percent of Americans backed the passage of legislation for increased background checks. Now when the question was asked this week, just 61 percent of Americans supported the expansion of background checks for gun buyers. Again, support for the proposal increased among Democrats and independents, while it declined by double-digits among Republicans.
In 2019, 79 percent of Democrats and 53 percent of independents backed expanding background checks compared to 82 percent and 62 percent, respectively, today. But among Republicans, support for the increased background checks declined by nearly 20 points—down from 59 percent in 2019 to just 40 percent as of this week.
Notably, the new USA Today/Ipsos poll is at odds with a survey conducted by Morning Consult earlier this month. That survey showed significant bipartisan support for universal background checks for gun purchasers. Overall, that survey found that 84 percent of Americans approve of universal background check—including 77 percent of Republicans, 82 percent of independents, and 91 percent of Democrats.
The House of Representatives passed two pieces of legislation this month that would expand background checks and close current loopholes that allow gun buyers to purchase firearms without completing background checks. Although the bills passed with primarily Democratic support, some Republicans voted for each bill.
Eight Republicans voted in favor of H.R. 8, the Bipartisan Background Checks Act of 2021, which would expand background checks to be required for all firearm sales and transfers nationwide, closing most loopholes currently in place. Additionally, two GOP House members voted for H.R. 1446, the Enhanced Background Checks Act of 2021. That bill would end the so-called "Charleston Loophole" that allows some licensed gun sales to go through before a required background check is carried out.
Both bills face an uncertain future in the Senate, which is evenly split (50-50) between Republicans and Democrats.