GOP Senator Scott on Lessons From Trump's Florida Win: 'Democrats Want to Control Your Life'
GOP Senator Rick Scott said Trump's victory in Florida should be a lesson for Republicans on how to win future elections, and warned that "Democrats want to control your life," in a Fox News op-ed published Friday.
The Florida senator urged his party to focus on showing voters that "Republicans are the party of working-class Americans, a party that reaches out to people of all races and creeds, and a party that fights for equal opportunity for all."
He continued by using Trump's election victory in Florida as an example of how Republicans can appeal to a diverse range of working-class Americans.
"Republicans have built a multi-ethnic, working-class coalition of Florida voters who don't like big government, don't like socialism and just want the opportunity to live their lives in freedom and peace," he wrote.
"President Trump had incredible success in Florida because his message resonated with this diverse coalition of voters who don't neatly fit into the pundits' and pollsters' conception of the political world. And he worked to earn votes in my state — a necessity that Florida Democrats seemingly forgot about decades ago," he added.
Florida's 29 electoral votes were called for Trump by media outlets just one day after the election. In 2016, Trump won the state against Hillary Clinton by just 1.2 percent—or just under 113,000 votes.
Exit polling from this year suggested that the president's victory could be partly attributed to his performance with Latino, non-white and white female college graduate voters, which topped his 2016 performance with such demographics.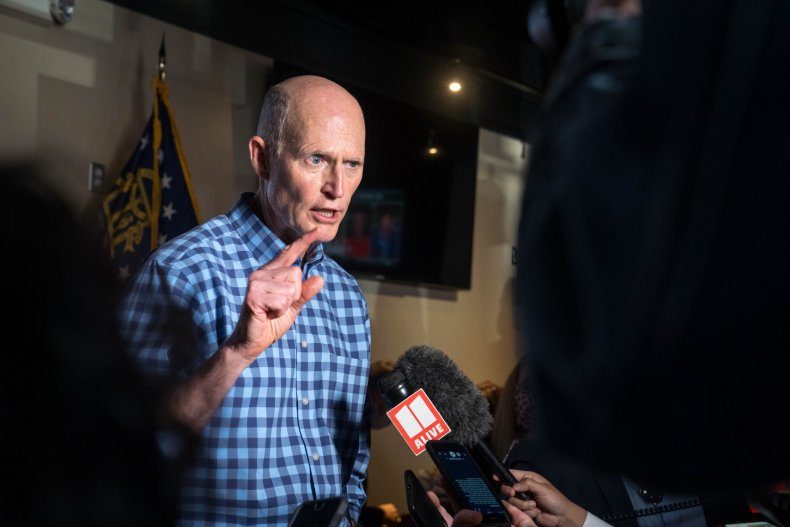 In his article, Scott added that Democrats have failed to win in Florida because residents don't want to embrace an "equal outcomes," economic policy that the left has pushed for.
"Democrats don't want you to decide your own fate. Kamala Harris said it herself. They want equal outcomes rather than equal opportunity. This attitude, if put into practice, would certainly lead to equality. It would make everyone equally poor and it would put government — not individualism, not family, not faith — at the center of American life," he wrote.
"The Democrats want to control your life; Republicans want to give you a life. That's the fundamental difference dividing the two parties right now," he added.
The senator's remarks come amid Trump's final attempts to sway the outcome of the 2020 election. Joe Biden was first announced the winner on November 7, and has since been awarded 306 electoral votes compared to Trump's 232, as states certified their final counts.
Though the president has failed to gain success in election fraud lawsuits across six different states, his campaign continues to push the narrative that the presidential contest was "stolen" by Democrats.
The unsubstantiated theories have created tension with the GOP, as some officials have publicly acknowledged Biden as the president-elect, while others have remained firm in their support for the president. A recent survey conducted by The Washington Post shows that nearly 90 percent of congressional Republicans have not yet said who won the election.
On December 14, the 538 appointed electors in the Electoral College will convene to officially cast their ballots for the next president and vice president.
Newsweek reached out to Scott for additional comment, but did not receive a response in time for publication.