GOP Will 'Incarcerate' Officials Who Approved FBI's Trump Raid, Bannon Says
Right-wing strategist and podcaster Steve Bannon warned that Republicans will "incarcerate" the officials behind Monday's FBI raid on former President Donald Trump's home at his Mar-a-Lago resort in Palm Beach, Florida.
Bannon, who served as the chief executive of Trump's 2016 campaign and as a White House adviser for several months in 2017, slammed the raid on Trump's home during a Thursday episode of his War Room podcast. His remarks came as he interviewed the former president's attorney, Christina Bobb.
The search targeting a former has no historic precedent, marking the most serious legal action ever taken against a former commander-in-chief.
Two senior government sources told Newsweek after the raid that the FBI took the action based largely on information from a confidential source who was able to identify what classified documents Trump was allegedly still holding in his home and where they were located.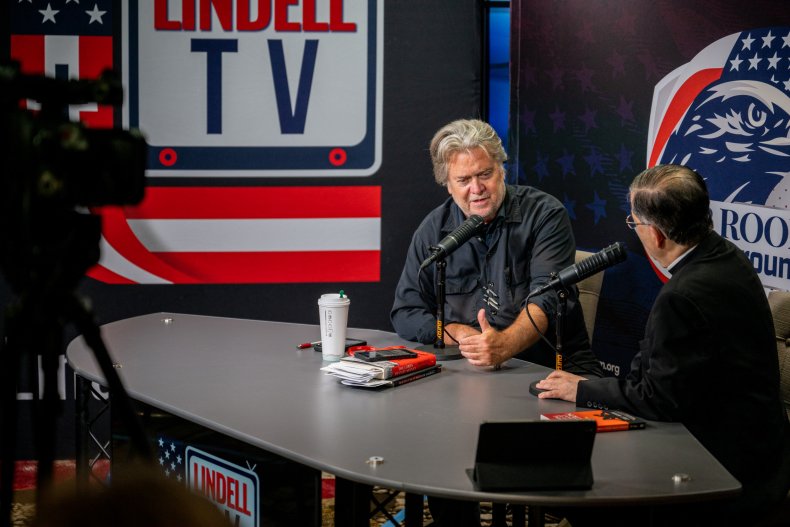 It was previously reported and acknowledged by Trump that documents required by the National Archives had been taken to his home in Florida. The documents reportedly included highly classified information, some of which were related to national security. It's a federal crime to mishandle or improperly remove classified information, but Trump has denied any wrongdoing and insisted that he was cooperating with authorities to return the materials.
"Starting in January, we're going to investigate, we're going to litigate and, wait for it, we're going to incarcerate, OK," Bannon said. "You are lawless, you're running this like a Gestapo. You're going after a president of the United States....Let's see the affidavit and let's see it today." The Gestapo was the secret police of Nazi Germany.
Bannon appeared to be referring to expectations that Republicans will retake control of the House, and possibly the Senate, in the November 8 midterm election. GOP lawmakers and leaders have already vowed to launch a series of investigations into the administration of President Joe Biden, with some even threatening impeachment.
"The New American Gestapo the FBI and the DoJ [Department of Justice] put themselves in this spot because of corruption, incompetence and malfeasance," Bannon wrote in a post on his Gettr profile Thursday.
During the War Room segment, Bobb said that the federal authorities resisted showing her the warrant, but FBI and DOJ officials said the warrant and property receipt were provided to Trump's counsel.
"I asked to see the warrant," Bobb said. "They gave me a little bit of pushback on that. They made me fight them for it. They made me put my lawyer hat on and use all the reasons why they had to show me the warrant, which they did.
"The affidavit, the probable cause why they are allowed to do this, was sealed, so I wasn't allowed to see that. I think that's very telling, that they don't want people to know what probable cause they have."
Newsweek reached out to Trump's press office for comment.
U.S. Attorney General Merrick Garland pushed back against criticism of the Justice Department and FBI in brief Thursday remarks to the press.
"I personally approved the decision to seek a search warrant in this matter," he said, reiterating that the warrant had been approved by a judge who agreed their was probable cause for the raid to be carried out.
Garland also noted that the Justice Department and the FBI had not announced the search or made any press release, suggesting that the agencies had attempted to carry out the raid quietly without media visibility. He noted that Trump was the one who confirmed and reported the raid to the public.
Garland reiterated that the warrant and property receipt had been given to Trump's attorney. He said that the Justice Department has filed a motion for them to be unsealed to the public.
"The department does not take such a decision lightly," Garland said. "Upholding the rule of law means applying the law evenly, without favor. Under my watch, that is precisely what the Justice department is doing."
The White House has asserted that Biden and other administration officials were not aware of the raid before it occurred. They said that it would be inappropriate for Biden to be informed or weigh in on such Justice Department decisions.
Trump previously described the raid as part of a partisan "witch hunt" targeting him and his allies. He has argued that he is being politically persecuted and contended that the FBI action is an effort to prevent him from running for president again.
Bannon was convicted by a grand jury in July for contempt of Congress over his refusal to comply with a subpoena to appear before the House select committee investigating the January 6, 2021, riot at the U.S. Capitol.
He was indicted in August of 2020, accused of defrauding donors to a crowdfunding campaign to help build Trump's long-promised wall on the U.S.-Mexico border. Trump pardoned him on January 20, 2021, just as he departed the White House at the end of his term.