Gordon Sondland Is the Latest Person Trump Says He Doesn't Know After Devastating Impeachment Testimony
After giving damning testimony to the Democrats' impeachment inquiry, Ambassador Gordon Sondland is the latest name with ties to President Donald Trump whom the president claimed not to know.
Sondland's appearance in front of the House Intelligence Committee on Wednesday discussed the claim that Trump orchestrated a "quid pro quo" agreement with Ukraine—a deal in which congressionally approved military aid to the country was withheld until confirmations of politically motivated investigations were assured.
The 62-year-old was appointed as Trump's Ambassador to the European Union after donating $1 million to the Republican's inaugural committee. He was dubbed one of the "three amigos" that frequently interacted with Trump on Ukraine policy. Nonetheless, the president claimed: "I hardly know the gentleman."
Speaking to reporters outside the White House following Sondland's testimony, Trump said: "I don't know him [Sondland] well. I have not spoken to him very much. This is not a man I know well—seems like a nice guy though—but I don't know him well."
The claim was also made in spite of Trump previously calling Sondland a "great American" and an NBC News report that said he was "a small cadre of ambassadors who enjoy direct and frequent access to Trump."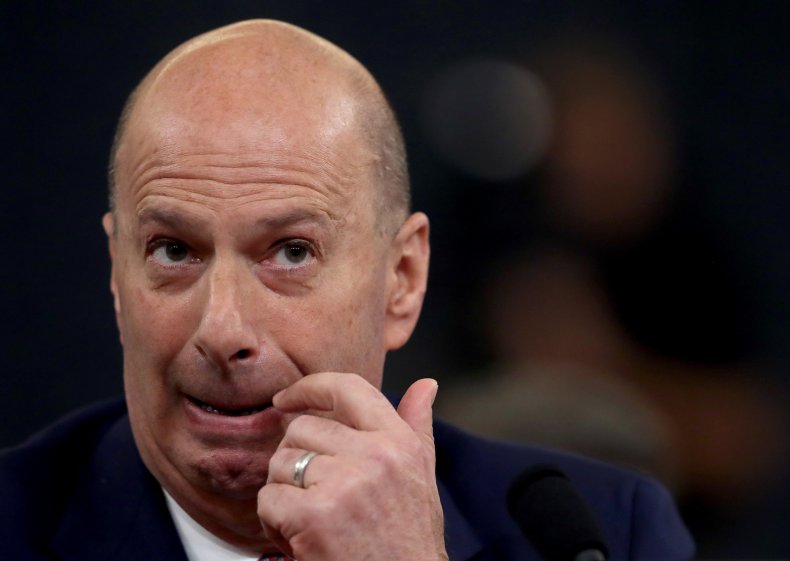 Sondland is not the first person reportedly close to Trump that the president has sought to distance himself from.
So far, Trump has used the same refrain with a campaign manager, a deputy campaign manager, his first national security adviser, a personal attorney, a political adviser, a campaign foreign policy adviser, a former friend and two people working with his current lawyer who had all been arrested, indicted or admitted to committing federal crimes.
One of the first such instances came in October 2017 when George Papadopoulos, a foreign policy adviser to the Trump campaign, was sent to prison for lying to FBI officials about his ties to Russian individuals as part of the Robert Mueller probe.
Trump tweeted he was a "low level volunteer" who "few people knew," and others in the team said he was nothing more than a "coffee boy."
The claims were made in spite of a photo showing the pair sat in a meeting together with other senior politicians such as former Attorney General Jeff Sessions.
The tactic was used again with Trump's longtime personal lawyer, Michael Cohen, after he pleaded guilty to eight counts which included campaign finance violations and bank fraud.
He was frequently described as "Trump's fixer" in media reports, but the president claimed he was one of many lawyers who was hardly involved.
Most recently, the defense was used following the arrests of Igor Fruman and Lev Parnas—associates of Rudy Giuliani who were detained at Dulles International Airport in October on suspicion of funneling foreign funds to U.S. politicians.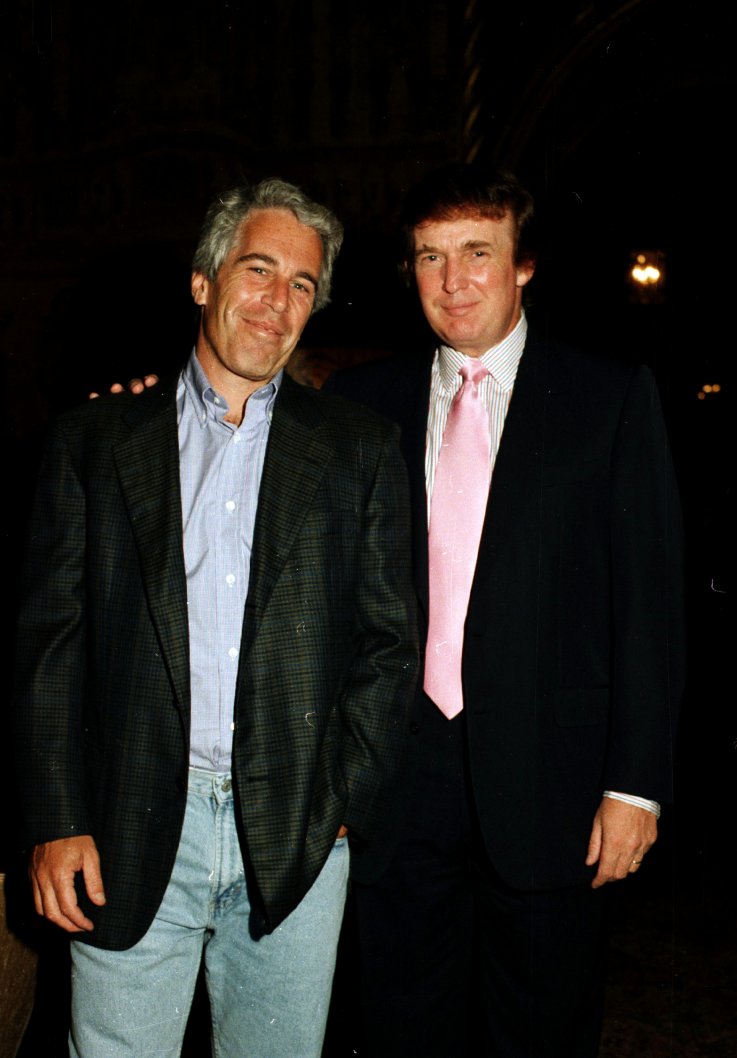 Jeffrey Epstein (left) and Donald Trump as they pose together at the Mar-a-Lago estate, Palm Beach, Florida, 1997.
Getty
Trump claimed not to know the two men in spite of photos posted on Facebook showing them together inside the White House and the post stating that they dined with the president too.
Trump also distanced himself from the disgraced financier Jeffrey Epstein following charges of sex trafficking, stating that he was "not a fan of his"—although numerous pictures showed the pair together.
Epstein was a "terrific guy," Trump said in a 2002 interview, adding: "He's a lot of fun to be with."
Former National Security Adviser Michael Flynn and former political advisers to the campaign Roger Stone and Paul Manafort—who have been convicted of federal charges—also received the same treatment.