'Gossip Girl' Episode 10 and 11 Recap: Cancellations and Cameos
Christmas has come early for Gossip Girl's loyal followers. The final 3 episodes in the HBO Max reboot are available to stream via HBO Max now, hot on the heels of last week's midseason premiere.
When audiences last saw Julien (played by Jordan Alexander), Max (Thomas Doherty), Zoya (Whitney Peak), Obie (Eli Brown), Audrey (Emily Alyn Lind), Luna (Zión Moreno), Aki (Evan Mock), and Monet (Savannah Smith), the Upper East Siders were processing the news Julien 'JC' Calloway's father, Davis (Luke Kirby) had been accused of sexual assault by numerous women. In the final 3 episodes, the accusations keep on coming and JC's world falls apart.
By the end of the season, fans will have a sense of who JC is and if she will be able to come back from the crisis she is facing, but first, there is so much to process in Episode's 10 and 11 before the big New Year's Eve trip. Newsweek has a full recap of the penultimate two episodes below.
Gossip Girl Episode 10 Recap: "Final Cancellation"
Happy Hanukkah! and Happy Gossip Girl Reunion day. Yes, move over awkward Thanksgiving Dinners (sorry if you are still recovering from Episode 7), awkward Hanukkah dinners are up next.
Audrey has managed to get Max to fall at her feet (despite him trying his best to keep his distance) and secure an invitation for her mother Kiki's (Laura Benati) attendance at his family's Hanukkah dinner.
Kiki isn't Jewish, but she is a fashion designer and Audrey was not going to let her mother miss the opportunity to sit across from the one and only, Eleanor Waldorf.
Yes, Margaret Colin has reprised her role as Eleanor Waldorf for the Hanukkah episode, alongside Wallace Shawn as Blair's stepdad Cyrus. The Waldorf family maid Dorota, played by Zuzanna Szadkowski, is also in attendance alongside her husband Vanya (Aaron Schwartz) and her daughter Anastasia who is all grown up. It is Gossip Girl notasalgia at it's finest.
Unfortunately, we don't get much of an insight into their lives today but it seems like nothing has really changed. However, OG Gossip Girl fans do get a little update on Blair's (Leighton Meester) whereabouts today. She's in Paris, living her best life of course.
At the dinner, Kiki awkwardly pitches her latest collection to Eleanor, Max's father Roy (John Benjamin Hickey) turns up at the dinner without an invite, making everybody, particularly Gideon (Todd Almond), feel uncomfortable and Dorota's daughter Anastasia throws JC under the bus and almost jeopardizes Kiki's opportunity. We are about to see a different side to Audrey. Finally, a Serena (Blake Lively) and Blair-style fallout could be on the cards.
Whilst Audrey is at dinner at the Waldorf's, JC's world is falling apart in DUMBO, Brooklyn.
Following the events of Episode 9, where JC was accused of silencing her father's victims, she has been "canceled" by her peers, her once-loyal followers and brands have ceased working with her. Luna calls this "Stage 1 - Life Support", which she predicts will only last a week. However, as the episode progresses, JC makes it all the way to Stage 3 of the cancellation — "the flat line" phase.
In a bid to rescue her image and reputation, JC hosts a party. All the money spent on food and drink will go straight to a fund to help the legal costs of the woman allegedly assaulted by her father and JC promises to match the donation with her own money. However, as expected, no one really turns up to the party, except a bunch of former 'Julienstans' who denounce their former Queen right in front of her face.
When one of the "12-year-old Julientans" insults JC's clothing, JC bragged how it was from a "top-secret" collection by Kiki Hope. Revealing her mother was the designer of the dress was the one thing Audrey had asked of her best friend and the betrayal leads to the pair having an argument outside Audrey's home, where Audrey does not hold back in telling JC how selfish she is. Ouch.
JC has also burnt bridges with Zoya, who along with Luna and Monet, tried her best to make JC's party work. She even facilitated a Gossip Girl alert which tricked many attendees into believing playwright Jeremy O. Harris would be at the party.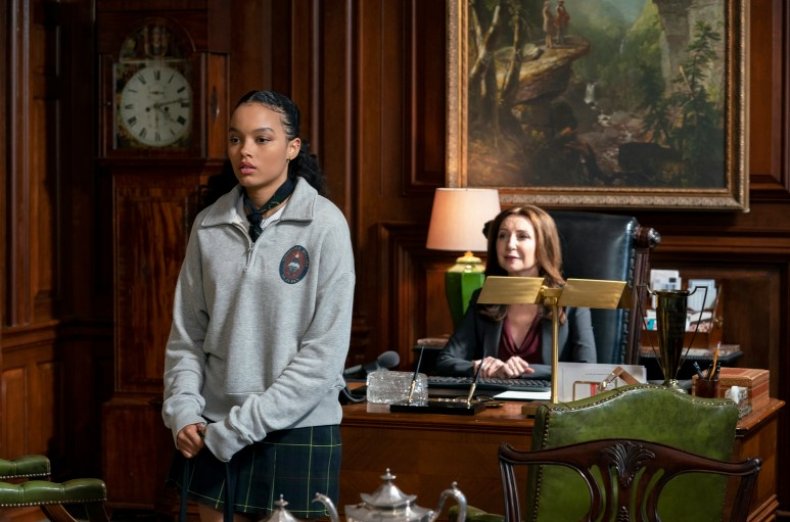 When JC realized no one was really at her party for her, she takes her rage out on Zoya and of course, their whole argument makes it to the main page of Gossip Girl.
As a result of Zoya's behavior and her association with JC, her scholarship to Constance Billard, which was set to be funded by O'Harris was pulled, meaning if she wanted to stay at the prestigious school, from January 2022 her father would have to pay the full price, something she knows he cannot afford.
Elsewhere in the JC-centric episode, Obie told Julien he was in love with her (classic Obie, who will he fall in love with next?), Max told Audrey and Aki to (quite-rightly) leave him alone and Kate Keller (Tavi Gevinson) managed to take back control of Gossip Girl from her colleague Scott.
But who would have thought Scott would be the one to point out the abuse of power Kate carries out every day by obsessing over Gossip Girl? After all, in trying to make things right for Julien by posting the video of her and Zoya's argument, Kate inadvertently jeopardized Zoya's education, not to mention her reputation.
Nobody really made it out of Episode 10 alive, let's see what happens next.
Gossip Girl Episode 11 Recap: "You Can't Take It with Jules"
The Gossip Girl Reboot really is celebrating every holiday you can imagine in Part 2. It's Christmas in Episode 11 and usually, it's an event that brings families together but can it fix the broken families and relationships in Gossip Girl? Let's see.
Aki and Audrey
Aki and Audrey were on Cloud 9 after their threesome with Max but after being rejected in Episode 10, they seem to have hit rock bottom.
They try threesomes with other people, threesomes where Aki just watches and they even set up a profile on a dating app, but nothing seems to be igniting the spark between them. It's Max they need and we all know it, too bad he's chaneling his energy into other people who are also unavailable, like Obie's sister Heidi (played by Kathyrn Gallagher).
Obie, Kathryn, and Max
Instead of dealing with his own problems, Max sets out to find distractions in Episode 11.
Max, who lost his virginity to Kathryn, can't believe she is actually settling down and senses something isn't quite right about her engagement, despite Obie's protests that she seems genuinely happy.
He suspects Kathryn and Klaus's plans to have a "long engagement" are a part of a clever business deal on Klaus's part after he overhears there is a deal between Obie's family hotel chain and Klaus's family on the table.
Obie finally steps up and accuses Klaus of using his sister to save his family's company, but it turns out it was not Klaus who was behind the deal, it was Kathryn, who had kept her business intentions from her fiancé a huge secret.
Klaus feels like he can no longer trust Kathryn and calls of their engagement, leaving Kathryn heartbroken. She admits there were business intentions at first but she had fallen in love with him.
When Max approaches her outside the bar, Kathryn snaps and tells Max some truths he was not wanting to hear. She starts with telling him to "grow up" and ends with stating people like Max, are incapable of love. Rub salt in the wound why don't you Kathryn.
Poor Max, he does know how to love, he's in love right now with two people, their names rhyme with Maudrey and Maki, he just doesn't want to see it.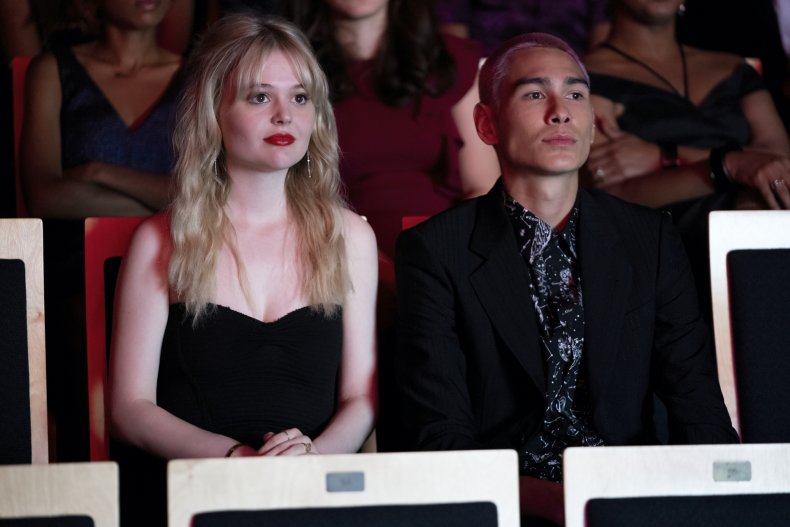 Zoya and JC
JC is still trying to recover from the events of Episode 11, where she was suffering from "cancellation", Poor JC.
Despite a screaming match with her half-sister, it turns out JC needs her more than ever. Her grandmother showed up and tried to take her back to Indiana after Davis abandoned the family home. Luckily, Zoya's trait of forgiving people too easily came in handy here and JC was able to move in with Zoya and her father Nick (Jonathan Fernandez).
Luckily, Zoya has made friends with a free-spirited student named Shan, who seems to bring the best out in her. Hopefully, we will see a lot more of Shan and Zoya's happiness going forward, and hopefully, it won't be spoiled by JC...again.
Gossip Girl and Everybody
Well, Kate Keller finally got what she wanted in the end, power.
She's back in control and hoping to achieve what she set out to do, teach the students of Constance Billard a lesson.
The penultimate episode of Gossip Girl ended on a huge cliffhanger which saw Kate and her minions share a google document link to all of Gossip Girl's followers.
When her loyal followers follow the link, they will be taken to a spreadsheet that lists all of the tips, and who sent them in. Surely, Kate's "clever" move isn't going to save the students of Constance Billard, it risks destroying them.
All will be revealed in the Season finale, titled "Gossip Gone, Girl."
Side note: Gossip Girl Showrunner Joshua Safran is not disappointing fans with Gossip Girl cameos and references to the original season. You may have noticed three girls at the party who looked exactly like Blair, Serena, and Penelope (Amanda Setton). Safran even made a nod to Season 4, Episode 1, when Blair pushed Serena (Blake Lively) into the fountain by seeing 2.0 Blair push 2.0 Serena into a chocolate fountain at the party. The scene also drew references to Season 2, Episode 6 of Gossip Girl when Serena and Blair got into a fight over Yale. To call it genius, would be an understatement.
'Till next time,
XOXO