Gov. Whitmer Says Extremists Won't Stop Her After Kidnapping Trial Verdict
Michigan Governor Gretchen Whitmer released a statement expressing gratitude to law enforcement and prosecutors after two men were convicted Tuesday of plotting to kidnap her in 2020.
A jury returned a guilty verdict in the case of Adam Fox and Barry Croft Jr. Both men were charged with conspiracy to kidnap Whitmer and conspiracy to use a weapon of mass destruction, while Croft was additionally charged with possession of an unregistered destructive device.
"I want to thank the prosecutors and law enforcement officers for their hard work, and my family, friends, and staff for their support," Whitmer wrote. "Today's verdicts prove that violence and threats have no place in our politics and those who seek to divide us will be held accountable. They will not succeed.
"But we must also take a hard look at the status of our politics. Plots against public officials and threats to the FBI are a disturbing extension of radicalized domestic terrorism that festers in our nation, threatening the very foundation of our republic."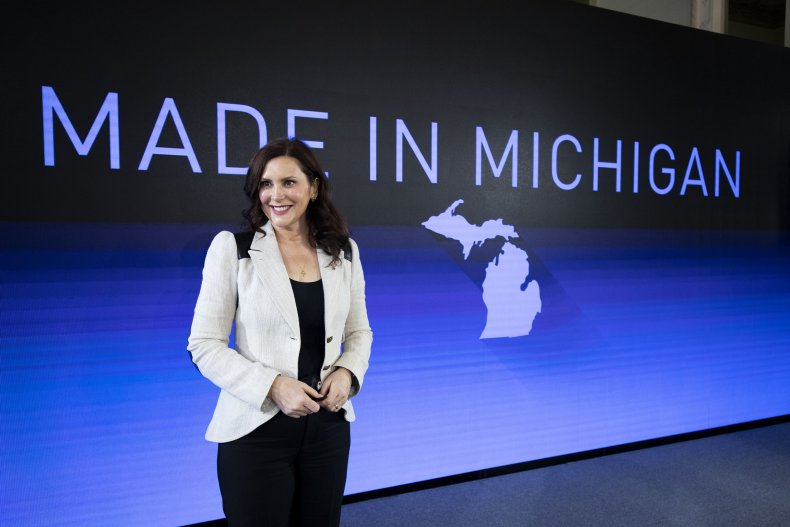 Whitmer continued, offering a statement of support to her Michigan constituents and a pledge to remain dedicated to the state's needs.
"I ran for office because I love my fellow Michiganders and my home state with all my heart," she said. "I always will. I cannot—I will not—let extremists get in the way of the work we do. They will never break my unwavering faith in the goodness and decency of our people. I will stay focused on getting things done for the people of Michigan."
During the early days of the COVID-19 pandemic, Whitmer became a lightning rod for right-wing anger and discontent over her strong support of mask mandates and other restrictions. The restrictions were cited as a primary motivation behind the plot to kidnap her, which was foiled by the FBI in October of 2020.
Thirteen people were charged in the conspiracy. Seven were charged at the federal level, while the remaining six, including Fox and Croft, were charged at the state level.
Whitmer is seeking reelection in the 2022 midterms, facing off against GOP candidate Tudor Dixon, who has the endorsement of former President Donald Trump. According to polls from mid-August, Whitmer maintains a strong lead, with 51 percent of respondents favoring the Democratic incumbent to 39 for her opponent.
Newsweek reached out to a defense attorney in the Fox/Croft case for comment.