Michigan Voters Back Gov. Whitmer's Handling of COVID-19 Over Donald Trump's: Poll
Michigan voters favor Gov. Gretchen Whitmer's response to the coronavirus pandemic over Donald Trump's, according to a recent poll.
Of 600 people surveyed, 63.7 percent approved of her handling of the situation, compared to 42.8 percent who felt the same way about the president's actions.
Around a third, 32.8 percent, disapproved of Whitmer's approach, while approximately half, 50.4 percent, were against Trump's.
The poll data, released by the Detroit Regional Chamber and conducted by Glengariff Group Inc., was gathered via telephone between May 12 and May 16 with likely Michigan voters. It has a margin of error of plus or minus 4 percent.
The majority of those asked also supported a gradual lift of the stay-at-home measures across the state.
Respondents were asked which of the following statements most closely reflected their stance on COVID-19: "so that we do not experience a second wave of the illness, we need to reopen our economy gradually"; or "the economic damage is worse than the health damage. We need to quickly get our economy up and running again."
The majority chose the first, with 71.7 percent backing the response on opening the economy gradually.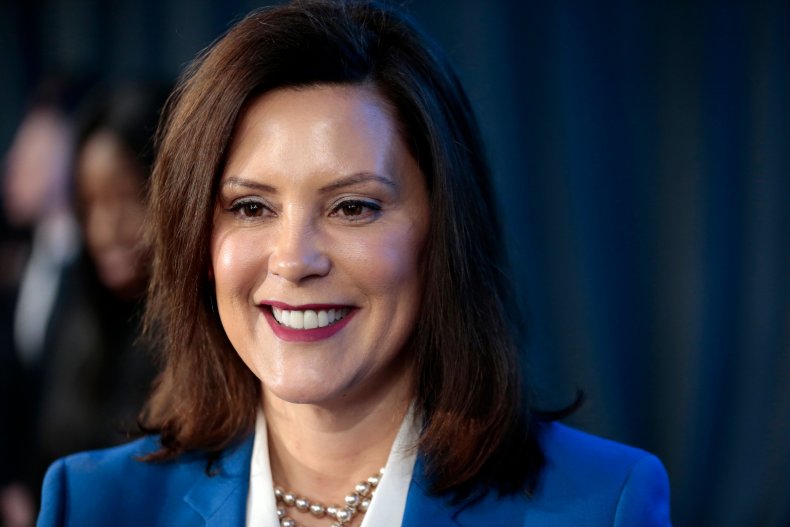 The recent polling also shows a boost in support for Whitmer compared to a previous survey. In a similar poll conducted by the Detroit Regional Chamber last month, respondents approved of her handling of COVID-19 by 57 to 37 percent.
Despite the overall boost to Whitmer's rating, the latest poll shows a growing divide along partisan lines.
While 96.2 percent of Democratic voters approved of her performance in the face of COVID-19, 78.5 percent of Republican voters did not.
Party lines also appeared to impact the perception of Trump, with 90.2 percent of Democratic voters disapproving of his response to coronavirus, while 87.4 percent of Republicans approved.
Newsweek has contacted Whitmer and the White House for comment.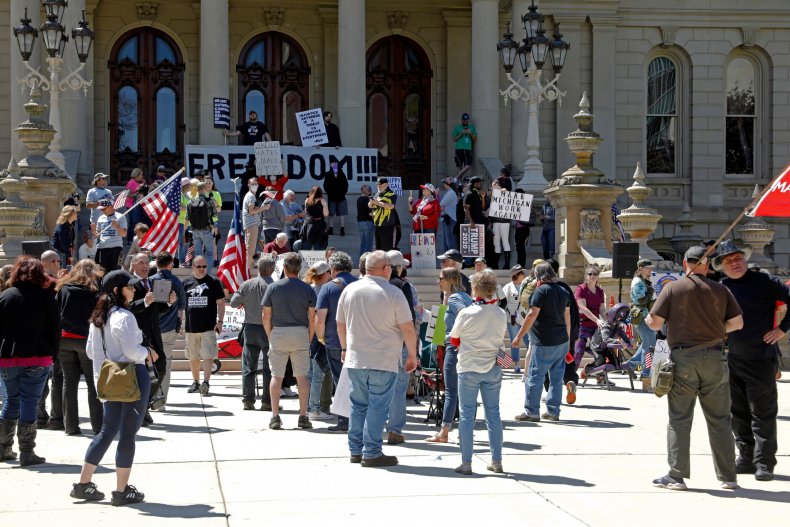 Whitmer and Trump have previously been at odds over actions during the pandemic. Whitmer said "inconsistent messages" from the president's White House briefings might "put people in danger." Trump has shown support for demonstrations against the measures put in place by Whitmer, tweeting on April 17 "LIBERATE MICHIGAN."
Restrictions across Michigan have prompted frequent protests in the state, with demonstrators gathering outside the state's capitol building on Wednesday to stage haircuts, defying lockdown measures restricting nonessential businesses from operating.
Last month, protesters stormed the state capitol as an extension to stay-at-home measures was debated. Some of those involved carried firearms, as demonstrators shouted "vote no" while discussions were carried out.
This month online death threats against Whitmer led Michigan to close its capitol and to cancel its legislative session.
Earlier in May Whitmer released a plan to "re-engage Michigan's economy," which outlines phases in which different establishments can re-open as the state returns to a level of normality.
"The worst thing we can do is open up in a way that causes a second wave of infections and death, puts health care workers at further risk, and wipes out all the progress we've made," she said in a statement released alongside the plans.
Michigan has seen 53,009 cases of coronavirus, with 5,060 deaths linked to COVID-19, according to data from Michigan.gov, while 28,234 people infected have since recovered.
The graphic below, from Statista, shows the worst-hit states across the nation as of May 20.