Who Does Dolly Parton Play in 'Grace and Frankie' Season 7?
Grace and Frankie fans have wanted a Dolly Parton cameo for as long as the Netflix show has been running, and they finally got one in Season 7.
The Netflix show saved its Dolly cameo until the series finale of the show in Season 7, Episode 16 (titled "The Beginning"). In the episode, which sees Frankie (played by Lily Tomlin) living what she thinks is her last day on Earth, the show gives the "Jolene" singer a cameo that is literally out of this world.
Dolly Parton's appearance alongside Lily Tomlin and Jane Fonda marks the first time they have acted together since 1980 (though they did previously reunite at award ceremonies like the 2017 Emmys).
"It's not just the fact that Dolly shows up. It's how she shows up," Fonda told Entertainment Tonight. "What the story is that brings her on. It's just beyond perfect."
Who Dolly Parton plays on Grace and Frankie
WARNING: The following contains spoilers for the series finale of Grace and Frankie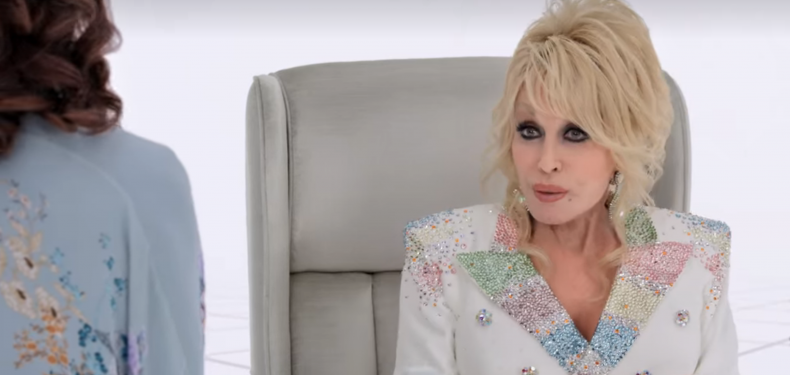 In the final episode of the Netflix show, Frankie forces her son Coyote (Ethan Embry) to get married to relieve the funk she has found herself in on the day before she thinks she's going to die.
However, while all of the wedding details are being sorted out, Grace (Jane Fonda) has been drinking heavily. So when Frankie begins to officiate the wedding, Grace starts heckling her.
First they fight, then they make up with a hug. During this embrace, however, Grace spills her martini onto Frankie's microphone, electrocuting them both. The next thing they know, they are in a white room, with helpful pamphlets reading "So You're Dead" sitting on a table.
Frankie has resigned herself to her fate, but Grace is not ready to pass into the afterlife. It seems, however, that she may not have a choice—a buzzer rings, and a door appears.
Behind that door is an office, with a woman sitting in a chair with her back to us. If her blonde beehive peeking over the seat did not give it away, that woman is Dolly Parton, dressed in a white suit embellished with rhinestones. Frankie, assumed she's God and says, "Oh God, you look exactly how I knew you would."
Dolly's character, however, explains: "No, no, I'm not the Almighty...I'm Agnes, just a working class angel."
This is not the first time the singer has played an angel. In 1996, she starred in TV movie Unlikely Angel as a selfish singer who gets the chance to earn her wings after she died. It is not even the first time she has played an angel for Netflix: She previously played one for festive movie Christmas on the Square.
Making Dolly a desk-bound angel seems a deliberate reference to the trio's work together on 9 to 5. Agnes jokes: "I haven't had a promotion in 250 years, but the benefits are heaven."
In Grace and Frankie, it is Agnes that allows the pair to return to Earth, giving them the new "Beginning" that gives the Season 7 finale its title. Though the paperwork says that it is indeed Frankie's day to die, she is so moved by the pair's friendship that she turns a blind eye to Frankie stamping "return" on her afterlife form.
Grace and Frankie Seasons 1 to 7 are streaming now on Netflix.