Grad Launchers on Long List of Russian Weapons Destroyed in One Day: Report
Three Grad multiple rocket launchers were among a long list of Russian weapons and equipment Ukraine reportedly destroyed in one day.
Ukraine's Operational Command South, a formation of the Ukrainian Ground Forces that operates in the southern part of the country, said in a Facebook post Tuesday that its missile and artillery units hit several Russian command points, control stations and logistic supply bases on July 19.
In total, Operational Command South said Russian losses on that one day included 41 soldiers, an Su-35 aircraft, three Grad systems, three Msta-B howitzers, one "Carnation" howitzer, a communication vehicle, two regular vehicles and a field artillery warehouse in the Bruskinsky district of the southern Kherson region, according to the Facebook post.
"The situation in our operation zone is complex, tense and dynamic, but controlled by the defense forces," the post read. "The enemy continues on the defensive, trying to strengthen and keep occupied borders. The enemy units are marked by a lack of ammunition, food and water."
Newsweek was not able to independently verify the report on the destroyed Russian weapons and equipment. The defense ministries of Russia and Ukraine were contacted for confirmation and comment.
Russia is seeing increasing struggles in sustaining its offensive in Ukraine and is vulnerable to counterattacks, according to an intelligence update from the British defense ministry on Tuesday. Western-supplied weapons in particular have reportedly been bolstering Ukraine's counteroffensive in recent weeks, and a Russian military expert recently publicly expressed concern over how the equipment could impact the outcome of the conflict. U.S. Defense Secretary Lloyd Austin announced Wednesday that Ukraine would be sent four additional M142 High Mobility Artillery Rocket Systems (HIMARS).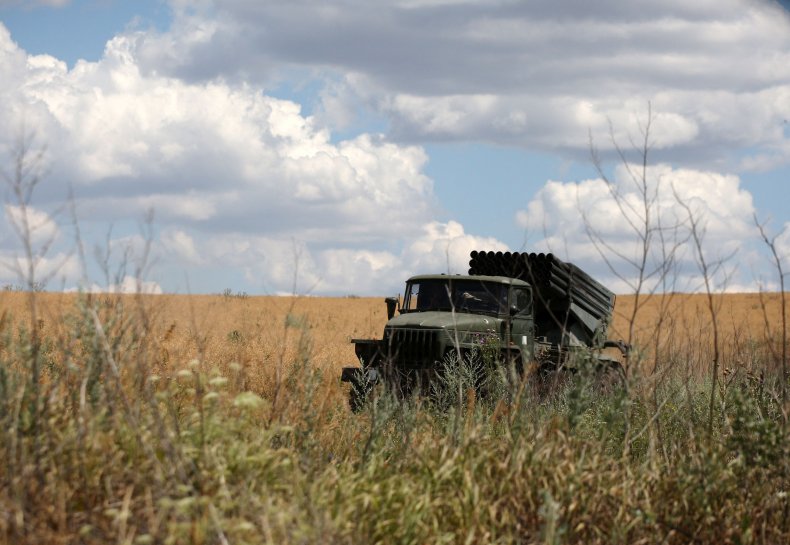 But Russia has continued to express confidence in its prospects for victory in the war.
"​​No matter how hard the United States and its allies may be trying to build up Kyiv's combat capacity, Russia will continue its special military operation," Russian Foreign Ministry spokesperson Maria Zakharova said in a July 14 briefing. "All of our goals and objectives will be carried out."
The air force command of Ukraine's armed forces also reported Tuesday that a Russian fighter jet, which it said was "presumably an Su-35," was shot down in the Kherson region. The command said in a social media statement that the aircraft, worth $85 million per unit, tried to attack an aircraft in Ukraine's air force.
"There is visual confirmation of the downing of the plane, the pilot ejected," the post said.
A video of the purported Russian Su-35 jet falling from the sky while engulfed in flames circulated on social media on Tuesday.