Great Dane Duo Leaves Internet in Stitches With Their Goofy Antics at Home
A couple of Great Danes have left online viewers in stitches after a video of their goofy antics went viral on social media last week.
The video, shared on TikTok by the dogs' owner under the username Mols6348, shows them acting goofy with each other, walking with their legs crossed and looking like a "giant spider," as one commenter described them.
In the hilarious video, a voice-over can be heard saying: "Bottom line is we need to get a dog for protection. Like if someone tries to break into our house, I want to make sure that they're immediately terrified." The poster's caption reads: "Immediately terrified."
Great Danes are the tallest dogs in the world, according to the American Kennel Club. A male can reach up to 32 inches at the shoulder and weigh as much as 175 pounds, while females can be up to 30 inches and 140 pounds. "Both males and females can tower over many humans when they stand on their hind legs," the AKC said.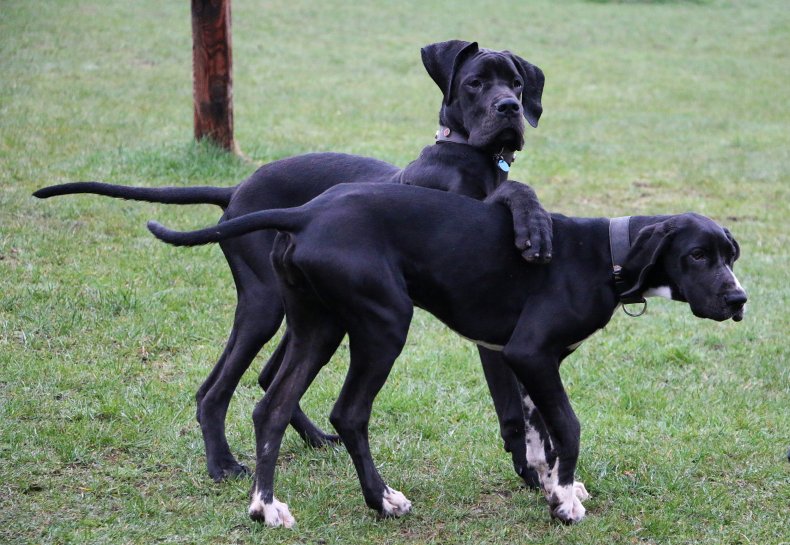 Despite their size, Great Danes are highly affectionate and social, and they need lots of love as well as interaction with people and other pooches.
The TikTok video quickly attracted animal lovers on the platform, receiving over 6.4 million views and 721,300 likes so far.
One user, Anita Prestwood789, commented: "Maybe not for security purposes but definitely entertainment purposes." And Christi Anne said: "Aweee, my local humane society has a great Dane. I'm trying to convince my husband we need him."
Natalie Kuester wrote: "My gate was fully open today and my Great Dane was just concerned and didn't leave."
Another user, Mavericktopdog, commented: "Not sure about protection but if a fire starts and you become unconscious you have one that can carry you out." And Lindsay said: "Our neighbor has a great Dane. He got off the leash the other day because a puddle scared him."
CRix1908 wrote: "My Great Dane would hide under the bed if the doorbell rang until she got too big and would run to the closet." And Spoonful of Hot Mess added: "Our Great Dane was terrified of strangers and would get explosive diarrhea all over the house. I guess that's also terrifying."
Brousin said: "My great dane barks at every little noise from the comfort of her bed, and shakes uncontrollably when it rains LOL."
And cristenbowman wrote: "I mean if it's late in the dark would look like a giant spider." Rachel added: "Absolutely the most Great Dane thing ever."
Newsweek could not verify the details of the case and reached out to Mols6348 for comment.
Do you have funny and adorable videos or pictures of your pet you want to share? Send them to life@newsweek.com with some details about your best friend and they could appear in our Pet of the Week lineup.