A great white shark, which killed a swimmer off the coast of South Africa on Tuesday, was seemingly filmed swimming close to the shore mere minutes after the attack.
The man, who has not been identified, was attacked at Sanctuary Beach in South Africa's Western Cape, and died at the scene.
The National Sea Rescue Institute (NSRI) told local news Times Live that an eyewitness reported the shark attacking a swimmer at 14.09 p.m. local time. The shark was then videoed by holidaymaker Gunnar Sigge at 14.10 p.m.
Great whites are often sighted off the waters of South Africa, although their numbers have been dropping in recent years.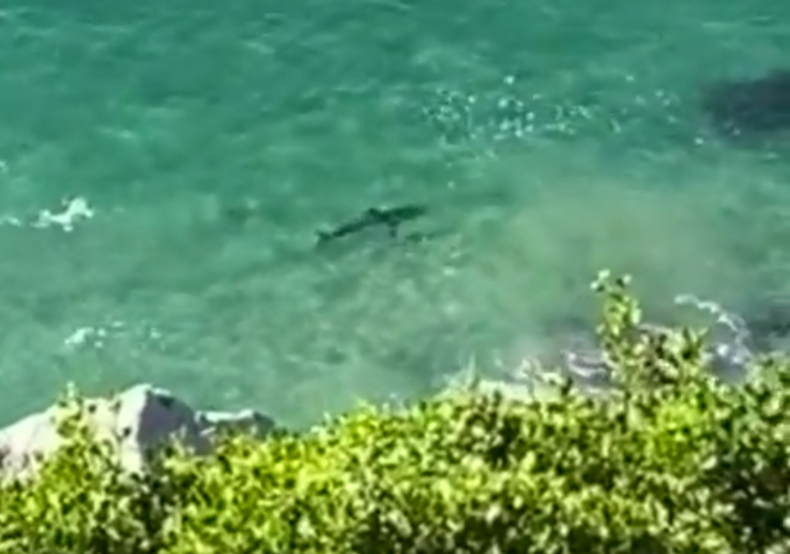 They can grow up to 20 feet long, with the largest ever caught weighing in at 5,000 lbs. Great whites gather near areas with large prey populations, especially Cape fur seals off the South African coast. They stalk young seals from deeper waters below, preferring lone or smaller groups of the mammals.
Attacks on humans are rare, with fatal attacks even less common.
Last year, 73 people were attacked unprovoked worldwide, of which only nine were killed. Three attacks and one of those fatalities were in South Africa. The last previous fatality off the coast of South Africa was earlier this year.
"NSRI rescue swimmers responded directly to the scene and two NSRI rescue craft were launched," it said in a statement.
"On arrival on the scene the body of an adult male, believed to be a local man, was located and recovered from the water, [placed] at the back surf line, then onto a NSRI rescue craft, and the body was brought to the NSRI Plettenberg Bay rescue station."
Sigge was hiking in the Robberg Nature Reserve when he spotted and videoed the great white in the shallows below the trail.
He said that seeing sharks near the trail is commonplace.
"On that side of Robberg it is quite a regular occurrence, many people have shared photos and videos from there," he told Newsweek. "There is a seal colony a few hundred meters further along Robberg."
There is a pervasive theory that sharks attack human swimmers and surfers because they have mistaken them for seals from below, although there is still an ongoing debate about whether that is the true reason for shark attacks.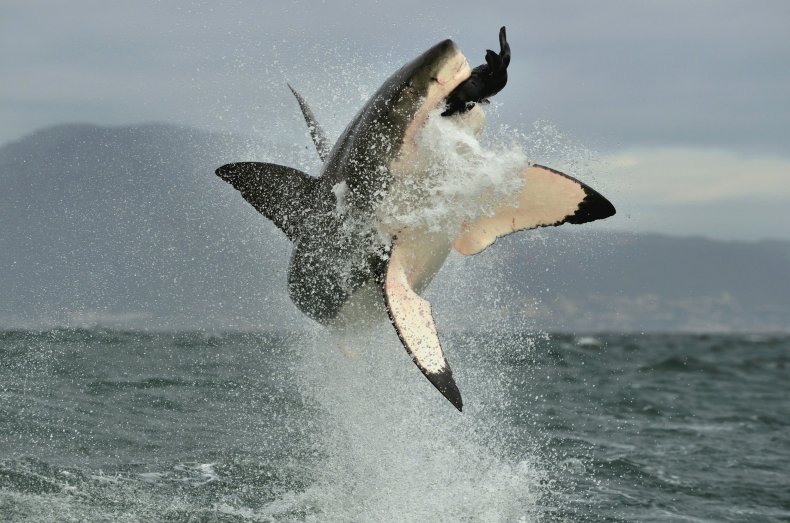 Another explanation is that sharks, in the majority of cases, are taking a taster bite to check if they want to eat you.
Humans are too bony for them, as they prefer fatty and protein-rich seals. This theory is supported by a 1996 paper that reported that of 63 cases of unprovoked great white attacks in South Africa, 29 (or 46 percent) of the victims were "bitten but sustained no tissue loss."
The NSRI and Bitou municipality have urged sea users in Plettenberg Bay, where the man was attacked, and along the southern Cape coastline to exercise caution.
"Family of the deceased man are in the care of police and counselors," it said. "Condolences are conveyed to the family of the deceased man."