Greg Abbott's Anti-Abortion Stance Attacked in Powerful Satirical Advert
A satirical political advert targeting Texas Governor Greg Abbott for his anti-abortion stance has gone viral on social media.
The Mothers Against Greg Abbott PAC posted the ad on Twitter on Monday, where it has since amassed more than 3 million views.
It begins with a nervous couple waiting in a doctor's office. When the doctor enters, he solemnly tells them their baby has a "catastrophic brain abnormality."
"Your daughter, if she is to survive, will live only a matter of hours after birth. During that time, she will experience a multitude of seizures and ultimately aspirate on her own bodily fluids. She will suffer," the doctor says.
"A decision will need to be made on termination. I wish I could tell you what to do, but there is only one person who can make this choice..."
As the tearful expectant mother asks how much time she has, the doctor continues: "... and that person is Greg."
"Who the f**k is Greg?" the father asks.
"Let me just give him a call," the doctor says, clapping his hands to turn on a light above a small cabinet with the Republican governor's photo on it. He opens it to reveal a red phone, which he proceeds to pick up.
"Hey Greg, Dr. Robinson here," he says. "Listen, I've got a pregnancy that could... Yes, but I think this one is the... Yes, okay. Sure, sure... Okay, I'll let them know."
After hanging up the phone, the doctor tells the couple: "Yeah, that's gonna be a no. Best of luck to you."
As the ad ends, a question appears on screen: "Whose choice should it be?"
The ad shows "the absurdity and horror of the government making a deeply personal decision – a decision which should be made between a woman and her health care provider," Nancy Thompson, the founder of the Mothers Against Greg Abbott PAC, told Newsweek. "The video has been well received… We're getting donations, and we're not going to stop."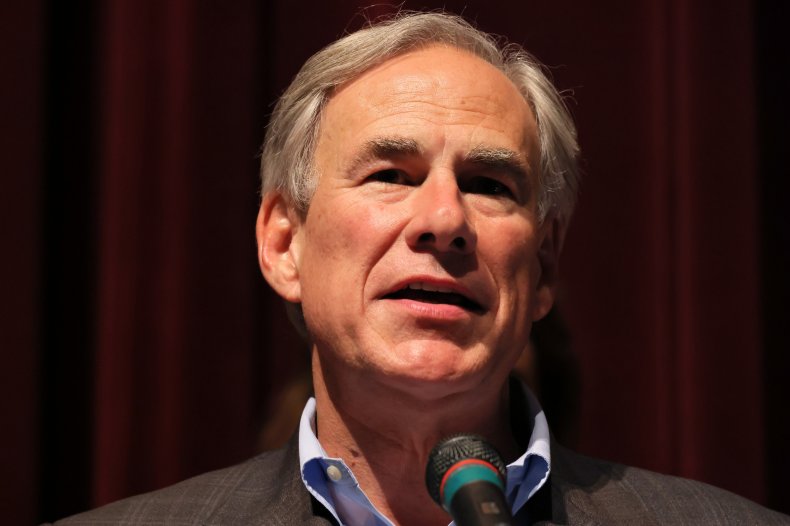 In a previous ad, the group listed numerous reasons why Abbott, who is running for re-election, should be ousted from office.
Among them was Senate Bill 8, which banned abortions after about six weeks of pregnancy with no exceptions in cases of rape or incest. The law, which went into effect in September 2021, is enforceable only through lawsuits filed by private citizens against doctors or anyone who helps a woman obtain an abortion.
Abbott defended the law when asked why it did not make exceptions for rape or incest, saying the state would work to "eliminate all rapists from the streets of Texas."
Abbott cheered the U.S. Supreme Court's historic decision in June overturning Roe v. Wade, which stripped away constitutional protections for abortion. "Texas is a pro-life state," he said.
Since then, the Texas Supreme Court has allowed a 1925 law banning abortion to take effect. That law does not permit criminal prosecution but exposes abortion providers to lawsuits and civil penalties.
Texas also has a separate "trigger" law that was passed by the state legislature in 2021 and is set to take effect this summer. That law bans abortion from the moment of fertilization except when a mother's life is in danger or if she is at risk of "substantial impairment of a major bodily function."
"Greg Abbott has not only taken our rights away, he refuses to allow exceptions for rape or incest," Thompson added. "In fact, the state of Texas is suing the Biden administration for wanting to protect the life of the mother. Texans deserve better."
Newsweek has reached out to Abbott's campaign for further comment.
Update 7/26/22, 11:40 a.m. ET: This article has been updated with comments from Thompson.