Beto O'Rourke Closes In on Greg Abbott's Lead With Guns as Key Issue: Poll
Gun violence has captured voters' concerns in Texas as the incumbent gubernatorial candidate's lead over his main rival has decreased by double digits, according to a new poll released Wednesday.
The Quinnipiac University poll showed incumbent Republican Governor Greg Abbott leading Democratic challenger Beto O'Rourke by 5 percentage points, a decrease of 10 points since a similar poll was conducted in December. Forty-eight percent of overall voters supported Abbott and 43 percent supported O'Rourke in the latest poll.
The most notable change in the poll since likely voters were surveyed in December revolved around gun violence. The mass shooting in Uvalde, Texas, on May 24 that resulted in the deaths of 19 children and two teachers has likely affected these poll numbers.
In the latest poll, 47 percent of voters said Abbott would be better at handling gun policy, with 43 percent favoring O'Rourke. This marked a change from December, when 60 percent said they favored Abbott on gun policy, and 33 percent favored O'Rourke.
Abbott has received local and national criticism for information divulged at news conferences and in the Uvalde shooting's aftermath, most recently an analysis of his handwritten notes that have reportedly displayed a bumbled response by law enforcement and other officials on that day.
While about four in 10 Texans polled in June 2021 said stricter gun laws would help curb mass shootings, that number has increased to 51 percent—and exceeds the 47 percent who presently still don't believe laws would make a difference.
About 61 percent of parents surveyed in the latest poll were either "very concerned" or "somewhat concerned," at 32 and 29 percent respectively, about a shooting at their child's school. Twenty-six percent were "not so concerned" while 13 percent were "not concerned at all."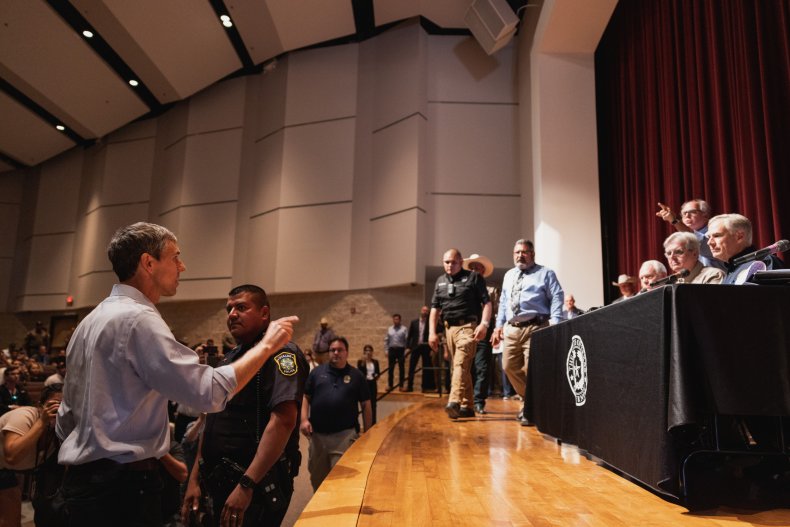 "It's a number that dramatically underscores the horror still reverberating in Texas households," said Quinnipiac polling analyst Tim Malloy. "A majority of parents fear the unthinkable could barge into the very schools their children attend."
Guns aside, more voters than not perceived Abbott as "honest" and believed he "has good leadership skills," according to the poll. O'Rourke's numbers in the same categories were worse than Abbott's, but more state residents believed O'Rourke "cares about average Texans."
While conversations on guns and gun violence have escalated in the U.S. Senate among members of both political parties, Texans' biggest issue was immigration and the Texas-Mexico border, with 29 percent calling it the most urgent issue.
Nineteen percent of likely voters said the economy was the most urgent issue, followed by gun violence at 17 percent.
It remains unclear if the support for measures to reduce gun violence will stay steady or wane over time.
FiveThirtyEight analyzed the shooting at Marjory Stoneman Douglas High School in Parkland, Florida, on February 14, 2018, and the shooting at Santa Fe High School in Santa Fe, Texas, on May 18, 2018. The website indicated that media coverage helped lead to an increase in support for gun control measures but that partisan perspectives tended to reemerge as media attention to a particular shooting decreased.
"Simply put, if the media is covering something, Americans are more likely to think about it," FiveThirtyEight reported. "Yet as the issue receives less attention, it moves out of the spotlight and something else takes its place."
The Quinnipiac poll varied plenty when compared with a Blueprint Polling survey released Monday that showed Abbott holding a 19-point lead over his challenger.
However, that poll mirrored the new Quinnipiac poll in that about 61 percent of survey respondents supported "more restrictive gun purchase laws."
About 81 and 77 percent of polled Texans, respectively, also supported universal background checks and increasing the minimum age to purchase a firearm to 21 years, according to Blueprint Polling.
Kyle Kondik, managing editor of Sabato's Crystal Ball at the University of Virginia Center for Politics, told Newsweek that he "would not take any single poll as gospel."
"I can certainly imagine Abbott taking at least something of a public opinion hit following Uvalde, but all of the data I've seen suggests that Abbott is favored to win another term," Kondik said. "The other thing is that—rightly or wrongly—even horrible events like Uvalde do not necessarily persist in the public's mind. So, it is possible that Abbott has suffered some sort of polling penalty for how he handled what happened, but we cannot assume that this penalty will endure into the fall."
He also mentioned the Blueprint Polling survey and the contradiction in results, though both polls have Abbott as the frontrunner. Kondik called that the "key takeaway."
Newsweek reached out to the Abbott and O'Rourke campaigns for comment.