Gov. Greg Abbott's Uvalde Notes Highlight Response Blunder
Handwritten notes obtained from Texas Governor Greg Abbott immediately after the mass shooting at an elementary school in Uvalde further highlight the police's confusing and allegedly mismanaged response.
A total of 19 children and two teachers were killed at Robb Elementary School on May 24, when 18-year-old Salvador Ramos opened fire in the school with an assault-style weapon. In a news conference after the shooting, Abbott praised police for displaying "amazing courage," and said that officers worked to quickly engage and kill the gunman.
Bullet points written in his notes that day said that Uvalde school district police "approached gunman + engaged" and that "Border Patrol, ISD officers, Police, Sheriffs + DPS converged on classroom," according to ABC 13, which obtained a copy of the documents.
However, days later it was revealed that well over a dozen armed police officers waited for more than an hour to confront Ramos. Some officers initially entered the building and retreated after being shot at, while others stood by under orders with reports that Ramos had barricaded himself in a classroom and was no longer an active threat.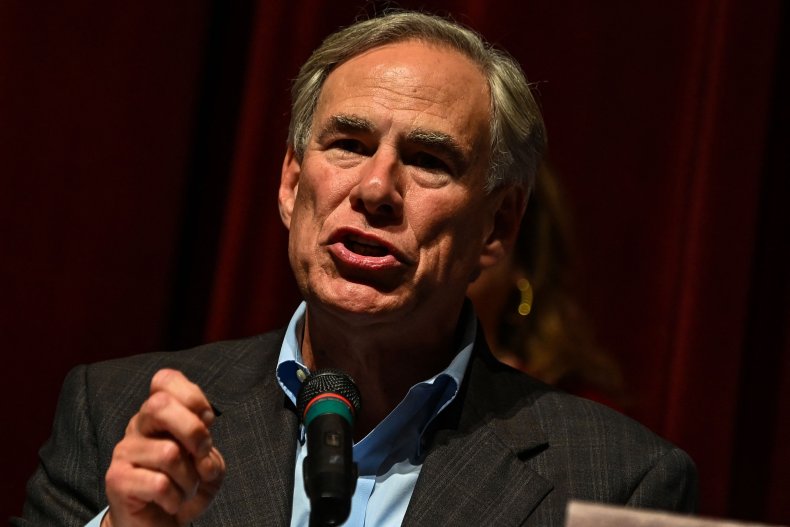 The school district police chief, who was leading the response to the attack, had also entered the school without a radio—which significantly impaired his ability to communicate with other law enforcement teams—and spent more than an hour trying to unlock a door to the classroom where Ramos was carrying out his deadly rampage. Ramos had been in the building for nearly 90 minutes before Border Patrol agents eventually entered the room and shot and killed him.
Following the release of more details, Abbott walked back his praise for police and said he was "livid" that he had been misled about the timeline of events.
"I wrote down hand notes in detail about what everybody in that room told me in sequential order about what happened and when I came out here on this stage and told the public what happened," Abbott said in a press conference on May 27, adding that "the information that I was given turned out, in part, to be inaccurate and I'm absolutely livid about that."
Police have also retracted several initial claims about how Ramos entered the building, and at what time police initially engaged him. Their early reports have led to widespread condemnation from the public, as well as frustration and anger from families who lost loved ones during the attack.
Several parents who arrived at the school while the shooting was still taking place have also described police standing around and failing to respond quickly. In some cases, concerned family members even ran inside the school themselves to rescue their children.
The police response is now being investigated by the Texas state police and the U.S. Justice Department.
"Nothing that these [investigators] can do can undo the terrible tragedy that occurred, and that we are just heartbroken about," Attorney General Merrick Garland said last week. "But we can assess what happened and we can make recommendations for the future."