Texas Monthly magazine has given its 2022 Bum Steer Award for the "worst Texan" to Republican state Governor Greg Abbott, while Republican Senator Ted Cruz was named first runner-up.
The magazine wrote that Abbott ran for governor after serving for 12 years as the state's attorney general, simply because "it was his turn," adding that he has never faced a sincerely competitive election since.
"He inherited education and health-care and foster-care systems that were among the worst in the nation and a state government built on shortcuts and accounting tricks," the magazine wrote.
But instead of focusing on improving those areas, the magazine wrote, Abbott instead took hard-right stances to appeal "to the 4 percent of Texans who decide Republican primary elections."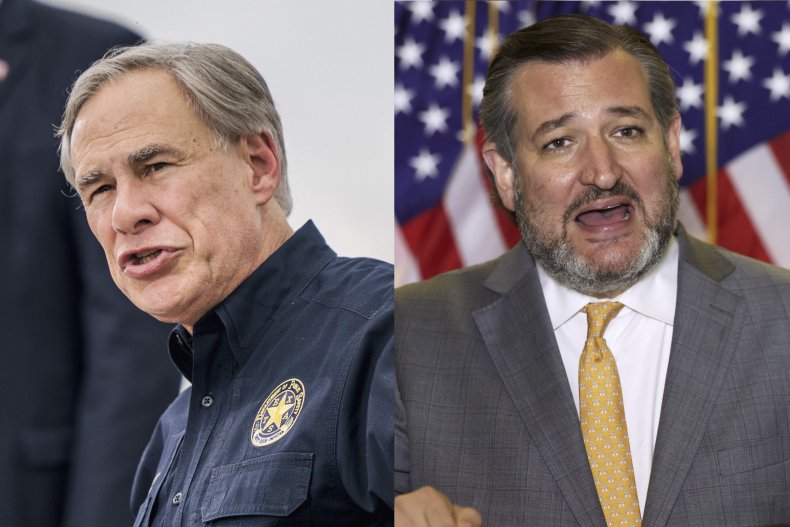 In particular, the magazine criticized Abbott for insincerely blaming renewable energy for causing the statewide power outages amid uncharacteristically harsh winter storms in February. (The state runs on gas and oil.) The outages—caused by a power grid that wasn't winterized, thanks to policy decided by the state's Republican-led legislature—killed at least 210 Texans.
After the storm, the head of Abbott's public utilities commission reassured state energy investors that their profits would be protected, Texas Monthly wrote. Subsequent laws signed by Abbott allowed energy companies to opt out of weatherproofing their equipment for a small fee.
The magazine also criticized Abbott's inconsistent approach to the COVID-19 pandemic. He ordered a lockdown, then his administration helped a salon owner who violated his order to avoid consequences for doing so. He encouraged Texans to get vaccinated, then signed a law banning businesses from requiring employee vaccinations.
"By the end of the year, Texas had roughly as many deaths from the coronavirus as California, a state with 10 million more residents," the magazine wrote.
The magazine then turned its focus to Cruz, accusing him of becoming "soft" ever since losing his 2016 Republican presidential campaign to former President Donald Trump.
Leading up to the January 6 Capitol riots, Cruz helped legitimize baseless claims about the 2020 election being "stolen" by saying that Congress should delay certifying Democratic President Joe Biden's victory.
The magazine also blasted Cruz for escaping to Cancun during his state's aforementioned winter storms. When Cruz was widely blasted in the press and social media for fleeing his state while his constituents literally froze to death, he immediately returned and said he only meant to escort his daughters across the border because they wanted a sunny getaway with friends.
Texas Monthly also mocked Cruz for starting a Twitter fight with Sesame Street's Big Bird after the yellow muppet encouraged children to get vaccinated against COVID-19.
Newsweek contacted the offices of Cruz and Abbott for comment.