Greta Thunberg Mural in San Francisco Looks More Like Vladimir Putin, Twitter Says
A new mural to the Swedish climate activist Greta Thunberg looks more like Russian President Vladimir Putin, according to dozens of Twitter users.
Artist Andrés Iglesias is due to finish the huge portrait of the 16-year-old, which will watch over San Francisco, next week. However, as early images of the project were shared online, a number of people could not refrain from making the link.
Some joked that the mural represented Putin and Thunberg's "love child," while others mockingly speculated whether it confirms theories that the climate activist is, in fact, a Russian asset.
"I'm more convinced than ever that Greta Thunberg is really Putin's daughter and the commies have sent her out to destroy America and capitalism," one Twitter user said alongside a photo of the mural.
Although the mural's likeness to Putin is not thought to be deliberate, Newsweek has contacted Iglesias for comment. Newsweek also contacted One Atmosphere, the environmental not-for-profit San Francisco group which commissioned Iglesias to complete the work.
The comparisons between Thunberg and Putin were probably drawn as both individuals share the qualities of having wide jawbones and have the same intense blue eyes.
The pair also shared a brief and muted back-and-forth after Thunberg made her memorable address to the United Nations General Assembly last month, where she angrily told world leaders: "How dare you?"
"This is all wrong," Thunberg told the U.N. "I shouldn't be up here. I should be back in school on the other side of the ocean yet you all come to us young people for hope. How dare you?"
"You have stolen my dreams and my childhood with your empty words," she said.
Following the address, Vasily Vlasov, deputy of the Russian State Duma, invited Thunberg to speak in the country's parliament.
Putin was then asked by local reporters to comment on her invitation, but said he did not share "the common excitement" about Thunberg, adding, however, that he is "sure that Greta is a kind and very sincere girl."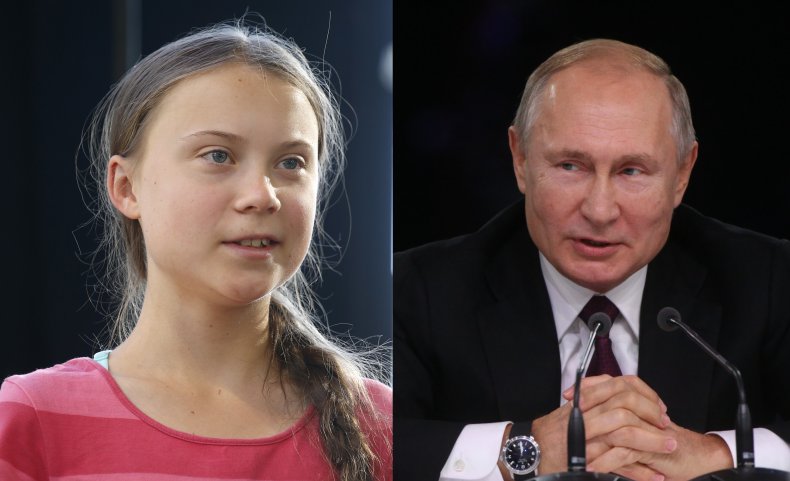 "I may disappoint you but I don't share the common excitement about the speech by Greta Thunberg," Putin said.
"No one has explained to Greta that the modern world is complex and different and people in Africa or in many Asian countries want to live at the same wealth level as in Sweden."
Thunberg then responded by changing her Twitter bio to read: "A kind but poorly informed teenager," in an apparent move to troll the Russian president.
It is also not the first time that a Thunberg mural did not have the desired consequences.
After artwork depicting the climate activist was spray-painted in downtown Edmonton, Canada, last month, the mural was then defaced with a pro-oil message and several slurs two days after completion.
"Stop the lies!! This is oil country!!!" were scrawled across the teenager's face.