Man Accused in Plot to Kidnap Gretchen Whitmer Touted Hanging Leaders
As the trial of the men accused of plotting to kidnap Michigan Governor Gretchen Whitmer continues, an FBI agent testified Tuesday that one of the men predicted online that "dominoes will start falling" once a governor of at least one state was hanged for the COVID restrictions being enacted around the country.
"I believe all it's going to take is one state to burn...and hang a governor and the dominoes will start falling," FBI special agent Thomas Szymanski, testified that Barry Croft Jr. wrote on Facebook in April 2020, according to MLive. The suspect allegedly wrote that he wasn't sure which governor would be killed first, calling it a "spin-the-bottle" situation, Szymanski testified.
The jury has heard several other pieces of evidence from the alleged kidnapping plot as Croft Jr. and three other men are on trial, including a recording of another suspect saying he wanted to tie her up and pose for pictures around her like "the biggest drug bust."
Six men were initially charged in federal courtwith conspiracy: Croft Jr., Adam Fox, Brandon Caserta, and Daniel Harris, who are on trial, along with Ty Garbin and Kaleb Franks, who have pleaded guilty for their roles in the plot.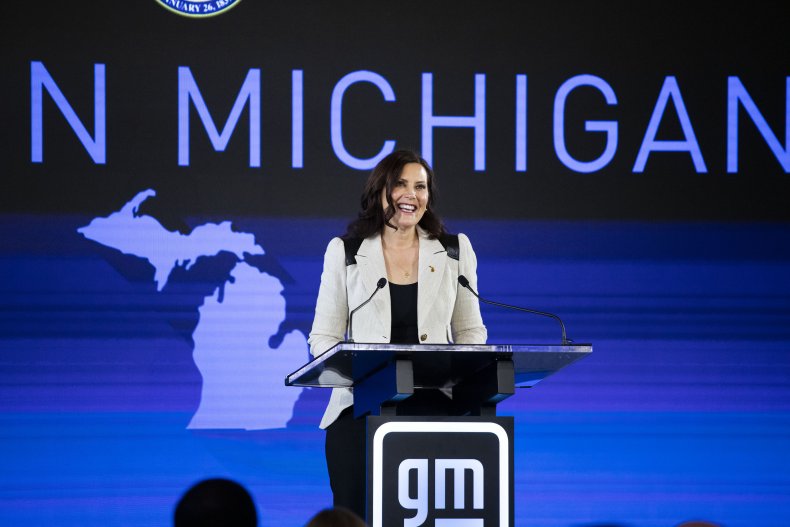 Three others who were charged in state court in connection with the plot, who are set to go on trial in September, had a request to dismiss their case thrown out by a Michigan judge earlier this month, as the judge ruled that the FBI did not entrap the men because the undercover FBI agent did not "escalate" the plans.
FBI special agent Tim Bates, who was undercover within the "Wolverine Watchmen" as an explosives expert who went by "Red," testified Monday that Fox told him the group wanted to blow up a bridge near Whitmer's Elk Rapids home to slow police response, MLive reported.
Bates also testified that Fox, Croft and others were "excited" about his FBI-made videos that depicted explosives destroying vehicles.
"I will not be chipped and I will not be vaccinated, even if it means losing everything I have," Caserta allegedly wrote on Facebook in May 2020, saying he envisioned a "bloody revolution" if more people resisted COVID mandates as his group planned to, MLive reported.
The trial has been ongoing for much of March, and MLive reported that prosecutors could rest their case as soon as later on Tuesday.
Last week, the jury heard testimony from other FBI agents and at least one undercover informant who provided investigators with information. One of the men, identified as "Big Dan," said that he drew the men to the Ypsilanti warehouse where they were taken into custody in October 2020 under the illusion that they were conducting a meeting to buy explosives, which would be followed by free beer and food from restaurant chain Buffalo Wild Wings.
Franks, who has pleaded guilty, told the jury last week that he joined the plan with the expectation, and hope, that he would die at the hands of police officers, assuming he was joining a "suicide mission." He said that he was experiencing the death of family members and financial struggles, and "no longer wanted to live."
Update 03/29/22, 2:32 p.m. ET: This article was updated with additional information.
Update 03/29/22, 1:27 p.m. ET: This article was updated with additional information.