Michigan Gov. Gretchen Whitmer has branded Senate Majority Leader Mitch McConnell's suggestion states could be allowed to declare bankruptcy "dangerous."
Whitmer, 48, has imposed some of the most stringent state lockdown measures in the country amid the coronavirus outbreak, stating COVID-19 has "wreaked havoc" on the economy.
Though she has vowed to follow the advice from science over easing the measures, as opposed to political, public and social media criticism of her actions, she has acknowledged the economic issues of the measures.
McConnell previously said he would be "in favor of allowing states to use the bankruptcy route," adding: "It saves some cities. And there's no good reason for it not to be available."
Whitmer, asked about this on The Journal podcast, said: "I think that that's dangerous. I think that it's not particularly well thought out. Maybe it was an off the cuff remark. I certainly hope that it's not a strategy because it would be devastating for us as a nation."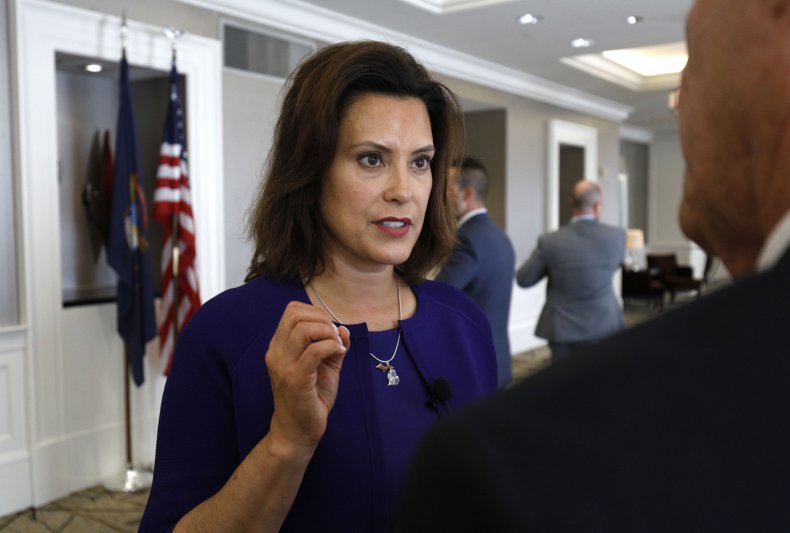 On Michigan's state budget, Whitmer said there could be a $3 billion dollar shortfall which would be "devastating," a situation she added is "not unique to Michigan."
She called for the federal government to provide "additional support in the upcoming supplemental."
"Everyone of us is going to have to make tough decisions in this moment and the more flexibility and assistance we can get from the federal government the better, because COVID-19 has wreaked havoc on all of our economies," she said.
In terms of other support, she spoke of a national strategy around the supply chain and manufacturing.
Along with his bankruptcy comments, McConnell spoke of not being supportive of the federal government looking to "borrow money from future generations to send it down to them now so they don't have to do that."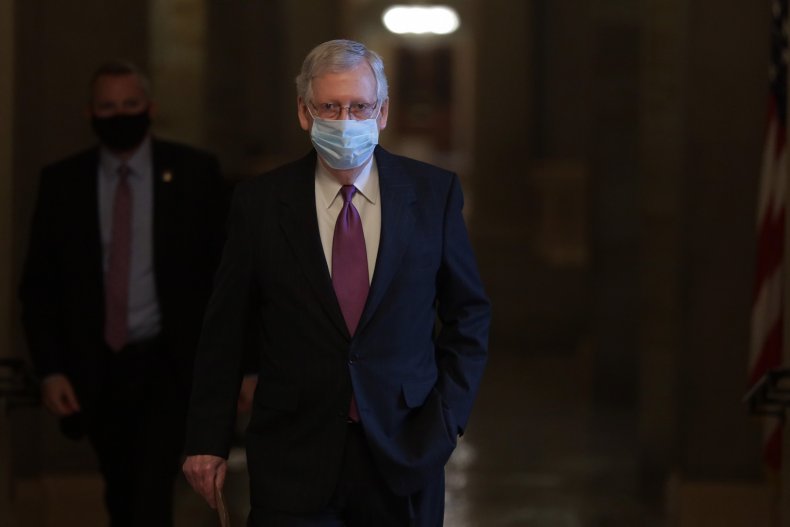 "That's not something I'm going to be in favor of," he added.
In terms of opening Michigan's economy, Whitmer said there was a "tension" between public health advice and industry, though said that moving to quickly and creating a second wave of the outbreak could have worse implications long-term.
Whitmer has face lawsuits from Republicans in her state over the handling of the crisis, which move to reject her extension of stay-at-home measures.
Commenting on criticism, she said: "I'm not going to listen to polls and politicians and tweets to make decisions. I'm going to be listening to our epidemiologists, working with our business community and making sure that we've got a smart re-engagement agenda so that we avoid a second wave and start to re-engage sectors of our economy where there's a lower risk."
There have also been protests against Whitmer's decisions. She said the gatherings could push the spread of coronavirus, making stay-at-home measures necessary to stay in place longer, a situation she called a "sad irony."
Newsweek has contacted Whitmer and McConnell for comment.
Michigan has seen more than 45,000 coronavirus cases confirmed and of those affected more than 4,000 have died.
New York is the worst-hit state in the U.S. and the infographic below from Statista details those most severely affected by the outbreak.