The group Warriors for Christ has filed a lawsuit against Washington D.C. Mayor Muriel Bowser for commissioning a Black Lives Matter (BLM) mural on 16th Street outside the White House. The group alleged the mayor violated the First Amendment by establishing a religion in favor of the "Black Lives Matter cult."
Bowser unveiled the mural on June 5, four days after President Donald Trump threatened military force against nationwide racial justice protesters outraged by the May 25 killing of George Floyd by a Minneapolis police officer.
The group's lawsuit aims to force Bowser to also paint street-sized murals for police ("Blue Lives Matter"), the National Guard ("Green Lives Matter") and a mural that says "All Lives Matter," a phrase often uttered in opposition to BLM. Additionally, the plaintiffs want the mayor to rename 16th Street from "Black Lives Matter Plaza" to "Jesus Is the Answer Plaza."
The group's court filing calls BLM a cult, "a denominational sect of the religion of Secular Humanism... the favored religion of the city and the Nation," adding that anyone "who disagrees with their gospel narrative is a second class citizen."
Secular Humanism is a worldview that rejects religion as a basis for morality.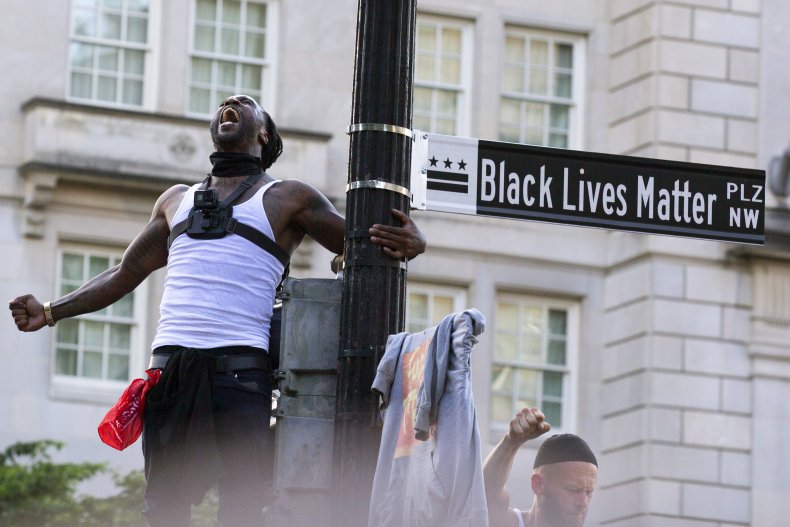 Warriors for Christ is a group lead by Tex Christopher, Rich Penkoski and Chris Sevier. The Southern Poverty Law Center includes the group in its list of extremist hate groups known for anti-LGBTQ speech.
Christopher's Facebook page includes conspiracy theories that BLM protesters are secretly funded by progressive Jewish billionaire George Soros.
Penkoski describes himself as a "street preacher" and claims to have shut down 13 Drag Queen Story Hours, public library events where drag performers read stories and sing songs to children. His social media posts champion respect for police and conflate homosexuality with pedophilia.
Sevier has infamously filed lawsuits in several states seeking to legally wed his laptop. He has said his lawsuits seek to demonstrate that same-sex marriage is as "unnatural" as marrying a machine or a barnyard animal.
"We think the Judge assigned to our cause of action, who was appointed by President Trump, served at DOJ, and was a former police officer will comply with his Article VI duty to uphold the Constitution of the United States," Sevier told Newsweek.
In July 2013, Sevier sued Apple computers for "not stopping him from accessing the porn that he says destroyed his marriage." In September 2013, he was arrested on charges of stalking and harassing a 17-year-old girl working at a Ben and Jerry's ice cream parlor. In 2010, he assaulted his former father-in-law while trying to abduct his infant son during a supervised visit—he served 58 days in jail as a result.
Correction: This story has been updated to remove a reference to the Southern Poverty Law's hate crime designation in the headline.