'A Grown Woman': Man Dragged for Hating 'Conservative' Mom's First Tattoo
Internet commenters were quick to call out one man for his reaction to his mother's first tattoo, which came courtesy of his girlfriend.
In a viral Reddit post published on r/AmITheA**hole, Redditor u/momtattooed (otherwise referred to as the original poster, or OP) said that his girlfriend has been tattooing herself and friends "for years," and explained what happened when she met his "conservative" parents.
Titled, "[Am I the a**hole] for getting upset at my [girlfriend] for giving my mom a tattoo," the viral post has received 10.4K upvotes and 3,000 in just eight hours.
Writing that he and his girlfriend have been together for the last year, the original poster said his parents were on the way to visit the couple, when he encouraged his partner to dress in a manner he thought would appease them.
"My parents are more conservative and traditional so when they planned a trip to visit us I told her to just wear longer clothes to cover [her tattoos]," he wrote. "She refused and on the day they visited she wore a crop with shorts."
When his parents arrived, however, the original poster said he was "shocked" at their reaction to his girlfriend's tattoos.
"My parents came in and just started complimenting her on the tattoos, especially my mom," he wrote.
After a lengthy conversation between his mother and girlfriend, the original poster said he and his father retreated to his backyard. A short while later, he received an even larger shock than before.
"When we came back in my mom rushed up to my father to show off the tattoo my girlfriend gave her," he wrote. "My dad loved it and my mom was busy telling everyone on Facebook about it."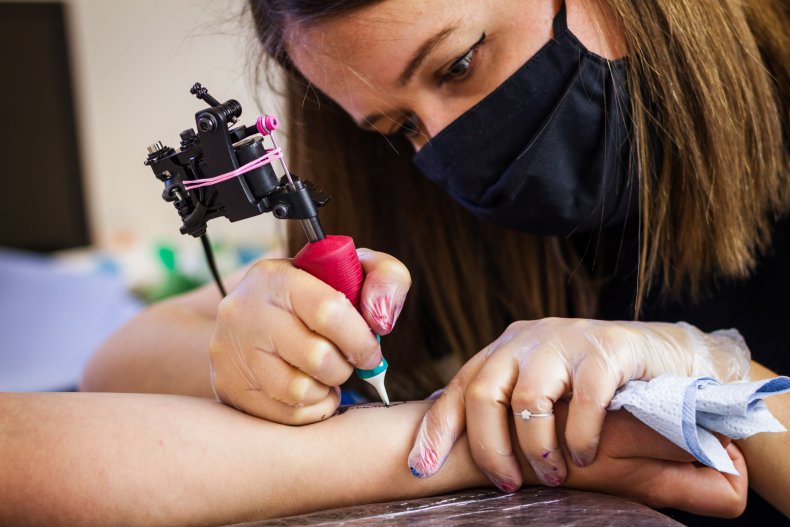 "My girlfriend came downstairs and I asked her why she would put that on my mom without asking me," he continued. "She laughed in my face and said my mom was a grown woman."
In 2019, a survey conducted by Statista revealed that 44 percent of Americans reported having one or more tattoos.
While 35 percent of people surveyed reported having just one tattoo, and even less people reported having more than one, (19 percent of Americans reported having two or three, 18 percent reported having four or five, 9 percent reported having between 11 and 20 and fewer than 5 percent reported having more than 20 tattoos), changing stereotypes have led to a boom in the tattoo industry.
Despite the negative sentiments long-associated with body art (especially on the hands, neck and face), researchers at Shepherd University reported that the tattoo industry grew by 23 percent in 2021.
With that percentage expected to continue to grow at a steady pace, a greater number of Americans have found themselves in tattoo shops across the country, including previously-unlikely tattoo candidates.
In the viral Reddit post, u/momtattooed said his mother's new tattoo featured four small flowers, one for each member of her family. However, sentimentality was not enough to justify the art piece to the original poster—much to the chagrin of his parents and girlfriend.
"My parents...took my girlfriend's side so I just stormed off upstairs," he wrote. "It's been a few days and I can't bring myself to talk to her after she did that behind my back."
In thousands of responses to the viral post, Redditors criticized the original poster for his visceral reaction to the tattoo and echoed his girlfriend's sentiment that his mother is a grown woman capable of making her own choices.
"Why are you upset exactly?," Redditor u/hptvforever questioned in the post's top comment, which has received nearly 20,000 votes.
"Because your grown mom didn't ask your permission to get a tattoo? Or because your experienced girlfriend agreed to give a grown woman a tattoo that the grown woman wanted?," they added. "Or is it because you're upset your parents are more open-minded than you thought?"
Redditor u/RadioFace9779, whose comment has received nearly 10,000 votes, was adamant that the original poster's reaction, nor his treatment of his girlfriend, was not justified by any means.
"[You're the a**hole] for asking your [girlfriend] to cover up, for assuming your parents would be so judgmental they would dislike her for her ink, and especially for being angry at two consenting grown** women on what they decided to do to their bodies," they wrote.
"Your parents might keep her and ditch you," they added.