Internet Dubs Mom's 'Tanning Fail' as 'Priceless' in Viral Video
There is plenty of room for mishaps when using self-tanner, and one mother shared her own experience in a TikTok, which has since been viewed more than 100,000 times.
Bridgette Hartt posted the video to her TikTok account @bridgettehartt and revealed how her uneven tan came to be. Although she did not get the look she was hoping for, many commenters said the results were both hilarious and sweet.
"I'm dying," read the caption on her video, which included several laughing emojis. "How am I supposed to live like this."
Among the hashtags, Hartt included in the caption was "tanning fail."
She said she applied the fake tan before she went to sleep.
"My kid slept with me because my husband wasn't here," Hartt explained. "I know I get hot when they're in the bed with me and I end up sweating, but I didn't realize it was because my kid was sweating on me too."
She showed her leg where part of the tan rubbed off in the shape of a foot.
"Those are his feet prints," she said as she laughed.
Using fake tanner is a popular way many people mimic a sunkissed look, and there are some tricks for people to keep in mind.
According to the American Academy of Dermatology, the process includes prepping the skin by exfoliating and drying it, taking care to apply the product in sections on different parts of the body and waiting for the product to dry before getting dressed.
To apply the product, people are encouraged to work it in with a circular motion.
And, although a fake tan gives the appearance that someone spent time laying out in the sun, people should still use sunblock.
"You still need to protect your skin with sunscreen," the organization stated, noting that a good sunscreen contains at least an SPF of 30, offers broad-spectrum protection and is water-resistant.
In a follow-up video, Hartt showed the bottom of her child's foot, which was partially covered with the fake tan product.
She told Newsweek in an email that she left the tan as it was.
"It was so cute to look at and I didn't have anywhere to be," Hartt explained.
This was not the first time Hartt had an unexpected twist to her self-tan.
She was once caught running through a rainstorm while she had a spray tan.
"I was left pretty streaked," she said.
Hartt was not the only one laughing at the unexpected twist to her regimen—commenters shared their own reactions to the video.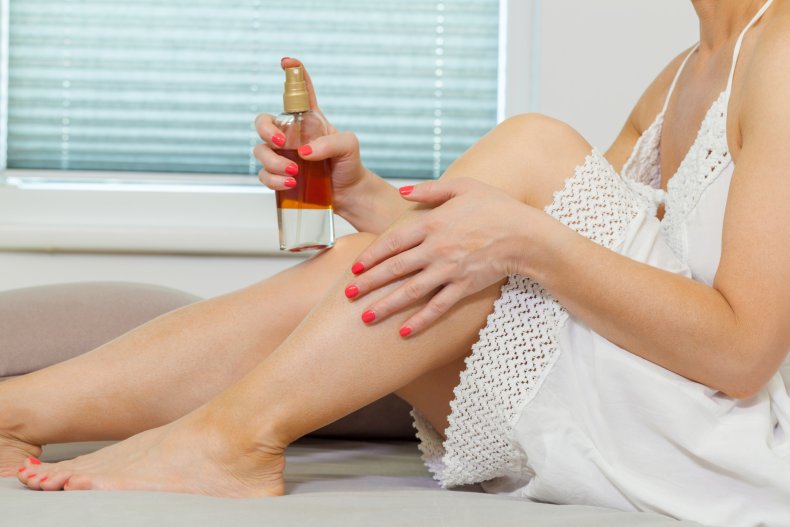 "Oh that is priceless," a viewer commented.
"Mom life," another wrote.
In addition to finding the humor in it, others said it was a sweet mistake.
"A sign to get a tattoo of that there," one viewer suggested.
Another TikTok user said it was "precious."
A few viewers even related to Hartt's situation.
"When my husband has duty, my son sleeps with me too," a comment read. "He always [asks]...mama...did you put tanner on tonight? Cause it gets all over him too!"
"This has happened to me too!" a viewer shared. "My daughter had a brown spot on her leg and I thought it was a giant bruise!"
Looking back on the number of views and responses her video received, Hartt said she always hopes that her videos go viral, but the chances of it happening can be hit or miss. However, she said she enjoys working in the realm of social media, as well as the chance to grow.