Gwyneth Paltrow Jokes She Had Sex With Hailey Bieber's Dad in a Bathroom
Gwyneth Paltrow joked she had sex with Hailey Bieber's father, Stephen Baldwin, during an appearance on the model's vlog, "Who's in My Bathroom."
On Wednesday, the Goop founder, 49, shared that she acted with Baldwin years ago.
"I think I know your dad and your uncles," the mom of two, who shares kids Apple and Moses with ex-husband Chris Martin, said.
"That's my favorite thing that people say to me," the Rhode founder, 25, laughed, before asking, "Any stories?"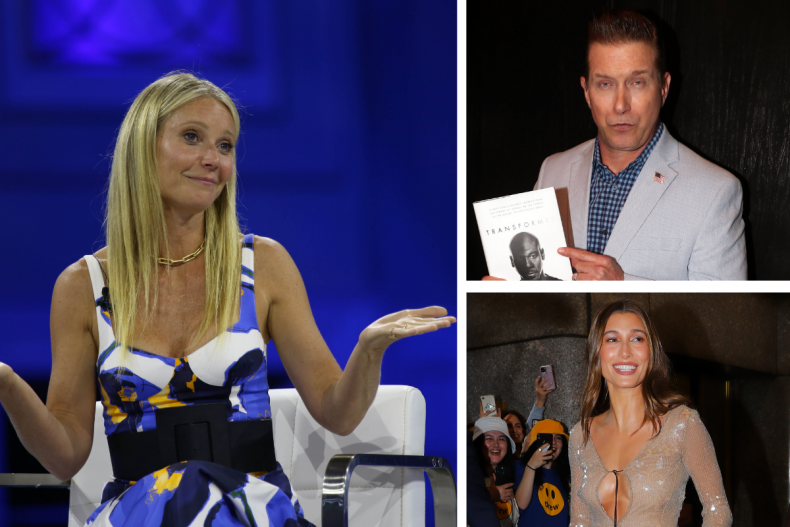 "I did a movie with your dad, actually," she divulged.
Surprised, Bieber replied, "Oh, not me not knowing that."
Paltrow noted it "was a tiny independent movie" but that Baldwin "was great" and "so nice."
"Aww, I love hearing that," Bieber, who is married to singer Justin Bieber gushed. "Imagine if you had some horror story, and you were like, 'He's terrible, it was a nightmare working with him.'"
"Yeah, that would be bad," Paltrow giggled. "Or if I, like, f***ed your dad in the bathroom."
"I've had that happen to me!" the Tucson, Arizona native admitted. "I don't know if he even knows that I know that, but I have had that happen."
The Iron Man alum was quick to clarify, "I didn't! I didn't," to which Bieber said, "Well that's good to know, okay."
Fans loved the pair's cheeky interaction, with one person commenting on YouTube: "Gwyneth gives off such a warm motherly vibe, you can tell she's a great mother! I felt like she talked to Hailey as if it was her own daughter, after she got older. Very sweet!"
"This was one of my favorites," another added. "I love both of these women so much, they are just so down to earth and refreshing."
A third said the Academy Award winner is "hilarious" and the "part about working with her dad was so funny and unexpected."
Paltrow and Baldwin starred in the 1994 film Mrs. Parker and the Vicious Circle. The Dorothy Parker biopic also featured Matthew Broderick, Stanley Tucci and Jennifer Jason Leigh.
As for Paltrow and Alec Baldwin, Bieber's uncle, they have a history, too, working on three films together: 1993's Malice, 2001's The Royal Tenenbaums and 2006's Running With Scissors.
During the 19-minute clip, Paltrow showed Bieber how to make her favorite mint-flavored smoothie while chatting about skincare and growing up in Hollywood.
"As the child of someone, you get access other people don't have, so the playing field is not level in that way," Paltrow, whose late father Bruce Paltrow was an Emmy-nominated director and mom Blythe Danner is an Emmy-winning actress, explained. "However, I really do feel that once your foot is in the door, which you unfairly got in, then you almost have to work twice as hard and be twice as good. Because people are ready to pull you down and say, 'You don't belong there,' or, 'You are only there because of your dad or your mom.'"
She continued: "And it shouldn't limit you because, what I definitely believe is that, nobody in the world, especially people who don't know you, should have a negative impact on your path or the decisions that you make."
Bieber agreed, nodding and saying: "I need to hear this today."
Newsweek reached out to Paltrow and Bieber's teams for comment.