Hailey Bieber Praised for Defending Fan After Guard 'Put His Hands' on Her
Hailey Bieber received online praise after a video of her defending a fan against a purported security guard at Nobu went viral on social media.
The video was posted to TikTok on June 14 by Kristal (@kristalterrell), who wrote: "The way @Hailey Bieber defended me after someone put their hands on me." It has amassed over 9 million views and thousands of comments from viewers, calling Bieber "the sweetest."
In the clip, Kristal approaches Bieber for a picture, but as Bieber puts her arm around Kristal, a security guard grabs Kristal's arm in an attempt to separate the two.
"It's fine, it's fine," Bieber said, prompting the security guard to walk away. "We do not put our hands on anyone."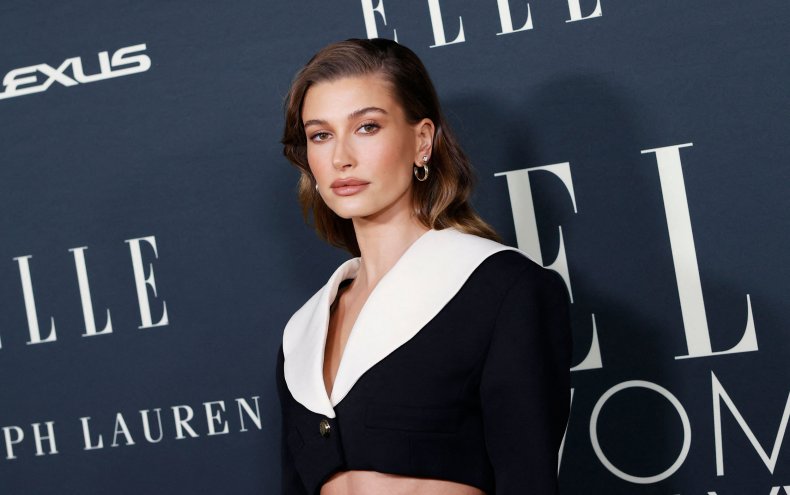 The person filming the interaction thanks Bieber, who then poses with Kristal for a photo.
In a follow-up video, Bieber tells Kristal that she doesn't "like when people put their hands on people," and poses for a second photo.
Kristal clarified in the comments sections of her posts that the security guard was part of the Nobu staff, not Bieber's team.
Hailey Bieber—formerly Baldwin—married singer Justin Bieber in 2018 following a whirlwind engagement. Despite only being four years into their marriage, the couple has weathered quite a few storms, including recent health scares and, in Hailey Bieber's case, a barrage of negativity from Selena Gomez fans.
In 2019, for example, a Gomez fan commenting on one of Justin Bieber's Instagram posts called the model a "racist" and accused her of "sleeping with men for fame." And last year, fans chanted "Selena" at the couple as they walked the Met Gala red carpet, Cosmopolitan reported.
After years of dealing with all the negativity, Hailey Bieber posted a TikTok in April, begging commenters to "leave [her] alone."
"I don't do anything, I don't say anything...enough time has gone by where it's valid to leave me alone," she said.
With all this in mind, many of Kristal's viewers argued that Hailey Bieber doesn't receive enough credit for her kindness, and called her "the sweetest."
"She's honestly a queen idk why the media always wants to portray otherwise," andrea wrote.
"Hailey is the sweetest! Sorry you had to go through that but glad she had your back!" Danielle exclaimed.
"This is the side of her the media doesn't want to show!!! She is amazing!!!" Ariella Bezan353 commented.
Another viewer added: "She seems sweet and she makes such a good couple with Justin. I feel bad for all the hate she gets."
Newsweek has reached out to Kristal for comment.