Half of Trump's Post-Election Appointees Have Personal Connections to Him
As Donald Trump's refusal to concede persists nearly two months after Election Day, the sitting president has released a rush of new appointments in recent weeks, primarily to career civil service positions.
Concerned critics noted an apparent bias, on Trump's part, in selecting individuals favored by him and his administration.
Of more than 200 appointments issued since November 3, a review of them by Newsweek indicated roughly half hold personal connections to Trump, as donors, friends, political allies, lobbyists, administration and campaign personnel, and other professionals who built careers outside of politics and have written articles, published books or otherwise voiced public support for his presidency.
Trump is not the first president to appoint Cabinet members to career positions, which usually allows them to remain in Washington after a new president is inaugurated, during the final months and weeks of his term. The trend is part of a wider practice called "burrowing," and it often plays out as a president prepares to leave office, albeit to varying degrees.
An article published in New York University Law Review's May 2003 issue examined the volume of political appointees transferred to career civil service positions during the latter years of past presidential administrations. Citing records archived by the U.S. Government Accountability Office, it identified approximately 100 of these transfers during the final two years of Bill Clinton's presidency, 160 during the final two years of George H.W. Bush's presidency, and 110 during the final two years of Ronald Reagan's presidency.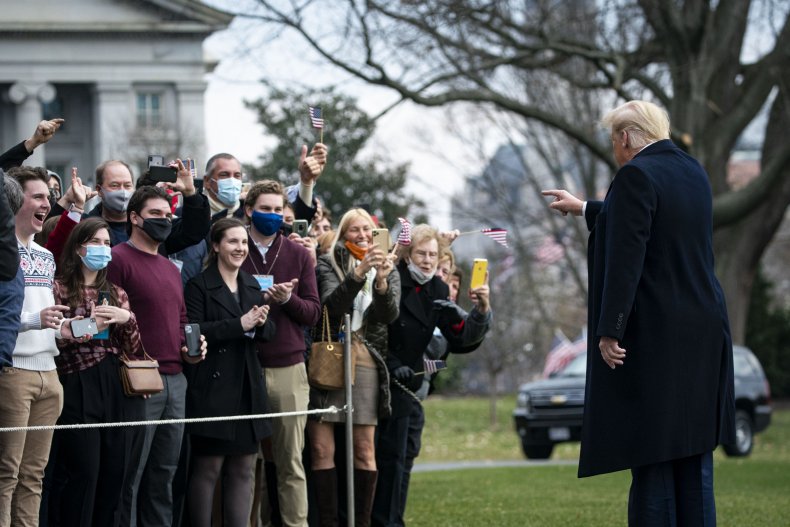 The number of appointees named under Trump generally equates to those named under other recent presidents, according to ProPublica, and his timing is not unprecedented, either. Former President Barack Obama, for example, appointed senior adviser Valerie Jarrett and national security adviser Susan Rice to serve on the Kennedy Center's Board of Trustees days before the 2017 inauguration. However, the extent to which Trump's picks reflect personal allegiances, as well as financial and ideological ties, is unique.
Paul Light, a New York University professor with a research background that covers bureaucracy, government reform and appointment processes, told the Associated Press earlier this month that it is customary for presidents to declare appointees for civil service roles ahead of a transition.
"But nobody does these things with more politicization than Trump," Light said, adding, "This is all favors repaid and favors earned."
The White House shared a list of 42 intended Trump appointees on Tuesday, many of whom are personal allies to the president. A handful, like Richard Grenell and Hope Hicks, previously held other roles within the administration. Trump's latest appointments primarily filled oversight positions at national establishments governing arts, culture, history and education.
They include nominees to join the Board of Trustees at the John F. Kennedy Center for the Performing Arts, United States Holocaust Memorial Council, Board of Trustees of the Woodrow Wilson International Center for Scholars in the Smithsonian Institution, and J. William Fulbright Foreign Scholarship Board.
Trump nominated Hicks, his longtime aide, to the Fulbright Scholarship Board. Meanwhile, former Florida Attorney General Pam Bondi, who worked on Trump's legal team during his impeachment trials and delivered remarks at this year's Republican National Convention, is one of several Trump proponents now appointed to the Kennedy Center's Board of Trustees.
Grenell, who served as acting National Intelligence Director after Trump fired retired U.S. Navy Vice Admiral Joseph Maguire earlier this year, will be appointed to the Holocaust Memorial Council. The president's move to appoint Grenell as Maguire's replacement garnered criticism earlier this year, as some suggested the Republican diplomat's selection was a reward for past loyalty to Trump and came despite his lack of intelligence credentials.
News of Tuesday's appointments prompted backlash on social media, as users denounced Trump's continued push to elevate those closest to him to esteemed positions—potentially, as gestures of recompense for longstanding patronage—just weeks ahead of his term's culmination.
Trump's most recent wave of political appointments preceded his upcoming White House exit by less than one month. President-elect Joe Biden is due to succeed him after his January 20th inauguration, despite the Trump campaign's ongoing efforts to challenge the transition.
Names included in Tuesday's list of appointees fell in line with an ostensible pattern of Trump's supporters, donors and friends earning prestigious national titles that will outlast the remainder of his presidential term. Two weeks ago, he nominated former senior adviser and 2016 campaign manager Kellyanne Conway to the Board of Visitors to the U.S. Military Academy and current Transportation Secretary Elaine Chao, who is married to Senate Majority Leader Mitch McConnell, to the Kennedy Center's Board of Trustees. Pamela DeVos, the sister-in-law of Trump's controversial Education Secretary Betsy DeVos, also received a Kennedy Center trustee board nomination.
Matt Schlapp, a conservative lobbyist who publicly backs Trump's unfounded election fraud claims, was additionally nominated to serve as a member of the Library of Congress Trust Fund Board. Schlapp's wife, Mercedes Schlapp, was the current administration's strategic communications director until July 2019, when she joined Trump's reelection campaign. Andrew Giuliani, the son of former New York City mayor and present Trump attorney Rudy Giuliani, was appointed to the Holocaust Memorial Council.
These are only a handful of advisory and commission board appointments Trump has extended to members of his network ahead of January's inauguration. Authors whose published works that painted the president in a positive light and Paolo Zampolli, the modeling agency founder who hosted a party where Trump and first lady Melania Trump initially met, are among other appointees.
Newsweek reached out to the White House for comment but did not receive a reply in time for publication.