Halloween Will Cost You More Than Ever This Year
At Halloween, Ashley Conley often shells out for a new outfit. This year, as prices surge, the 24-year-old is trying to claw those funds back to pay the bills.
"I've decided to work with what I have in my closet this year, as shelling out money on an outfit that I would wear for a night is not worth it for me knowing rent is due next week," the New Yorker told Newsweek.
"I held on to my costumes from last year, but decided to list them on Facebook Marketplace knowing I could make some extra money."
Halloween economics are proving truly scary for many Americans this year amid skyrocketing inflation that has seen the cost of costumes and candy soar.
For many families, it is an almost unavoidable expense; National Retail Federation (NRL) research suggests 69 percent plan to participate, each adult likely spending $100.45 on average—that equates to $10.6 billion nationwide.
But economists have suggested there are now indications inflation is starting to weigh on consumers.
Across the economy as a whole, there are signs that growth is slowing as shoppers balk at paying increased prices, Bloomberg reported this week. "It's hard to really increase your consumption if your real income is heading lower," Sarah House, senior economist at Wells Fargo & Co told the news agency. Households are being forced to dip into their savings just to keep "consumption where it is," she added.
So exactly what elements of Halloween have been affected this year? How is that hitting ordinary Americans? And what does it mean, if anything, for the midterms that are just around the corner?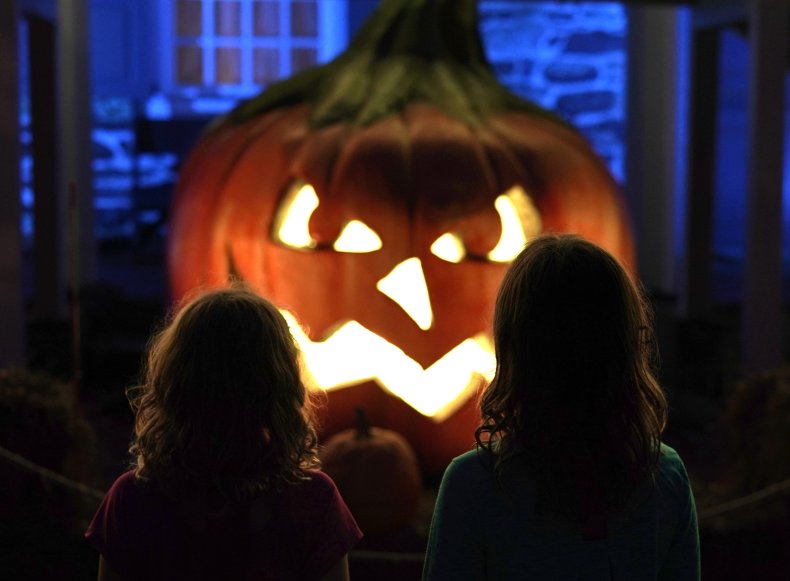 Candy
Parents will struggle to persuade young children that they should reduce their demand for candy simply because the prices have risen. And they have risen a lot.
As the chart below shows, candy prices shot up by 13.1 percent year-on-year in September. This is not a typical pre-Halloween mark-up; it is higher than any other year in the past two decades.
The only other year when prices shot-up around Halloween was during the global financial crisis in 2008, when candy prices rose 6.4 percent in September and 7.2 percent in October. This year, prices jumped 9.4 percent in July, 10.9 percent in August, until hitting last month's figure of 13.1 percent.
Social media is awash with Halloween revelers shocked at how much they were being forced to fork out for their annual goodies. One person tweeted: "So I'm at the store this weekend, and no one is buying candy for Halloween according to the manager. So I said, a small bag is $9.99, a really large bag of mixed is $25.99, families are choosing food for themselves not for other families, it's too expensive."
Costumes
It is harder to get a sense of how Halloween costumes in particular have been affected by the economic headwinds.
Bureau of Labor Statistics (BLS) breaks down spending by creating a "Consumer Price Index for All Urban Consumers (CPI-U)" which is created using a U. S. city average for various detailed expenditure categories.
While the BLS stats do not focus specifically on Halloween costumes, the overall category of "apparel" is up 5.5 percent in September year-on-year. And even those making their own costumes might notice that prices are up, because the category "sewing machines, fabric and supplies" was up 11 percent in September compared to last year.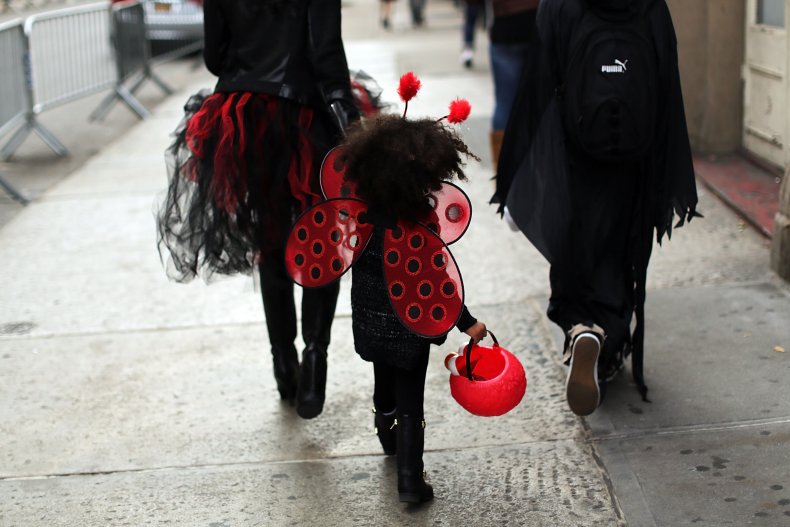 Others who were determined to wear a shop-bought costume took to social media to report that they had been shocked by the prices.
One stressed mom tweeted: "Holy. Halloween costumes are expensive. I have no idea how I'm going to buy 5 costumes before Halloween." Another Twitter user added: "When did Halloween costumes get so expensive? $60 for a cheerleader costume, $70 for a Ghostbusters costume. I couldn't do it. We're going to Value Village."
Another joked: "Why is halloween so expensive now?!?! if a witch broom is $50 it better make me fly."
Pumpkins
To add to the tale of Halloween woe this year, the price of pumpkins is up too compared to 2021.
The average price of a pumpkin in stores this month is $5.19, according to the U.S. Department of Agriculture (USDA), up 7.5 percent from the same period last year, when average prices were $4.83.
However, that doesn't factor in what is known as shrinkflation—when retailers sell items for a similar price but by less weight, or with fewer items packaged inside. The average price per pound of pumpkins, according to the USDA data, is 50 cents, up from 39 cents last year—a rise of 28.2 percent, far higher than most measures of food inflation.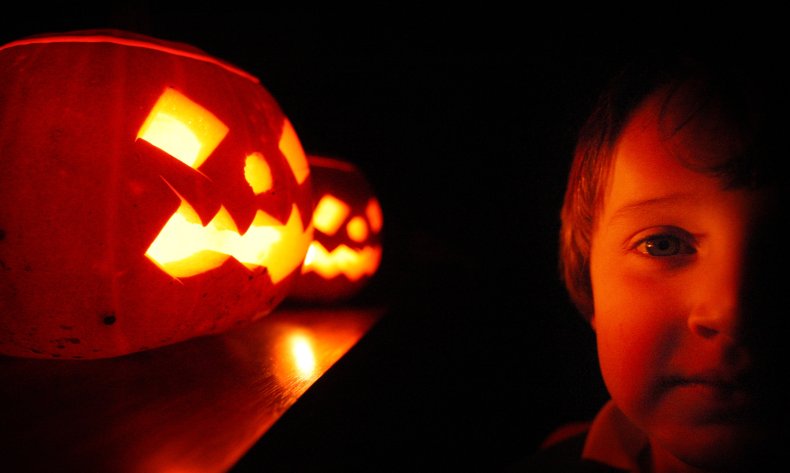 Energy
Rising energy costs may also hit Halloween wallets as households who enjoy decking out their homes in spooky paraphernalia, inside and out, may find it costs more to run their fog machines and atmospheric lights.
Politics
The spiraling cost of Halloween is not just terrifying for families; politicians should be scared too, according to analysts.
Predictably, Republicans with a political axe to grind have jumped on the issue. Congressman Bob Latta, the representative for Ohio's 5th congressional district, tweeted: "Soaring inflation is making everything more expensive, and Halloween candy is no exception. This is just another example of how reckless government spending is affecting the pocketbooks of hardworking families."
Experts Independent Institute—a libertarian think tank based in Oakland, California—think the Democrats may have cause to feel frightened ahead of November's midterms.
The organization's William Shughart, a professor in public choice at Utah State University, told Newsweek that consumer behavior will "undoubtedly will differ this year."
"Inflation, and the economy in general, are at the top of ordinary Americans' worries going into Election Day on November 8. There's plenty of blame to go around for massive increases in government spending and the Fed's monetary policy mismanagement, but it looks like Democrats will be hurt at the polls more than Republicans. As President Bill Clinton once famously said, 'It's the economy, stupid.' That's a warning that Biden and the Democrat-controlled House of Representatives have failed to take to heart."
Democrats note that inflation has risen sharply around the world, in part as a result of Russia squeezing gas supplies, pushing up energy prices.
The White House has been approached for comment.
Meanwhile, Senator Bernie Sanders has called out "corporate greed."
"While the cost of Halloween candy has surged more than 13.1% since last September, the Mars candy bar family became 44% richer during the pandemic increasing their wealth by $32.6 billion," he tweeted last Friday. "The Mars family is now worth $106.8 billion. Do you know what's scary? Corporate greed."
A Mars Wrigley spokesperson told Newsweek the company: "While we implemented a price increase with retailers for some of our products earlier this year, it was in line with the category increases cited by the Labor Department and significantly lower than the 30-50% range referenced in some reports."