The national debate over reproductive rights is occurring across America, including inside churches in Los Angeles.
Abortion-rights activists demonstrated Sunday during 10 a.m. mass, according to the Los Angeles Times, inside the Cathedral of Our Lady of the Angels.
Video posted on social media platforms like Twitter and Reddit shows what looks like a handful of protestors walking down an aisle, dressed in red robes and white bonnets popularized by the novel and TV program The Handmaid's Tale.
Demonstrators seemingly appeared to express themselves in the aftermath of the leak of the Supreme Court's first draft majority opinion, written by Justice Samuel Alito and made public last week. If it goes through later this year, it would overturn the 1973 Roe vs. Wade decision that federally legalized abortion.
Shortly after the opinion went public and protests began nationwide, Democratic Representative Jamie Raskin of Maryland said on MSNBC's Rachel Maddow Show that a ruling from the country's highest court would prompt "Handmaid's Tale type anti-feminist regulation and legislation all over the country."
Senator Ted Cruz denounced protests outside Supreme Court justices' homes, saying that "today's Democratic Party believes in violence, they believe in mob rule, they believe in intimidation, just like Marxists and communists."
Nobody has reportedly been arrested due to such protests.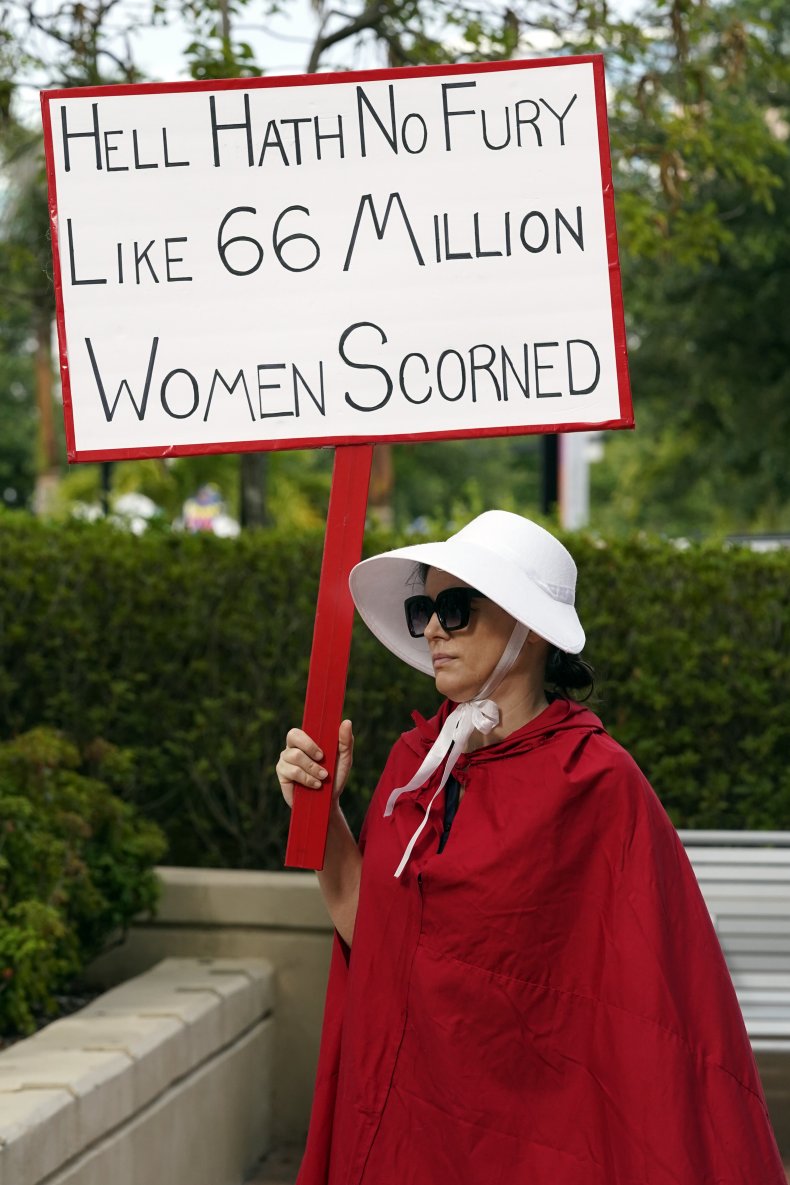 The video shows a couple of male parishioners jumping pews to get close to the demonstrators, who are standing still. It looks as if one of them swats down a sign held by one individual.
"You are not attacking anybody," says one man in the video, though it's unclear who.
"You're attacking me right now," one woman replies, all the while the priest continues speaking and delivering the mass in the packed cathedral.
The video shows the cathedral full of parishioners. A priest can be heard speaking in the background.
The situation got a bit more heated as the video continued, showing protestors and parishioners in each others' faces.
"Respect us," one man says to the women. "You guys want respect? We want respect too."
When most of them seem to be on their way out, one woman rushes towards the front of the cathedral and is met with verbal backlash. Yelling ensued, including one unknown male saying, "Get out of here."
"I have a right as an American," the woman yelled as she was being led out of the cathedral as most parishioners looked on in silence. She also said, "Let go of me" and "Quit touching me" at one point, both of which could be heard echoing through the building.
It is unclear who recorded the original video.
"Demonstrations had been anticipated across the country," Doris Benavides, spokesperson for the Archdiocese of Los Angeles, told Newsweek. "The incident was handled accordingly by cathedral security ensuring limited disruption of mass. We continue to join our prayers as an archdiocese in solidarity with the U.S. Catholic bishops to pray for change in our laws to help all women in need in our communities."
Reactions via Reddit
Comments on Reddit were mixed, with many mentions of the "separation of church and state."
"If churches want to get involved in government then they should start paying taxes like everybody else," one Redditor said.
Another Redditor who identified as an abortion-rights activist said "churches are private property, they can dismiss whomever they want. Doing it outside of Planned Parenthood is different than doing (it) inside a church."
However, Penal Code 302 of California state law "prohibits intentionally disturbing or disrupting a religious meeting by way of profanity, misbehavior or unreasonable noise." It is a misdemeanor offense punishable by up to one year in jail and a fine of up to $1,000.
Examples include heckling a pastor during a religious service, yelling rude comments at people on their way into mass, or making obscene gestures to those present at a church service.
The archdiocese never mentioned any legal action taken in this instance.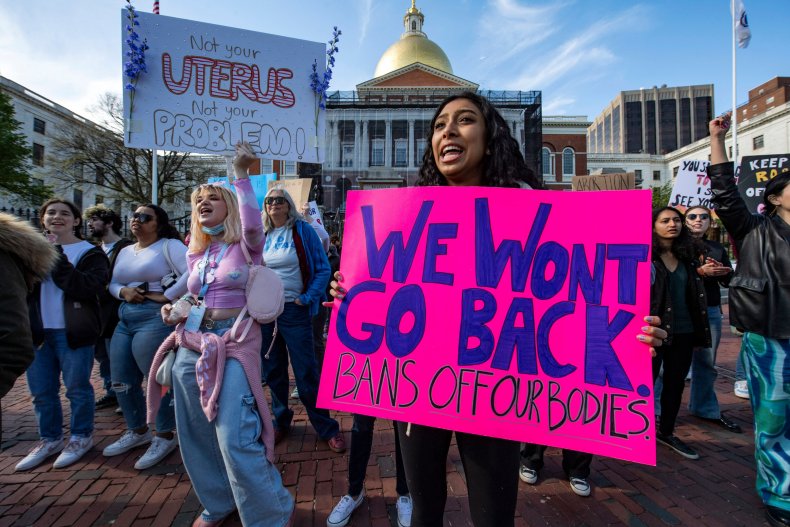 On May 3, the Public Policy Institute of California reported that Democrats and independents, at 87 and 77 percent, respectively, "are far more likely" to oppose overturning Roe v. Wade than Republicans at 54 percent.
More than six in ten Californians oppose overturning in general, though it varies based on region and educational attainment. Younger people are also less likely to support the reversal of the law as it currently stands.
For nearly 20 years, those in favor of keeping Roe v. Wade have only become more steadfast, according to the PPIC. About 65 percent of Californians polled in June 2007 supported keeping the law, and that number climbed to 77 percent in June of 2021.
California Governor Gavin Newsom, who is running for reelection, published a tweet May 4 that called the law "the defining issue of the 2022 election."