Ted Cruz Compares Protesters Outside Justice Alito's Home to Jan 6. Rioters
Senator Ted Cruz has accused the Democrats and the media of "complete hypocrisy" while suggesting the abortion rights demonstrations outside Supreme Court Justices' homes are more damaging than those "peacefully protesting" on January 6.
Speaking to Fox News' Sean Hannity, Cruz was discussing the demonstrations which have taken place outside the home of Justice Samuel Alito, as well as Justice Brett Kavanaugh and Chief Justice John Roberts, after a leaked draft opinion suggested that SCOTUS is preparing to overturn Roe v. Wade, the landmark 1973 ruling which legalized abortions across the country.
During the segment, both Cruz and Hannity asked why people were not equally outraged by the Black Lives Matter protests which took place in the summer of 2020 than when Donald Trump supporters stormed the Capitol in an attempt to stop the Election results being certified in favor of Joe Biden.
Cruz, who previously described January 6 as a "violent terrorist attack" before apologizing for his remarks, suggested the "selective moral outrage" from the left with regards to the protests outside the justice's homes is "all politics."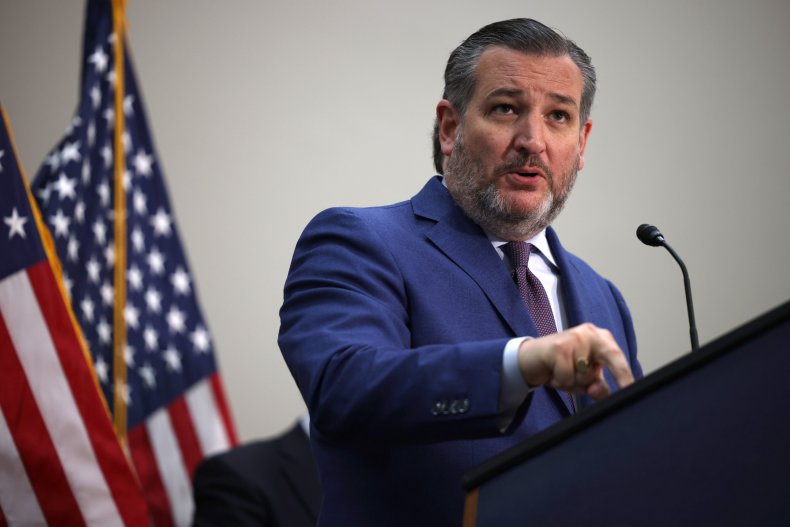 "It's complete hypocrisy, you see this in the corporate media, you see this among Democrats," Cruz said.
"On January 6 of 2021, you had tens of thousands of people peacefully protesting and yet, the corporate media and Democrats slander them with the made up term insurrectionist.
"And yet in this instance, they are not willing to call off their goons even now as this has the potential to escalate and escalate further."
There have been no reports of arrests in connection to abortion rights protests outside the judge's homes in Maryland and Virginia.
Elsewhere, Cruz suggested that the White House failing to fully denounce the protests is the "latest manifestation of just how extreme, just how radical" the Democratic Party has become.
"Joe Biden has handed the agenda over to the socialists, and not just the socialists, this is now the Marxists, this is now the communists," Cruz said.
"Today's Democratic Party believes in violence, they believe in mob rule, they believe in intimidation, just like Marxists and communists, they're willing to burn our institutions to the ground to get what they want."
Cruz added: "Once again, they're putting politics above everything else including people's lives. And these radicals are inviting violence directed at our judiciary, and directed at the rule of law."
Around the one-year anniversary of the January 6 attack, Cruz was widely mocked and criticized after he apologized to Fox News' Tucker Carlson for referring to January 6 as a "violent terrorist attack" in the days after the riot.
Cruz, who was accused of helping to incite the January 6 with his rhetoric and pushing of false claims the 2020 Election was stolen, told Carlson he regretted the "sloppy" and "frankly dumb" comments.
Cruz had also publicly referred to January 6 as a terrorist incident more than a dozen times in wake of the attack, but never apologized for them until they were brought up by Carlson.
On Monday, White House Press Secretary Jen Psaki said she and President Biden support people's right to protest but "violence, threats, and intimidation have no place in political discourse."