Nancy Pelosi Praises Supreme Court Protestors' 'Righteous Anger'
House Speaker Nancy Pelosi on Monday commended those who "channeled their righteous anger" over the Supreme Court's leaked draft decision that would strike down Roe v. Wade by organizing and marching.
"While we have seen and heard extraordinary anguish in our communities, we have been moved by how so many have channeled their righteous anger into meaningful action: planning to march and mobilize to make their voices heard," Pelosi wrote in a letter that was addressed to a "Democratic Colleague" and shared on her website.
While the Supreme Court has said that the leaked draft does not represent a final decision, the possibility that abortion rights in the U.S. could soon be rolled back has angered and mobilized many abortion-rights activists. Some protestors have even gathered outside the homes of certain justices in yet another aspect of the abortion rights issue that is receiving both support and backlash.
Some Republican politicians, such as Texas Senator Ted Cruz, have decried the demonstrations outside the justices' residences. However, Pelosi is among a group that has praised the organizing efforts, though she did not specifically mention whether she supported the protests outside the homes.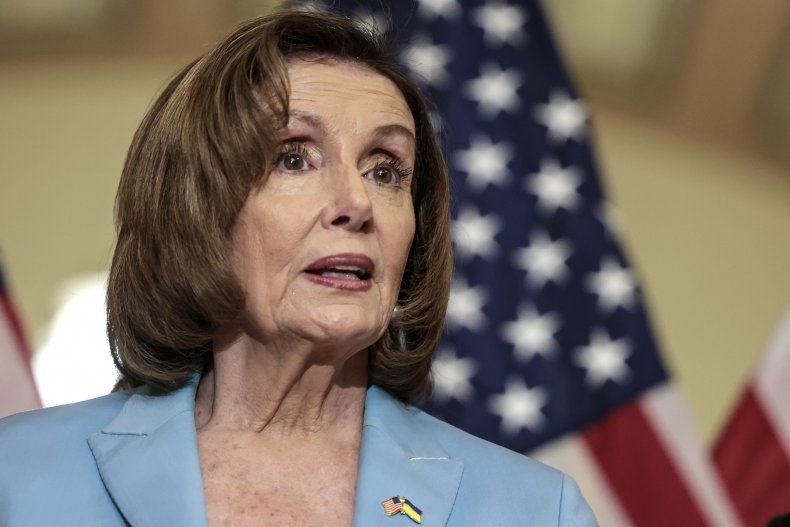 In her letter, the house speaker described the draft ruling as "the culmination of Republicans' decades-long crusade against women's fundamental freedoms."
"With this draft ruling striking down the nearly fifty-year-old precedent of Roe v. Wade and undermining the Constitutional right to privacy, Republicans would rip away women's right to make the most intimate and personal decisions. If handed down, this decision by GOP-appointed Justices would mean that, for the first time in our history, America's daughters will have less freedom than their mothers," she continued to write.
Pelosi said that Republicans are aiming to criminalize abortion across the U.S., and warned that such a move could lead to other freedoms being imperiled as a result.
"Make no mistake: once Republicans have dispensed with precedent and privacy in overturning Roe, they will take aim at additional basic human rights. At this pivotal moment, the stakes for women—and every American—could not be higher," she wrote.
Pelosi also noted plans to put the Women's Health Protection Act, a bill seeking to codify Roe v. Wade that was passed last year by the House, up for a vote in the Senate this week and called for a continuation of the "fight" for abortion rights moving forward.
"We know we must carry forward this fight in the weeks and months ahead. Our proud pro-choice House Majority must continue this fight in the public arena so that the American people know that their rights are on the ballot this November," the house speaker concluded in her letter.
Last week, CBS News reported that the nine Supreme Court justices were given extra security after violent threats against them increased and their home locations were shared online.
White House press secretary Jen Psaki tweeted Monday that President Joe Biden "strongly believes in the Constitutional right to protest. But that should never include violence, threats, or vandalism. Judges perform an incredibly important function in our society, and they must be able to do their jobs without concern for their personal safety."
It was not immediately clear how frequently pro-abortion rights protests held across the country have devolved into violence since the draft ruling was leaked. However, at one protest in Massachusetts, a pro-abortion rights protestor was detained after allegedly swinging a bike lock at an anti-abortion rights protestor and nearly hitting him in the head, NBC Boston reported Sunday.
Newsweek reached out to Pelosi for further comment.