Hannity Calls on Trump to 'Pardon His Whole Family and Himself'
Fox News host Sean Hannity on Monday said that President Donald Trump should issue presidential pardons for himself and his entire family before leaving the White House in order to avoid potential legal prosecution by the incoming attorney general of President-elect Joe Biden.
During Thursday's The Sean Hannity Show on the Premiere Radio Networks, Hannity discussed a November 24 New York Times opinion article written by Andrew Weissmann, deputy to former special counsel Robert Mueller. In it, Weissmann wrote that Biden's attorney general under should investigate Trump.
In response, Hannity said, "The president out the door needs to pardon his whole family and himself, because [the Democrats) want this witch hunt to go on in perpetuity. They're so full of rage and insanity against the president."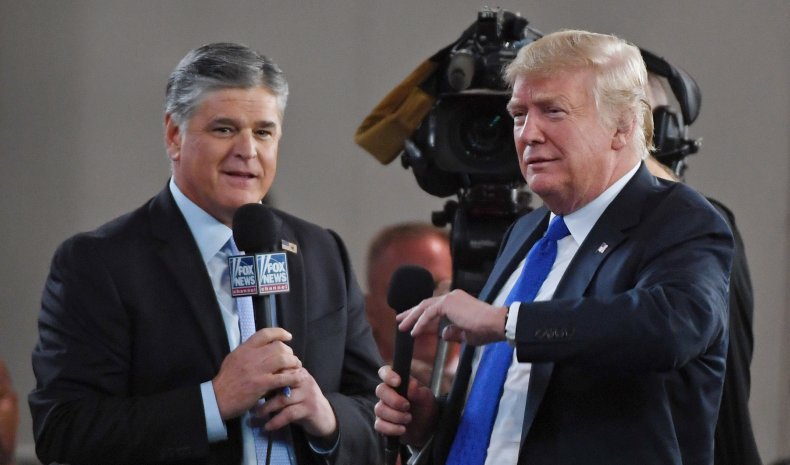 "I assume that the power of the pardon is absolute," he continued, "and that he should be able to pardon anybody that he wants to."
Weissmann's opinion article said that Biden's attorney general should prosecute Trump for obstructing justice during Mueller's investigation into possible collusion between his campaign and Russia in the lead-up to the 2016 presidential election.
"What precedent is set if obstructing such an investigation is allowed to go unpunished and undeterred?" Weissmann wrote.
Weissmann also mentioned that Trump and the Trump Organization are currently under investigation for possible tax and bank fraud by the Manhattan district attorney and the New York attorney general, which could result in federal charges against Trump and members of his family, including his daughter Ivanka. The investigations could also result in state charges which a presidential pardon wouldn't cover.
If he's not prosecuted, Weissmann said, it would show future presidents that they are above the law.
It is unclear if a president can pardon themselves or if they can pardon family members that have yet to be formally charged with crimes. Legal commentators have said that such a pardon would be contested by a future Department of Justice or Supreme Court. No president has tried to pardon himself so there is no legal precedent.
Hannity's guest, Sidney Powell, a former legal member of Trump's re-election campaign, expressed uncertainty about whether the president could pardon himself, but added, "It should not be necessary and, aside from that, the president is going to get another four years in office."
Trump's re-election team distanced themselves from Powell on November 22 after she claimed that Republican and Democratic candidates had paid communist countries money to rig the 2020 elections in their favor, and that Georgia's Republican Governor Brian Kemp and its Republican Secretary of State Brad Raffensperger had accepted bribes to participate in the alleged vote-switching scheme.
At no time did she offer any evidence to back up her claims, even when invited to do so by Fox News.
Newsweek contacted the White House for comment.