Happy Festivus! 'Airing of Grievances' Meme From 'Seinfeld' Explained
Seinfeld fans are celebrating Festivus by sharing "airing of grievances" memes and GIFs on social media—but where did the fictional holiday come from?
Festivus is a holiday celebrated on December 23 by fans of the TV show Seinfeld. it was popularized in the 1997 episode "The Strike."
Seinfeld writer Dan O'Keefe's father invented the holiday of Festivus, and O'Keefe popularized it in Seinfeld. It is still celebrated to this day by Seinfeld fans who take part in the quirky festivities with traditional Festivus decorations and activities.
In the Seinfeld episode, Frank Costanza, played by the late Jerry Stiller, hates all "commercial and religious aspects of Christmas," according to his son George, and made up his own holiday: A Festivus for the rest of us.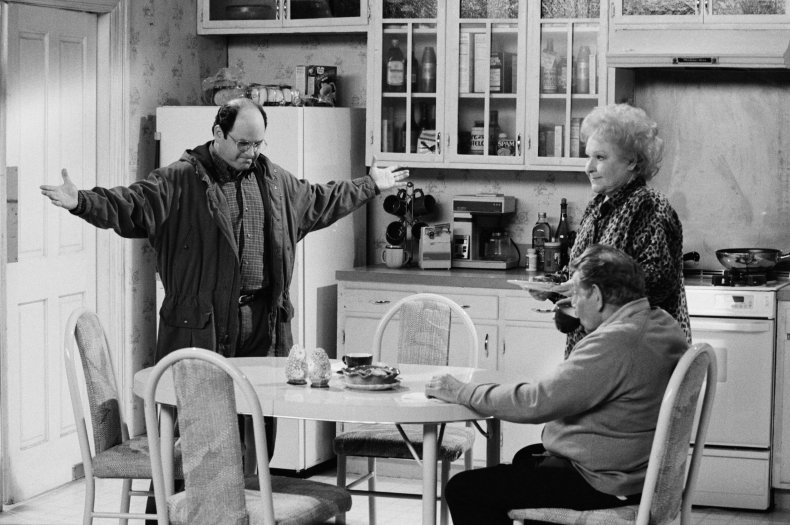 Costanza explained to Kramer that the idea for Festivus was sparked when he got into a fight with a man reaching for the same doll as he was.
The celebrations involve the antithesis of all things Christmassy, including a tree—instead, they decorate with an unadorned aluminum pole, which doesn't need to be decorated as Frank finds tinsel "distracting."
Festivus celebrations then kick off with the "Airing of grievances," when you gather your family and tell them "all the ways that they have disappointed you over the past year."
A traditional meal of meatloaf on lettuce leaves is served—forget the turkey and trimmings.
Festivus participants then move on to feats of strength, which involves taking part in activities like wrestling, which often makes George cry.
Seinfeld characters have very differing opinions on Festivus. Upon hearing about what Festivus entails, Kramer says: "Frank, this new holiday of yours is scratching me right where I itch."
However, George is much more reluctant to celebrate his father's holiday. Frank tells him: "George, Festivus is your heritage. It's part of who you are," to which George responds: "That's why I hate it."
On the other hand, Seinfeld fans love the holiday and have been sharing GIFs and memes on social media in celebration.
The Secret Barrister said: "Happy Festivus, one and all! Roll on the airing of grievances and the feats of strength," and shared a GIF of Frank saying: "I got a lot of problems with you people, and now you're gonna hear about it."
Joshua Crompton quoted Costanza: "As I rained blows upon him, I thought to myself, 'There must be a better way,'" and wished his followers a "Happy Festivus."
Even the Orlando International Airport Twitter account is joining in on the celebrations, telling its followers: "A Festivus for the rest of us!
"For those that celebrate today's holiday, all of our APM shuttles have several aluminum poles (very high strength-to-weight ratio) to mark today's occasion, no tinsel décor cause that's distracting. Happy Festivus to all!"