'Hard Knocks: The Dallas Cowboys' Start Date, Time, How to Watch HBO Show
A year on since it featured two teams simultaneously in the midst of a training camp affected by an unprecedented global pandemic, one of the NFL's most iconic documentaries reverts to type.
Hard Knocks makes its return on August 11—less than a month before the scheduled start of the NFL season—and for the first time since 2008 HBO cameras will focus on the Dallas Cowboys.
It's the third time the franchise has featured on the series and, as ever when it comes to America's Team, there should be plenty of materials for viewers to sink their teeth in.
COVID-19 will still be a key talking point in the series, but football will remain the number one focus.
"We are beyond grateful to the Cowboys for opening up their doors and allowing HBO and NFL Films to spend the summer with one of the sport's world's truly iconic franchises as they prepare for the upcoming season," said HBO Sports vice president Jonathan Crystal.
Here's everything you need to know about this season's series.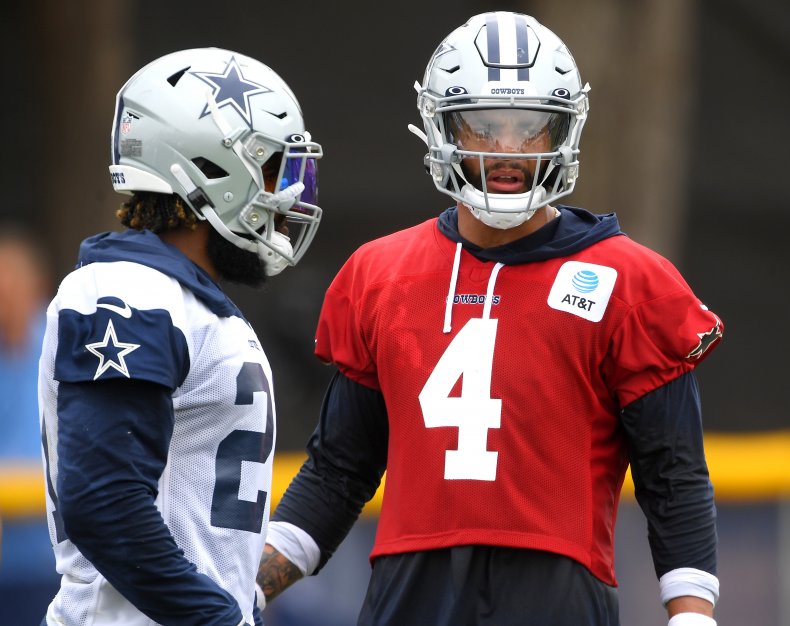 What Is Hard Knocks?
Now in its 16th season, the show is produced by NFL Films and gives viewers an insight into an NFL team's training camp. As ever, the show is granted unparalleled behind-the-scenes access, which it uses to explore a series of different storylines.
They include impact rookies can have in their first season, the coaching staff's plans for the season, how new signings fit into their new surroundings as well as a big focus on roster cuts.
As usual, the series had access to players' and coaches' meeting rooms, training rooms, living quarters and practice fields.
This year, expect to see a large portion of the show focusing on coronavirus and its lasting impact on teams and players, both in terms of protocols and in terms of conversation surrounding which players have been vaccinated and which haven't.
NFL Films production crews were on-site at the Cowboys' training camp in Oxnard, California, and the series will be narrated by Liev Schreiber, marking his 15th appearance on Hard Knocks.
When Does Hard Knocks Start?
The first episode of the new season of Hard Knocks: The Dallas Cowboys to give its full title will air at 10 p.m. ET on Tuesday, August 10, on HBO. An hour-long episode will air each week on Tuesday at the same time, culminating in the season finale on September 7.
The Cowboys open their NFL season two days later when they travel to Florida to take on the reigning Super Bowl champions Tampa Bay Buccaneers on Thursday Night Football.
How to Watch Hard Knocks on TV and Online
Hard Knocks will be available on HBO, HBO on Demand, HBO NOW, HBO GO and HBO partner streaming platforms.
Replays will be available every Wednesday night and can be streamed on HBO via HBO Max and partners' platforms.
Will Non-Football Fans Enjoy Hard Knocks?
Being a Cowboy fan or at least a football fan will certainly help, but Hard Knocks' reach has long stretched beyond football's traditional boundaries. That sense of appeal will be even bigger this season as the series features a team that lends itself perfectly to the format.
For better of for worse, the Cowboys are almost always box office stuff and few, if any, other franchises in American sports generates the same amount of love and hate America's Team can spark.
"The Cowboys are one of the most storied franchises in NFL history and a team that elicits strong reactions from fans around the world," said Ken Rodgers, Vice President, Senior Coordinating Producer at NFL Films.
"Tens of millions of fans love them, but just as many people love to hate them. Either way, when the Cowboys show up people watch, which makes them perfect for Hard Knocks. This year, their high-profile status as 'America's Team' is paired with uniquely interesting storylines."