Harrowing Video Shows California Deputy Walk Through Camp Fire
Footage caught on the body camera of a deputy in California offered a glimpse of the harrowing scenes of the Camp Fire, a blaze that took firefighters 17 days to fully quell, claimed the lives of at least 88 people and destroyed the town of Paradise.
Released Thursday by the Butte County Sheriff's Office, the video follows deputy Aaron Parmley as he tries to rescue four nurses on November 8, the first night of the deadliest wildfire to hit the U.S. since 1918.
After Parmley's car stopped moving on the way to Feather River Hospital, Paradise—a hospital so devastated by the blaze that it may never reopen, the Chico Enterprise-Record reported—the deputy continued on foot.
Parmley didn't expect to survive once he left his vehicle, text at the start of the video reveals. He switched on his bodycam to record "what he thought were going to be the last moments of his life."
The footage shows bright flames towering between trees and houses, every view tinged blood-red. Bursts of deafening wind obscure all other sounds such as voices, sirens and Parmley's heavy breathing. The flashing blue and red lights of emergency vehicles penetrate a thick haze of smoke.
Figures eventually emerge in the distance, illuminated by clouds of embers blowing across the ground. Every few seconds, snippets of dialogue sound from Parmley's radio. "It's almost impossible to get somebody in there," a muffled voice says.
The camera shakes as the deputy picks up the pace and moves toward three figures in the distance.
Suddenly, the sound of an engine drowns out the other noise. The lights of what appears to be a bulldozer emerge in the distance. It drives toward the figures, and people on the ground scramble to board it before the video ends.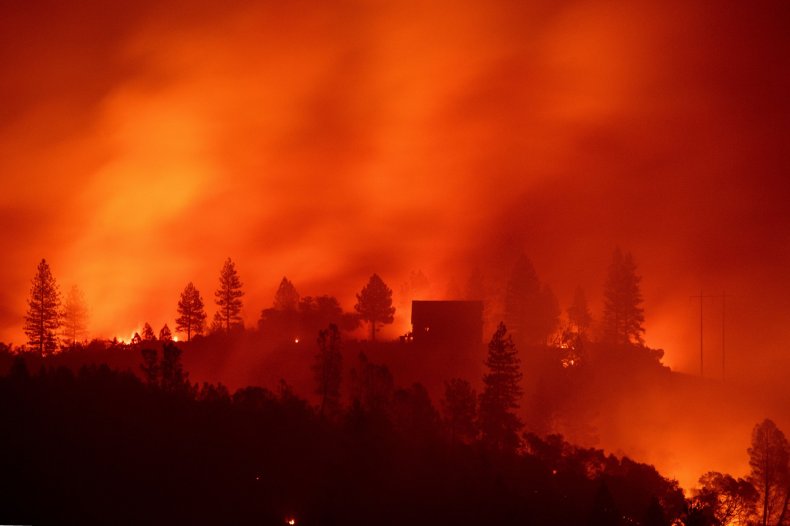 Camp Fire burned more than 150,000 acres of land and destroyed nearly 20,000 structures. As of Thursday, more than 120 potential survivors remain unaccounted for, according to the Butte County Sheriff's Department.
The devastating fire raged alongside the Woolsey Fire, which struck Los Angeles and Ventura counties, and the smaller Hill Fire that also burned in Ventura County.
President Donald Trump was fiercely criticized for failing to acknowledge the role of climate change in his response to the fires, and widely mocked for suggesting Finland didn't have a wildfire problem because the country rakes its forest floors.
In the days after Camp Fire was declared completely contained, flash floods hit Butte County. Evacuation orders were announced for several areas affected by the water.