Has Joe Biden Silenced His Critics?
President Joe Biden's second State of the Union address may be remembered for the unusual moment when he directly addressed Republicans who had heckled him after he accused some in the GOP of wanting to cut Social Security and Medicare.
Biden's response has won plaudits on social media and even former President Donald Trump offered lukewarm praise for his successor, saying that Biden "put into words what he felt, and he ended up the evening far stronger than he began" despite earlier criticism of the speech.
The president's age has long been a topic of speculation when it comes to a potential 2024 re-election bid but some critics suggested on Tuesday that Biden's speech might put those concerns to rest.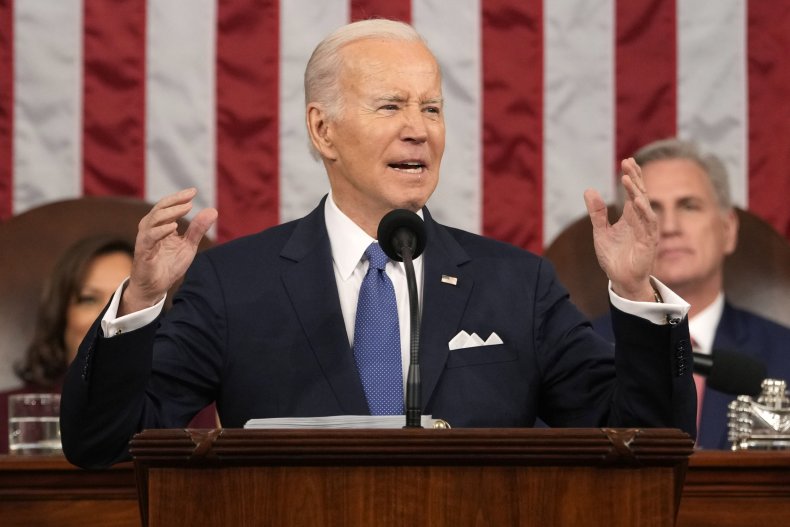 Author and MSNBC analyst Jonathan Alter tweeted: "As someone who has argued publicly that Biden is too old to run for reelection, I must admit: He sure wasn't too old tonight."
Outgoing White House Chief of Staff Ron Klain retweeted Alter approvingly, adding fire emojis.
Political scientists who spoke to Newsweek following the State of the Union address suggested that Biden had given a strong speech that pointed to a re-election campaign but that there were significant obstacles ahead.
Vintage Joe Biden
Some form of interruption had been expected at Biden's speech. The way the president responded to Republicans heckling him stood out, though it may not have detracted from the substance of his speech, according to Mark Shanahan, an associate professor at the University of Surrey, in the U.K, and co-editor of The Trump Presidency: From Campaign Trail to World Stage.
"Despite the heckles from some in the Republican ranks, this was vintage Joe Biden—he seemed to warm to the energy among his audience and was quite prepared to take on and spar with his detractors," Shanahan told Newsweek.
Shanahan said that Biden "presented himself as the wise adult in the room, and even reached out to House Speaker Kevin McCarthy stating at the outset that he looked forward to working together with the California lawmaker."
"His spark throughout the speech was surprising, and while many voters still regard him as a do-nothing president, he was able to point to his accomplishments across his first two years in office, neatly rounded out by using his actions on the China spy balloon to emphasize his power on the global scene," he added.
Fleeting Effects
Biden has not yet formally announced a 2024 campaign, though Trump, who remains his most likely opponent, announced his intention to run again shortly after the November midterms.
Thomas Gift, founding director of the Centre on U.S. Politics, University College London, U.K., told Newsweek that State of the Union speeches "tend to have fleeting impacts on public opinion."
"That'll likely be the case with this one, too," Gift said. "Still, it's possible the speech takes on more consequence precisely because of the timing. It comes at an inflection point in Biden's presidency, with everyone asking: Will he or won't he jump into the fray for 2024?"
Kickstarting a Campaign
"If Biden is 'all in,' we might look back at last night as the informal kickstart of his re-election bid," Gift went on.
Gift observed that "to say that Biden silenced critics is hyperbole. But positive reviews may be enough for Biden to gain momentum as he heads into what's likely the most politically uncertain period of his time in office."
Robert Singh, a professor at the Department of Politics at Birkbeck, University of London, U.K, told Newsweek: "The soft launch of Biden's campaign for a second term as president began here."
"We can probably expect to hear the mantra, 'Let's finish the job,' many more times before January 2025," he said. "Biden's was, by his standards, an unusually assured performance."
Partisan Lines of Division
Biden's move to criticize Republicans during his speech was widely expected. His address was the first he's made to Congress since the GOP gained control of the House.
Singh told Newsweek that Biden "sought to remind Americans of what his administration has accomplished—something that is imperative, given that, according to a poll by The Washington Post earlier this week, most of them do not think he's accomplished much."
The polling by The Washington Post-ABC News found that 62 percent of Americans believe Biden has accomplished "not very much" or "little or nothing."
"But he also sought to draw clear partisan lines of division, in anticipation of two years of Republican investigations and obstructionism," Singh went on.
"In short, he hedged. As the heckles from Republican lawmakers showed, partisanship is alive and well. One swallow does not make a summer, and one competent State of the Union address will not make for bipartisanship," he added.
Putting Criticism to Bed
It's still very early in the process of electing the next president and concerns about Biden's age will likely persist. Mark Shanahan told Newsweek that for now, the president appeared to be in a good position.
"This felt very much like a rehearsal for a re-election bid," Shanahan said. "On this form, it's hard to see any realistic challenge to Biden on the Democratic side if he chooses to run again."
"Who he will be up against remains unclear," he went on. "Florida Governor Ron DeSantis may be the GOP's coming man, but Donald Trump still lurks in the wings. Whoever he's up against, Biden put the criticism of his age to bed last night—at least for the short-term."