How Joe Biden Skewered Republicans in State of the Union 'Masterclass'
President Joe Biden has won praise for an exchange with Republican hecklers during his State of the Union address on Tuesday when he suggested the GOP had agreed not to make cuts to Social Security and Medicare.
During his speech, Biden accused members of the GOP of wanting to cut Social Security and Medicare and was met with an angry reaction from some Republicans, including Representative Marjorie Taylor Greene, who shouted "You lie, you lie!" and "Liar!"
Some other Republicans shouted "no," but Biden responded to their criticism, arguing that he was not "saying it's a majority" of Republicans who support the idea.
"Anybody who doubts it, contact my office," Biden said. "I'll give you a copy. I'll give you a copy of the proposal."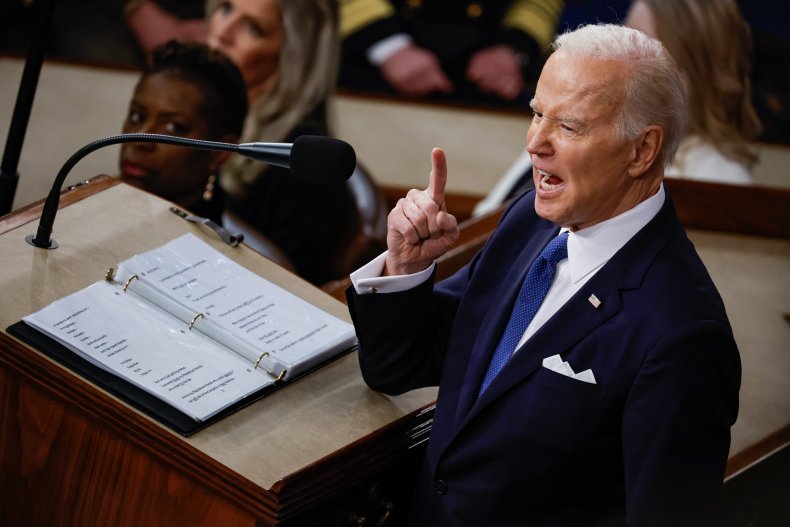 The president was referring to a proposal last year from Republican Senator Rick Scott that would have required Congress to reauthorize the programs every five years and would have made Medicare and Social Security vulnerable to cuts.
The idea was rejected Senate Minority Leader Mitch McConnell but Biden has repeatedly used it to criticize Republicans.
On Tuesday, the president suggested that Republicans in the chamber were agreeing not to cut Social Security and Medicare.
"So folks, as we all apparently agree, Social Security and Medicare is off the books now, right?" Biden said.
"We got unanimity!" Biden shouted over cheers in the chamber.
That moment led to praise from social media users, who argued that Biden had successfully baited Republicans into making a public commitment not to cut Social Security and Medicare.
"The way Joe Biden used extreme MAGA Republicans against the rest of Republicans to force them ALL to agree with him was one of the slickest political slights of hand I've EVER seen. This is a masterclass," tweeted lawyer Exavier Pope.
"Biden's way of turning MTG's heckling ('Liar!') about his accurate reference to Rick Scott's threats to cut Social Security into a deal binding the GOP to commit never to do what Scott has threatened was just masterful—as was his SOTU speech as a whole," wrote Laurence Tribe, legal scholar and professor emeritus at Harvard Law School.
Grant Stern, executive editor of political organization Occupy Democrats, wrote: "Dark Brandon gets Republicans to cheerily promise not to cut Social Security and Medicare live during the #SOTU speech!"
"Dark Brandon" is a reference to a meme that's been used to praise Biden, playing on the phrase "Let's Go Brandon," which had been used to insult the president.
"This rather savvy usage of the public bully pulpit, in a nutshell, is the argument for continuing to have and televise SOTU," tweeted 2020 Pulitzer prize nominee Soraya McDonald, sharing a video of the moment.
"Those men are P*****. Dark Brandon forced a concession on live television," McDonald said, referring to some of the male Republicans in the chamber.
"These 2 minutes made the night for Biden. That's all he needed to do. He created a little live Reality TV moment that showed his agility and that he is fighting for the American people," wrote Kaivan Shroff, a commentator who describes himself as a "Proud Democrat."
Praise for Biden was not confined to Democrats, with former President Donald Trump offering an unusually positive assessment of the speech on his Truth Social platform despite earlier criticizing Biden's address.
"Look, he worked hard tonight ... you've got to give him credit for trying," Trump wrote. "I disagree with him on most of his policies, but he put into words what he felt, and he ended up the evening far stronger than he began."
"Give him credit for that," the former president continued. "Many things weren't mentioned that should have been, but that's for another time."
Newsweek has asked the White House for comment.