Has Putin Ended His Mobilization? Moscow Says Goals of Draft 'Achieved'
A Moscow official indicated on Monday that a partial mobilization in Russia is coming to an end, though the Kremlin does not appear to have made such an announcement yet.
Citing information from the Moscow military commissar, Moscow Mayor Sergey Sobyanin wrote on his blog that "the goals of the partial mobilization set pursuant to a presidential decree and mandated by the Defense Ministry have been achieved in full," Russian state-owned news agency TASS reported. Sobyanin added that call-up offices for the partial mobilization would be closing on Monday afternoon.
"The call-up notices sent out in the process of mobilization to the places of citizens' residence and businesses cease to be in effect," he said.
Putin announced the partial draft on September 21 as he contended with a series of setbacks in his invasion of Ukraine, saying it would be limited to Russian citizens currently in the reserves and those who have served in the Armed Forces with "certain military specialties and relevant experience." If Sobyanin's announcement is true, this would mean that Russia carried out its first call-up since World War II in less than a month.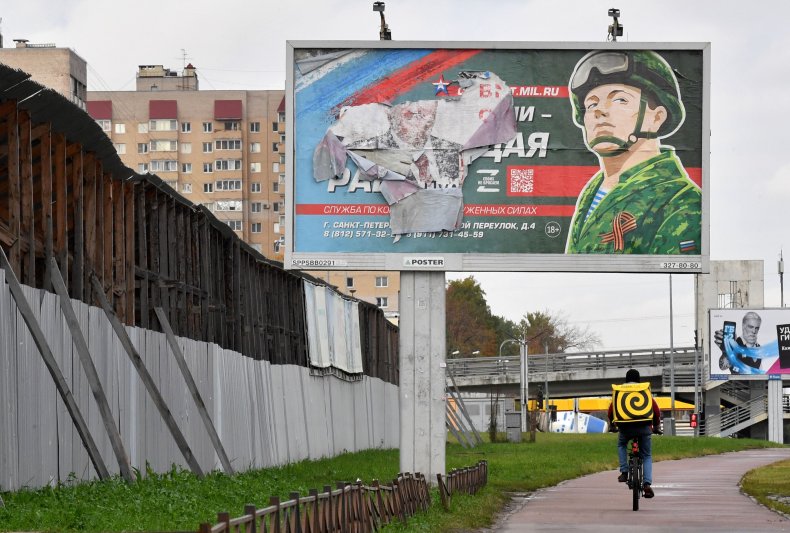 But official confirmation that Russia has fully achieved what it set out to do with its partial draft has yet to come from the Kremlin or Russian President Vladimir Putin himself. The Russian leader told reporters on Friday that the mobilization would be completed in about two weeks, according to TASS.
"Now 222,000 men out of 300,000 have been mobilized," the news agency quoted him as saying.
Putin has not provided any indications that the other approximately 80,000 conscripts have been drafted in the last couple of days since he made that announcement.
William Pomeranz, director of the Wilson Center's Kennan Institute, told Newsweek on Monday that the varied messaging reflects a "lack of communication" between Putin and Sobyanin.
"Putin did not declare an end of mobilization, but only that it would end in two weeks," he said. "Sobyanin basically said that it would end now in Moscow, and that anyone who had gotten the call up paper or a draft notice would not have to observe it, as I understand this."
Though Sobyanin stressed that Russia's goals with the mobilization had been met, other officials have cast doubt on the success of the order, which inspired mass anti-draft protests across Russia after Putin's announcement.
In a September 22 news conference, Pentagon press secretary Air Force Brigadier General Pat Ryder said that while the draft "may address a manpower issue for Russia," it was not clear if adding more soldiers "could significantly address the command and control, the logistics, the sustainment and importantly, the morale issues that we've seen Russian forces in Ukraine experience."
He added that unlike reserve formations in the United States that are already trained and ready to move, those conscripted in Russia "would primarily be reservists or members of the Russian military that had retired."
"It's our assessment that it would take time for Russia to train, prepare and equip these forces," Ryder said.
During a Sunday interview on CBS' Face the Nation, Oksana Markarova, Ukraine's ambassador to the U.S., also said that the "partial mobilization has been a big failure" when asked about Putin's projection that it would end in two weeks.
"People in Russia do not want to be mobilized," she said. "They're not equipped. They're not prepared. They're not motivated."
A spokesperson for the General Staff of the Armed Forces of Ukraine has said Putin's mobilized troops are struggling to obtain the equipment and armor they need.
"Only field uniforms and shoes are issued to the specified personnel. The rest of the equipment must be bought at your own expense or try to get it from the local authorities as humanitarian aid. The issue of providing the mobilized with helmets and body armor remains problematic," the spokesperson added.
Pomeranz does not believe that Putin will be able to frame the partial mobilization as a success even when he does declare that it has ended.
"Clearly, it was much more difficult to get people to register for this call up," he told Newsweek. "Clearly, a lot of people voted with their feet by leaving the country. And third, it's quite clear that there is that the Russian army is in no position either to accept these conscripts and even to train them and to give them the proper equipment going forward."
Newsweek reached out to the Kremlin for comment.