'Having a Tragic Situation' Is No Reason for Abortion: Kristi Noem
South Dakota Governor Kristi Noem hasn't stated whether or not rape or incest are exempted from her state's abortion ban, but said Sunday that she doesn't believe that one "tragedy" is a "reason to have another tragedy occur."
During her interview on CBS' Face the Nation, host Margaret Brennan asked the Republican governor whether or not she is "open to exceptions for rape and incest" amid the abortion ban in her state following the U.S. Supreme Court's overturn of Roe v. Wade on Friday.
"I just have never believed that having a tragedy or tragic situation happen to someone is a reason to have another tragedy occur," Noem said in response.
She added: "I believe every life is precious...And we know so much more using technology and science than we did even 10, 15 years ago about what these babies go through, the pain that they feel in the womb, and will continue to make sure that those lives are protected."
The overturn of Roe v. Wade allows 13 states, including South Dakota to enact their so-called "trigger laws," which makes abortion illegal or restricted because of pre-Roe provisions that are in their statute books.
South Dakota and Missouri have already enacted their trigger laws right after the landmark decision that gave women the federal right to have an abortion was overturned. Other states that have trigger laws include Arkansas, Idaho, Kentucky, Louisiana, Mississippi, North Dakota, Oklahoma, Tennessee, Texas, Utah, and Wyoming.
"The Supreme Court did its job. It fixed a wrong decision it made many years ago and returned this power back to the states, which is how the Constitution and our Founders intended it," Noem said.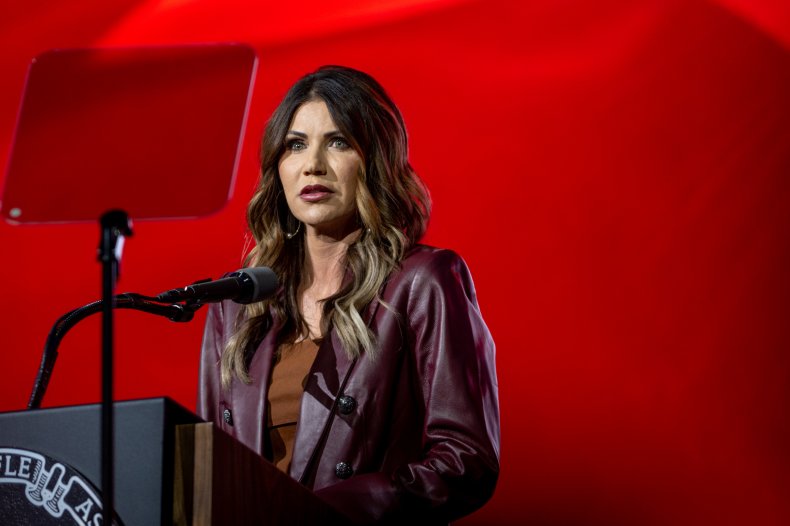 A measure that was signed into law in South Dakota in 2005 bans women from having abortions except to save the life of the mother. It also prohibits anyone from prescribing drugs "to procure an abortion."
According to the state's legislature, the law is "effective on the date that the states are recognized by the United States Supreme Court to have the authority to regulate or prohibit abortion at all stages of pregnancy."
The governor said that her state is now working to provide further resources, including mental health and family services for women who are now not allowed to terminate their pregnancies.
"I would prefer that we continue to make sure we go forward and that we're putting resources in front of these women and walking alongside them, getting them the health care, the care, the mental health counseling and services that they should need to make sure that we can continue to support them and build stronger families far into the future as well," she said.
Noem also defended an executive order that she signed last year that limits the access of abortion medications by banning their delivery through telemedicine and mail pharmacies.
"In South Dakota we've already had a bill passed that set on telemedicine abortions, that we don't believe it should be available, because it is a dangerous situation for those individuals without being medically supervised by a physician," she said.
Newsweek reached out to Noem's media office for comment.