A new proposal by the United States could see the state of Hawaii "adopt" Taiwan and help train the island's forces through a partnership with the National Guard, according to a report out of Taipei this week.
Taiwan, a democratic and functionally independent state claimed by Beijing as one of its provinces, is urgently reforming its defense structure to better meet the security challenges posed by China, despite seemingly insurmountable odds. A bill signed into law by President Joe Biden last week required the Defense Department to assess the feasibility of cooperation between the National Guard and Taiwanese troops.
Discussions between Washington, D.C, and Taipei have led to a U.S. proposal for Taiwan to join the State Partnership Program (SPP), Taiwan's United Daily News (UDN) said on Sunday. Under the SPP, individual states or territories adopt foreign nations and conduct various joint exercises with their defense forces.
The newspaper said Hawaii—home to U.S. Indo-Pacific Command (USINDOPACOM)—is first on the list, but other options include the states of Washington, California, Oregon, Alaska and Minnesota. Taiwan already has defense liaisons stationed in Honolulu, and there is regular contact between Taipei and USINDOPACOM.
A key element of the partnership would be the National Guard's training of the island's reserve forces, which have come under the administration of Taiwan's newly established All-Out Defense Mobilization Agency since January 1. The agency also is responsible for civilian mobilization during wartime and advancing public awareness in peacetime.
Taiwan's participation in the SPP would also involve elements of its standing forces, according to UDN. The partnership would focus on security cooperation and include capacity building exercises in the realms of humanitarian assistance and disaster relief.
Familiarity between Taiwan and USINDOPACOM means Hawaii is the natural top pick for the proposal. American forces in the Pacific, chiefly those stationed throughout Japan, also would likely spearhead any hypothetical U.S. military response to an attempt by Beijing to seize the island by force.
But Hawaii's existing SPP relationships with Indonesia and the Philippines as well as the potential "high-profile" nature of a future partnership with Taiwan are among the reasons why other states are being considered, the paper said.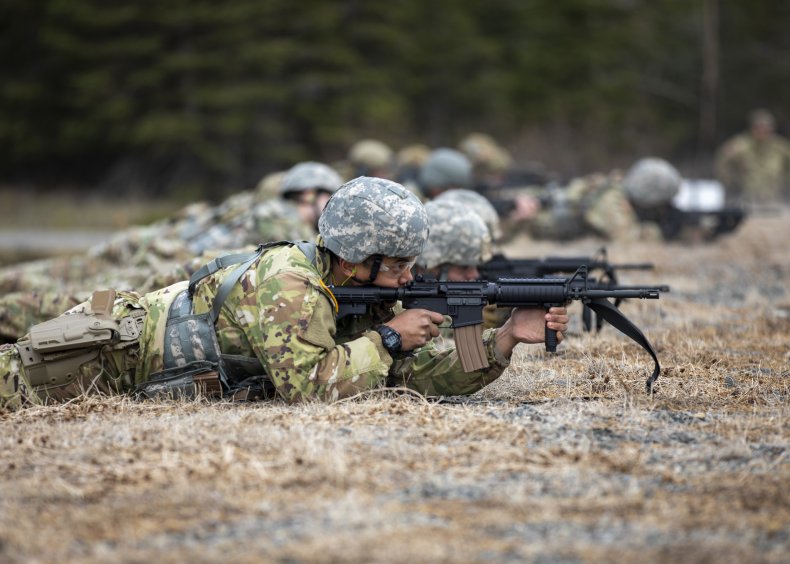 A training partnership between Taiwan and the National Guard was among the proposals in the National Defense Authorization Act (NDAA) for 2022, a $768 billion defense package—approved by Biden on December 27—that has already irked Beijing for its myriad mentions of China. The NDAA requires Defense Secretary Lloyd Austin to report to Congress on the "feasibility and advisability" of any such program by February 15.
Listed in the possible areas of cooperation are disaster and emergency response; cyber defense and communications security; military medical cooperation; Mandarin-language education and cultural exchange; and programs for National Guard advisers to assist in the training of Taiwan's reserves.
On December 29, Taiwanese Defense Minister Chiu Kuo-cheng confirmed that talks were underway, although he could not disclosed specifics. He said Taiwan would be "happy to cooperate."
Newsweek contacted both the Department of Defense and Taiwan's Ministry of National Defense for additional comment.
Taiwan-National Guard elements of the NDAA were first proposed as independent, concurrent legislation in the House and Senate in July 2021 when lawmakers from both parties introduced the bicameral Taiwan Partnership Act.
In the Senate, the bill was co-sponsored by Sen. Tammy Duckworth (D-IL), a veteran of the Illinois Army National Guard. In an August event with the Center for Strategic and International Studies think tank, Duckworth said she wanted a U.S. state to "adopt" Taiwan and create a "habitual relationship" through which the island's defense forces could increase preparedness for a Taiwan Strait contingency.
The SPP's origins go back to post-Cold War Eastern Europe, where the initiative continues to help partner nations train their defense forces. Illinois' partnership with Poland goes back to 1993.
In the Indo-Pacific, the U.S. maintains 10 SPP relationships, including Indonesia's with Hawaii; the Philippines' with Guam and Hawaii; Thailand and Malaysia's with Washington; Mongolia's with Alaska; and Vietnam's with Oregon.