'He Works at CVS, Not CBS': Woman Mistakes Where Date Said He Worked
A woman revealed in a now-viral video that she agreed to go on a date with a CVS employee, thinking he worked for CBS News.
The video was posted to TikTok by Kerry Schwartz (@comfywith_kerry), who wrote: "Send me an SOS." Her video has already amassed over 3 million views and started a heated debate amongst commenters about dating standards.
In her video, Schwartz explained that she met the man in a checkout line at Trader Joe's.
"I was checking out with my favorite cookies in the world, the Vanilla Joe-Joe's," she said. "I couldn't wait to check out so I started to eat them in line."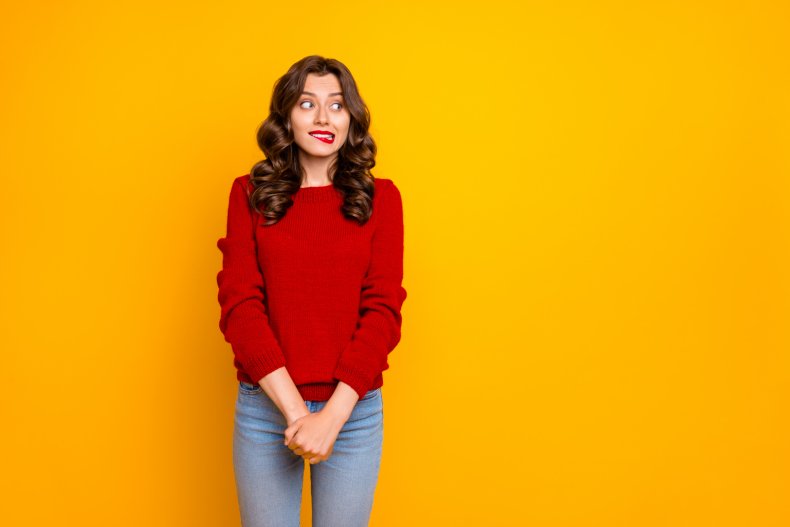 From behind her, the man commented: "Wow, those must be really good."
In response, Schwartz said, "Yeah, they're really good," and then put one of the cookies in his mouth.
The two exchanged numbers after that and had a brief phone conversation later that night, during which Schwartz learned that the man worked for CBS. At least, that's what she thought she heard.
"So he asks me out for lunch and he's like, 'Hey would you mind scooping me up from work?'" she recalled, adding that she thought the request was "a little weird."
Still, she agreed to pick him up, but she never made it to the CBS parking lot.
"So guys, I put in the address and this is where it took me," Schwartz said before flipping her camera to reveal a CVS Pharmacy. "He works at CVS, not CBS."
When it comes to dating, Dr. Madeleine A. Fugère, who is a professor of psychology at Eastern Connecticut State University, said it's important to maintain high standards for "essential traits," such as respect, honesty, and trustworthiness.
"These traits are associated with better relationship outcomes. Mutual respect is even more strongly linked to satisfying romantic relationships than feelings of liking and loving one another," Fugère wrote for Psychology Today. "Further, not only does dishonesty often cause relationships to end, but increased honesty is associated with both better relationship outcomes and greater individual well-being."
Fugère also encouraged people to "relax" their standards for other, non-essential traits, such as physical attractiveness or a good sense of humor.
TikTokers React
Many viewers on TikTok also argued people should lower their standards when it comes to a prospective partner's job, and slammed Schwartz for laughing over the mix-up.
"Jeff Bezos worked at Mcdonald's...so I don't understand why this is so funny. People need to be humble," Mary_eli22 commented.
Meanwhile, another user added: "Does it matter where he works? He has a job. The inside matters as well as his looks. He might a GREAT guy."
Others, however, said Schwartz has every right to want a partner with a higher-paying job.
"I'm gonna say what she won't to the 'aT lEaSt He GoT a JoB' comments...Grown, financially stable women are not looking to be taking care of someone," Mare wrote.
User nonyourbusiness said: "A woman in her 30s ready to settle down needs a financially stable partner. An equal. Sorry but minimum wage and no car doesn't cut it."
In a follow-up video posted Thursday, Schwartz addressed her critics, saying: "I literally never said anything in my video saying that CVS is a bad place to work. I was just making fun of myself because I misunderstood the guy."
The two wound up going on their date, and while they laughed over her mistaking him for a CBS employee, they had nothing in common.
"He does not have a car, he lives with two roommates...I'm not shaming the guy, but I'm a 36-year-old woman...I'm looking for a man that is mentally, emotionally and financially stable," she explained.
Newsweek has reached out to Schwartz for comment.
Other viral dating stories include a woman who was called an "easy lay" earlier this year by a Bumble match, a man who was stood up by a woman in March, who said he was "too fat," and a man who created a fake résumé for a Hinge match in May.